Amsterdam has more to offer than chocolate waffles and pickled herring. Brunch has taken over the city, and brunch in Amsterdam is something not to be missed. Below you will find a list of the best brunch spots in Amsterdam based on how tasty the food is.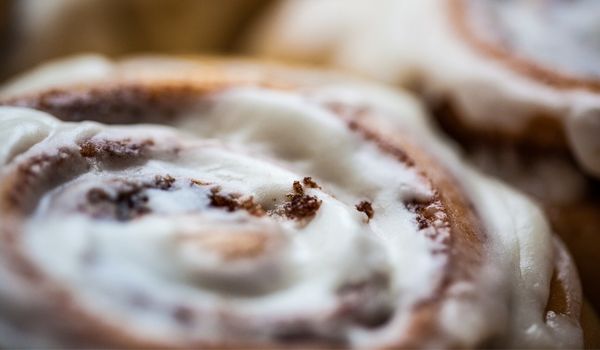 First on our list is the Scandinavian Embassy. As the first in Amsterdam to make fresh cinnamon and cardamom buns, Scandinavian Embassy sets itself apart from the rest. The smell of baked cinnamon and the sounds of baristas chattering away to each other will entice you in. Salmon on rye, porridge topped with rosehip and elderberry, plus a range of pastries set the tone. Why not try Karelia, a savory pastry from Finland containing potatoes. Or, instead, a freshly made sweet saffron bun. The Scandinavian Embassy is somewhat of an institution for coffee in Amsterdam. The coffee here is an occasion, and coffee lovers will rejoice at the range of Scandinavian speciality coffees on offer. The Scandinavian Embassy offers a change in food scenery to more traditional brunch options. There are two locations, one in Europaplein, and the other, in the heart of Oude Pijp.
Address: Sarphatipark 34,1072 PB Amsterdam
The breakfast club does what it says on the tin. It would be an understatement to say the menu here is wide-ranging. Enjoy fried eggs, tortillas, salsa, jalapenos and cheese, brought to you courtesy of Mexico. The American pancakes are famously fluffy and just as good as any offering across the pond. For some expats who miss home, there is a full English breakfast. They also do chicken waffles, juicy breakfast burgers and a variety of cakes and sweets. Vegan and gluten-free brunch options are available too. The variety is huge. Indeed, it helps to be very hungry when you come here. With seven spots around Amsterdam, you will never be that far away from being able to join the club.
Address: Wilbautstraat 56, 1091 GN
Located in de pijp, near the Albert Cuyp food market, Little Collins is in the center of foodie heaven. This is one of two locations. The other is in west Amsterdam. Be sure to check the chickpea pancake or the poached eggs with a curry masala sauce. Then, wash it down with a mandarin & saffron soda, or, if you're feeling in the mood, a fermented Chili Bloody Mary with the welcome addition of chorizo. Elsewhere you can pick from a selection of teas (English breakfast, Earl Grey, fresh mint) and delicious coffees.
Address: Eerste Sweelinckstraat 19F, 1073 CL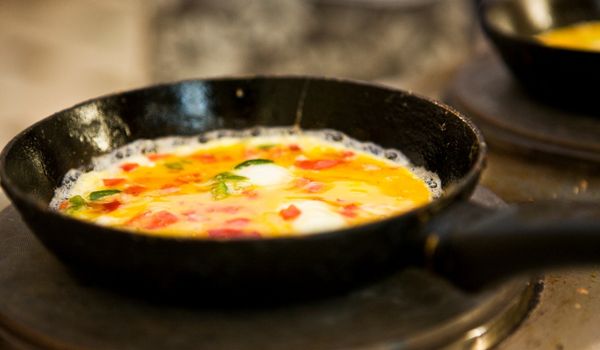 Omelegg makes a meal out of an omelette. If you like to keep it simple and relatively fancy-free, look no further than this Amsterdam staple. Enjoy the 'nationality-themed' omelettes – 'Greek Wedding' (with feta), 'The Dutchie' (Dutch cheese, bacon) and 'Italian job' (with salami, onion). Have a sweet tooth? Feeling adventurous? Why not try the peanut butter and banana omelette? With cinnamon and egg cake, it's an original. From savory to sweet and everything in between, this small establishment offers every omelette option you can imagine. If you want to dine at the central branch, be sure to join the queue before 8 am. Or be prepared to wait in line. Enjoy the cafe feel and cozy ambience. You can even buy an egg-themed t-shirt to remember your trip by.
Address: Nieuwebrugsteeg 24, 1012 AH
Look no further if you are in the red-light district and looking for brunch. This large restaurant has a lot to offer for brunch and has a french bakery feel to it. As the name suggests, they specialize in baking, and bread lovers won't be found wanting here. For brunch, salmon, bacon, egg or ham, fresh bread, fried eggs, and freshly squeezed juice. The perfect Dutch breakfast to start the day. You can also enjoy the large range of pastries and cakes on offer. Try the scones, available with a range of homemade jams for a real treat. All are guaranteed to make you come back for more!
Address: Warmoesstraat 69, 1012 HX
Dignita has three stunning locations in Amsterdam and often finds itself as a brunch 'go-to' place for many Amsterdamers. Fresh and locally sourced products are the vibe here, the focus being on a classic brunch menu with a twist. Get your American pancakes with an 'Indian twist. Maybe broccoli, kikkererwten and feta fritters sounds interesting? Or perhaps a kimcheeze tosti. Indeed, there is a range of tosti options, both new and old school. The hash browns here are legendary and can be enjoyed with eggs, salmon or avocado. The hoftuin location has a giant glass window, with fantastic surrounding architecture and scenic garden views. A bit like being in a giant greenhouse. A bonus is that brunch is served all day. Book to guarantee a table; however, they get very busy! For those who care about the source of their food, and sustainability, Dignita works with socially responsible suppliers, taking care of their produce and animals. All to bring you a tasty and memorable brunch.
Address: Nieuwe Herengracht 1a, 1018 DP
Situated in a former cinema, giving the restaurant a dramatic feel, this is an actual concept dining experience. Some parts of the restaurant have a seaside/beach feel. The menu is very coffee focused. The menu is all day, so there is no need to rush to get there before a certain time. The Coconut Pancakes are delicious, some with banana and coconut cream, berry compote, toasted coconut and maple syrup. In addition to the extensive breakfast menu, there is a deli menu from midday, offering a range of tasty sandwiches and salads. The Teriyaki Vegan Bao was delicious. It came with vegan chicken, crispy onion, pickled cabbage, cucumber, coriander, chilli and chopped peanuts. There is also an extensive range of juices to wash down the mouth-watering food.
Address: Ceintuurbaan 282-284, 1072 GK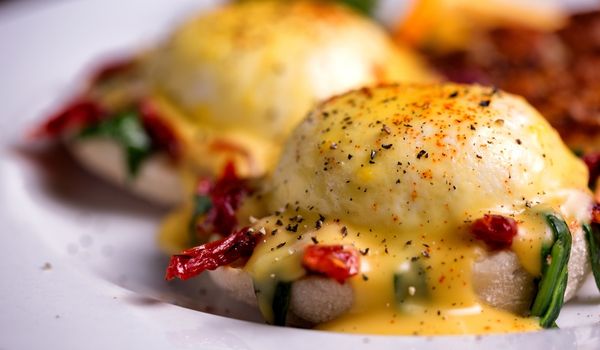 A very popular and established spot for brunch in Amsterdam, and it is not hard to see why. Bakers & Roasters offers the quintessential brunch menu, from American pancakes, eggs royale and Navajo eggs, to homemade granola. You'll also find brunch salads, burritos and french toast. Something for everyone. This place is notable for its veggie options too. Fancy starting the day as you mean to go on? Sure, why not? There is a range of cocktails and even boozy brunch milkshakes for your fizz needs. Strongly recommended is their Kombucha. With a new flavor each week. The atmosphere is busy yet cozy—a great way to start the day before exploring the city.
Address: Kadijksplein 16, 1018 AC
This American-style restaurant is a hipster's paradise, with exposed bricks and intentionally beaten-up-looking dining tables. The menu is full of American-style treats, including egg dishes, pancakes and chicken sandwiches. Most items on the menu have cool-sounding names. One of the favorites is the All-Around Carnivore pancake, which comes with scrambled eggs, bacon, hash browns and maple syrup (€15,50). The drinks menu is also extensive and good value. Mimosas are €9. The staff are friendly, and the atmosphere is one of its selling points.
Address: Jacob Van Lennepkade 215, 1054 ZP
The Avocado Show is a good destination for you if you enjoy posting photogenic plates of food on social media. The extensive menu includes salads, avo on toast, poke bowls and tacos. Don't miss the Super Bowl, a poke bowl filled with quinoa, avocado (of course), broccoli, chickpeas and sweet potato. (€12,75). All the dishes in the Avocado are well presented, healthy and tasty. In addition to interesting food, homemade lemonade is also available (€3,75). This works as a perfect accompaniment to any meal.
Address: Keizersgracht 449, 1017DK
This place has been a favorite of Amsterdamers for years. It is in Amsterdam's super cool Plantage, close to Artis. Known best for its brunch menu, it is also a great place to go for lunch. Try the Mac Pate, a spring onion and smoked mackerel pate; it comes with grilled asparagus, poached egg and beetroot on toasted sourdough (€15). You'll notice the Australian theme when you walk into Box Sociaal. The laidback feel and mix-and-match menu make this a fun place to eat. Although 'all things Australia' is the key theme of the menu, you'll notice lots of locally produced Dutch influence. Food sources and sustainability are key to the philosophy of this eatery.
Address: Plantage Middenlaan 30A, 1018 DG Amsterdam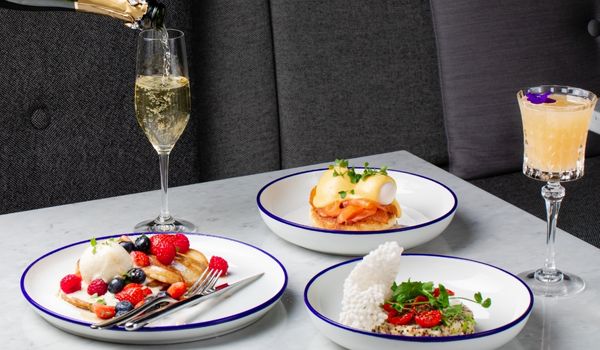 This is a great option if you are looking for a stylish place to celebrate an occasion or to treat yourself. The building dates to 1904, when the building was the home of 'De Tijd', a newspaper. Its history is literally written on its walls. It is open all day, serves classic European food, and offers great surroundings at incredibly reasonable prices. The most popular brunch option is, of course, the bottomless kind, which is a bargain at €39. The Bottomless brunch includes 2 courses (one sweet, one savory), a cocktail and unlimited bubbles! The menu features a distinctive black quinoa salad with goat cheese and beetroot. There are also breakfast classics such as egg benedict and eggs royale. Enjoy these with a brunch bloody Mary or Bellini Spritz. Brunch starts at 12.30 pm. The bottomless brunch menu is available on Saturdays and Sundays. Book now for an INKcredible brunch. The brunch can be reserved online.
Address: Nieuwezijds Voorburgwal 67, 1012 RE
Whatever your budget and tastes, Amsterdam is sure to cater to you. Despite being a mini city, Amsterdam is food heaven for brunch lovers, and the array of options will not fail to disappoint. So, dig into the best brunch in Amsterdam!