At an average of 4 cups a day, the Dutch are some of the biggest coffee drinkers in the world. In 2017, a study showed that the Dutch do indeed drink so much per day on average. Though this may not be the top spot as that distinction goes to (depending who you ask) with the Danish, Finnish, or Swedish, the Netherlands is definitely in the world's top 5. With that, we wondered what makes the Dutch such avid coffee drinkers and found a few potential reasons why.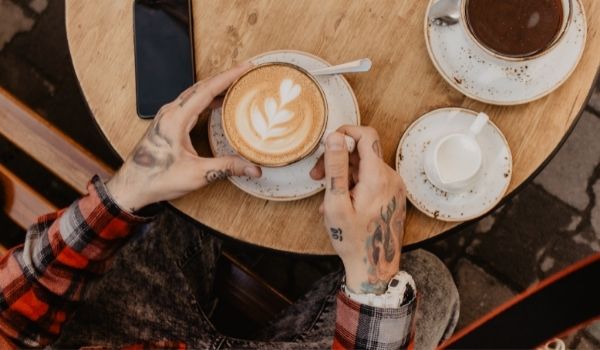 It's Everywhere!
Firstly, as you may have noticed, coffee is virtually everywhere. From coffee bean sellers to hipster cafes to more generic takeaway options, every corner on every street has a cup for you. There are the Albert Hiejn koffieautomaat or in coffee shops (no, not that kind) as koffiezaken.
Warmth
Then, let's take a look at the weather. If you notice, the above-mentioned coffee drinking countries are all Northern European ones. So, the cold and rainy environment really bodes well for warm drinks. Couple that with a relatively intense culture of work, and coffee provides the dual role of warmth and pep.
Read Also: Hip Coffee World of Amsterdam
A Legacy of Trade
The Dutch are known as masters of trade. From the golden age of the 16th Century through colonial expansion, the Netherlands has been at the center of the world's coffee trade for hundreds of years. This makes coffee a bonafide culture in the country with the Netherlands as one of the continent's top importers/exporters.
In the Netherlands, there is no definitive way to drink your coffee (or when to do it – so enjoy that 23:00 latte). But, one thing is for certain, whether is espresso or flat white; latte or cappuccino; warm or iced, it comes with its aesthetic issues. Most importantly, the tendency to stain teeth. As with everything in life. The good will always come with the bad. Good thing there is quality dentistry and oral aestheticians around. Take Lassus Tandartsen and their teeth whitening offers. Until September 30, 2021 you can get €150 off professional teeth cleaning and 2 custom whitening trays. If you're a coffee-lover, this may be the deal for you.