If there is one food that the Netherlands and Amsterdam are famous for worldwide, it is their cheese. The Dutch have been making cheese since 800 B.C. and the Netherlands is one of the largest cheese exporters in the world. But this doesn't sound very veganese, does it?
Well, things are changing. Amsterdam has entered the top 10 of the most vegan-friendly cities in Europe, according to an analysis by Chef's Pencil. On a ranking of the city with the most improved veganism, Amsterdam would win outright, notes Chef's Pencil, with its jump of 10 positions on 2017 this year – more vegan restaurants, more vegan choices in non-vegan restaurants, more vegan products and even vegan fridges in supermarkets, and more vegan product advertising.
Let's take a look at some of the best vegan places to explore in Amsterdam.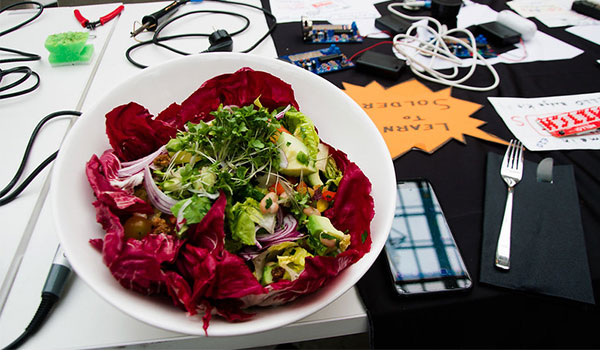 Museum buffet
If you decide to start by taking in the deadly but amazing dose of art that Muzeumkwartier provides, you'd better tank up first at Bagels & Beans on Van Baerlestraat 40 because you'll need all the resources you can get. This is a vegan-friendly chain cafe that serves vegan options in bagels, vegan burgers, and vegan chicken from the Vegetarische Slager besides coffee, tea, and juices.
Musemplein Square is "the cultural beating heart of Amsterdam" and the home to the Rijksmuseum, the Van Gogh Museum, and the Stedelijk Museum. The Rijksmuseum showcases 8,000 pieces of art by Picasso, Warhol, Monet, Matisse, Rothko, De Kooning and many others plus artifacts across 80 galleries, so maybe you should plan more than one day to visit this art buffet.
Vondelpark has an open-air theater that is worth a visit if you're not too hungry and decide to stop for a vegan Dutch burger made of seaweed. You can find it on Nicolaas Beetsstraat 47 at Feel Food vegan-friendly restaurant. Here you can also find salads and wraps too. Alchemist Garden is also in the zone if you prefer some raw and organic plant-based dishes in a laid-back atmosphere. It's on Overtoom 409 Street.
For breakfast, lunch, or dinner check Meatless District on Bilderdijkstraat 65-67, where they serve vegan chicken Caesar salad, burgers, and specialties like the vegan variant of the English breakfast.
Raw food is not easy to find in Amsterdam but we have a recommendation where you can enjoy delicious raw dishes: Zest for Life. The restaurant is located on Van Baerlestraat 45 and serves raw tacos, wraps, and smoothie bowls.
Vegan Junk Food Bar De Pijp on Marie Heinekenplein 9-10 1072 has a good variety of mouth-watering fast foods. Bitterballen is a Dutch specialty that is usually a meat-based fried ball, but this place has not one but 3 vegan versions for you to try.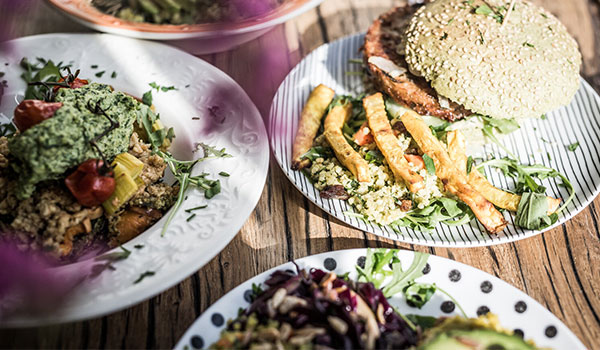 To enjoy traditional foods, you should add the pink cake to your list. Beter & Leuk is a vegetarian/vegan restaurant on Eerste Oosterparkstraat 73, 91 selling a vegan option of the roze koek. This indulging dessert is a small, round, and flat donut covered in pink fondant icing and other goodies.
Delicious Deshima on Weteringschans 65 is a macrobiotic restaurant that offers some fresh organic food to get your energy levels back up.
Jordaan and Anne's Frank secret place
After all the culture soaking, get adventurous and spontaneous in charming Jordaan, the most famous neighborhood in the Netherlands. The narrow streets with quaint buildings are packed with galleries, restaurants, cozy cafes, and specialty shops. Beginning at Brouwersgracht, just west of Amsterdam Central Station, Jordaan arches around the western side of Canal Ring between Prinsengracht and Lijnbaansgracht before ending at Leidsegracht. Here you'll find many attractions like Anne Frank House, Amsterdam Cheese Museum, and on Monday mornings Noordermark, a delightful flea market. Continue with The 9 Streets and then discover the history of the impressive canal network of hop on cruises.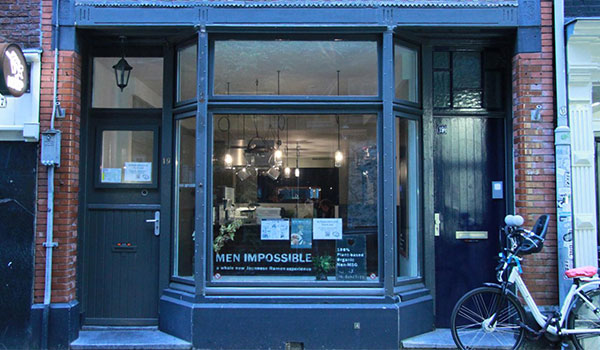 In Jordaan is located the only vegan ramen restaurant, which you have to book in advance and Men Impossible on Hazenstraat 19H. You must ensure your place at the table when you're planning your trip, as they don't take walk-in customers. The chef cooks everything fresh and he makes hand-pulled ramen noodles based on how many customers are coming that night from the reservations.
See the secret apartment where Anne Frank's family hid before they were sent to a concentration camp. Her diary and other belongings are kept in the frozen-in-time bedroom that provides a powerful experience for any visitor. Some blocks away from Anne Frank House, on Westerstraat 34, is the SLA restaurant, a vegan-friendly chain with tasty food. Several other locations including the one around Rembrandt Square (on Utrechtsestraat 10HS) and near the Sarphatipark (Ceintuurbaan 149 St) are to be found in Amsterdam, so look out for those too.
Hummus Bistro d&a on Westerstraat 136 has vegan options marked on the menu featuring falafel, couscous veggie, shakshuka, roasted eggplant with tahini, and pita and hummus with different toppings.&lt
Vegabond plant-based Store & Deli is located some streets away from Jordaan, on De Clercqstraat 48, so keep it in mind if you need to stop and pick up some snacks for the road. Stroopwafel lovers will find vegan versions to complete their coffee break or make someone very happy with a delicious souvenir. It also has a lunchroom so you can fuel up with energy.
Have you ever wondered how happiness affects our health? A fascinating insight into the human body with more than 200 real anatomic models can provide you with an answer at the Science Museum of Body Worlds. Before heading there you can stop for a bite to eat at a vegan-Japanese and Caribbean restaurant called TerraZen Centre, on Sint Jacobsstraat 19HS, or at Maoz Vegan, again, on Damrak 40 a 3 min walk from The Oude Church.
Maoz has other locations like the one on Muntplein 1 surrounded by touristic attractions such as Royal Palace Amsterdam (Koninklijk Paleis Amsterdam), Wax Museum Madame Tussauds, Rembrandt Museum and the Botanic Garden Hortus Botanicus. Sweet cravings can be tamed before arriving at Amsterdam Dungeon by stopping at the Happy Pig Pancake Shop, a vegan-friendly restaurant, to choose a pancake with a vegan filling.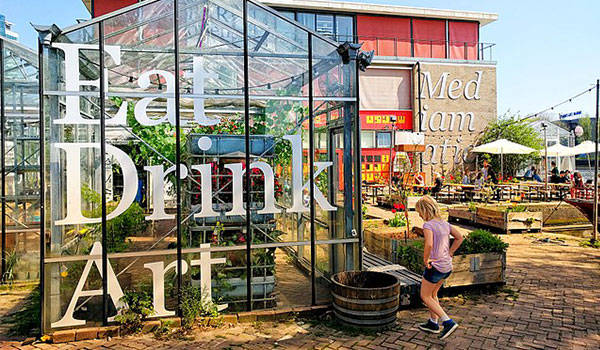 If you're traveling with kids, then you must pay a visit to Nemo Science Museum. They will be absolutely fascinated by this boat-shaped museum that holds interactive science exhibits, experiments, and shows. After a captivating visit, a stop for pizza is required at Mediamatic Eten on Dijkspark 6. They have a mostly vegan menu featuring pizzas, soups, tempeh, and for dessert a chocolate pizza.
Featured Image: Mitch Altman