After relocating to a new country, there are plenty of things to think about. How to find a house, what's the right health insurance, where to find a job? Another important thing, that may only come to mind after some time, however, is recycling. Where to put empty wine bottles? What about plastic? Is composting allowed in your own garden? The conditions for recycling vary per country, so it is important to know the deal where you are. With that in mind, here's what you need to know about recycling in the Netherlands.
Let's Save The Planet
The ongoing climate crisis undeniably shows the consequences of humankind's current lifestyle. Global warming, bushfires in Australia, melting ice in the arctic, and the terrible air qualities in megacities such as Beijing, Delhi, or Bangkok. Even though international industry must accept a huge part of the blame for this, every individual also has the chance to help with minor changes to their daily life. One of these adjustments can be recycling and honestly, the Netherlands make it super easy for us to do.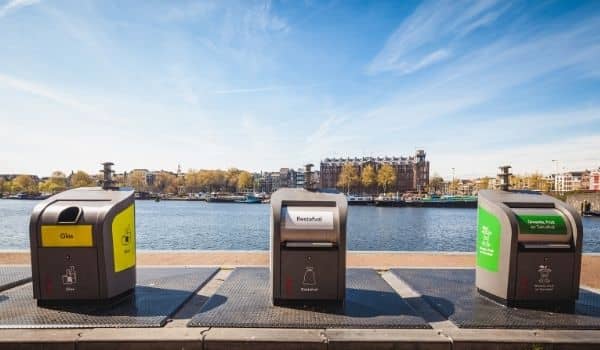 Plastic, Glass, Paper and Waste
When you leave the house and look around, you will quickly spot some grey containers on the sidewalk. They are usually labeled with the words plastic, glass, paper and waste. Some of them have different colors and there is even a pictogram of what you are supposed to put inside each.
Paper Trash: However, it can happen that the containers for paper are all too often full of cardboard boxes and paper trash. In this case, keep the paper trash for now or try to find an empty one. Don't drop the paper trash just in front of the container. The wind will blow it away or, in worst case, you might get fined for littering (if there is an address on your items).
Bottle Deposit: Also, before you throw the plastic bottles you find in your house away, please check their label. Many supermarkets, such as Lidl, let you return them. When you do, you receive 15 or 25 cents back (statiegeld), which you can also donate to a good cause right at the machine.
Baby Diapers, Electronics And Bulky Waste
Diapers: Keep in mind that baby diapers are not meant to go into the normal trash. There are several separate containers for them all over town, easily recognizable by pictures of a happy mom and baby plus the logo of a large diaper company all around them. Some even have some solar panels on the top. In order to find these diaper containers, a special app needs to be downloaded.
Bulky Waste: For bulky waste such as furnitures, mattresses etc., there are specific rules when recycling them in the Netherlands. Do not just put them out on the street whenever it suits your schedule. That way, you are in danger of getting fined. Each area in Amsterdam, and other cities in the Netherlands, have certain days when bulky trash is allowed to be put on the street and when it will be picked up. To be on the safe side, check the website of your municipality.
Electronic Devices: Old TVs, laptops, DVD players, however, cannot just be put in the trash. Same goes for light bulbs and batteries. To get rid off these, there are several options. You can give them to your local thrift store (kringloopwinkel) or you can bring them to special drop-off locations. If you are buying a new electronic device, just hand in the old one at the same store. They are officially obligated to take old items back. Media Markt, for example, provides this service.
Donating Clothes And Shoes
You are cleaning up your wardrobe and there is plenty that you just don't want to wear anymore? Don't throw them away because somebody else might be very happy to take them from you. You can drop them off at your local kringloopwinkel, you can find a new home for them via the app Vinted or you can donate them in clothes containers all around the city. Just look for a green large container with the orange logo of Sympany on it, while the letter m is replaced by a heart. In case you don't feel like walking around looking for one, their website can do this for you. Just make sure they are in decent condition and if you are planning to donate shoes, please tie them together, so people won't have to search forever to find the matching one.
Composting At Home And Food Waste
Potato peels, egg shells, fishbones. A large part of our daily trash is organic and, therefore, has great potential. Instead of throwing it away into the container of restafval you can start composting at home. You do not even need a large garden because, with a proper composting bin, even a small balcony will do. And the soil produced will be a special treat for your plants or the vegetable that you are growing on your balcony.
Note: In case you want to help stop the enormous amount of waste produced by the food industry, just download the app Too Good To Go where you can find local restaurants, bakeries and bars offering leftovers for a very cheap price or sometimes even for free.
Medicine and Chemical Waste
Old Medication: Make sure to give your first aid kit at home a regular check-up, as well as your medication. If they are expired, do not just throw them into the trash and please do not just drop them in the toilet as this is bad for the environment. A better option is to just return them at your local pharmacy. Before you return them, take the strips out of the boxes (they can go into the paper trash) and remove all labels and stickers to show your name or any other personal data.
Paint, Paint Thinner & Detergents: For waste that can be dangerous or toxic there are special collection points (afvalpunten) from the Gemeente.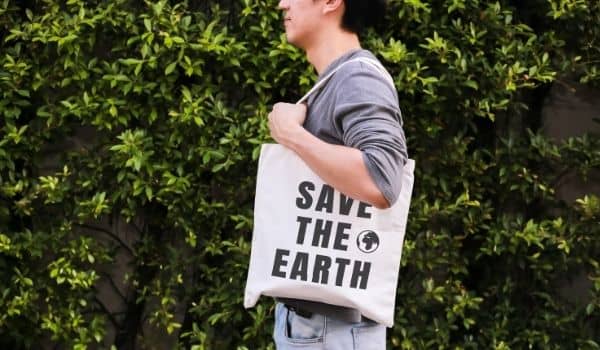 Still A Bit Lost?
If you now feel overwhelmed by all the different containers, afvalpunten and kringloopwinkels, please don't panic. You are not the only one who feels this way when thinking about recycling in the Netherlands. Even Dutch locals struggle sometimes. Therefore, there is an official website that helps you sorting out where to put which specific kind of trash. Furthermore, every city usually provides you with a waste calendar for you to check when which kind of trash will be collected.