The healthcare system in the Netherlands is rated among the best in Europe. In comparing European healthcare systems, the 2018 Euro Health Consumer Index listed the Netherlands in second place, making it the only country to have been consistently listed in the top three since 2005.
The Dutch government is responsible for ensuring healthcare is accessible. Still, private health insurance (basisverzekering) is mandatory for anyone living and working in the Netherlands to access services and cover common medical care, such as GP and hospital visits.
If you are an expat living in the Netherlands, you will need to take out your insurance within four months of registering for residency in the country. The first step to accessing healthcare in the Netherlands is registering for your Citizen Service Number (burgerservicenummer) at your local municipal office. Once fully registered, you can select your level of health cover, whether basic cover or an additional optional private policy to reduce or avoid out-of-pocket expenses.
Cigna Global has extensive experience supporting expats and their families. Our affordable plans provide reliable and easy access to healthcare and the right support when it matters. We are committed to helping create better futures for the millions of our customers who have chosen to relocate to a new country by offering benefits that often go beyond most traditional local health insurance policies.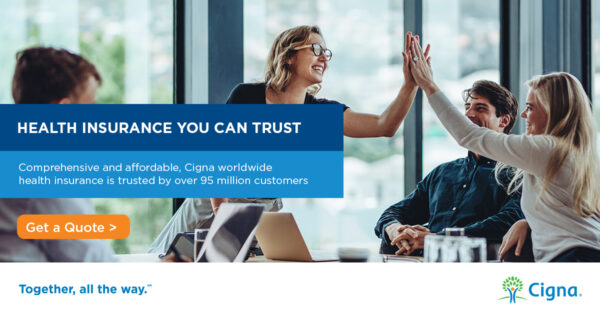 Why Choose Cigna?
At Cigna Global, we support globally mobile individuals with flexible plans and can be tailored to suit the demands of modern life. With our global network of over 1.65 million healthcare providers, clinics and facilities, we make it easy for expats like you to access the care you need when you need it. With our whole health approach, that means more support for the different areas of your life – work and home, physical and mental health, finances, and social and family life.

Tailored for Your Health Journey
We make it easy for you to build the perfect plan that fits your circumstances while living in the Netherlands. Simply choose your core plan and optional benefits based on your healthcare needs. Then you can add deductibles and cost-share options to manage your budget. With a Cigna plan, you will always feel supported and have peace of mind knowing that the whole health needs of you and your family are taken care of.
By choosing one of our plans, you will benefit from:
Global Network – Access to Cigna's global network of 1.65 million hospitals, clinics, and healthcare professionals across the globe.
Medical essentials – Essential hospital stays and treatments, including surgeons and specialist consultation fees, hospital accommodation, nursing, and medicines.
Tailored medical support – Access to support from Cigna doctors and nurses through our Clinical Case Management program.
Wellbeing tools – Access to a suite of healthcare tools through the Cigna Wellbeing™ App, including Global Telehealth consultations.
Flexible plans – You can tailor your plan with optional modules and deductible and cost-share options to suit your healthcare and budget requirements.
Digital tools – Access easy online tools to manage your policy, submit your claims, and search for local healthcare providers.
To find out more, visit www.cignaglobal.com and run through a quick quote. You are a step away from offering you and your family added health protection as expats in The Netherlands, as well as complete peace of mind.