The BSN, or Burger Service Number (translation: citizen service number), is a unique personal number that everyone working and living (or even just living — everyone) in the Netherlands is required to have. There are similar systems in countries around the world that issue a Social Security Number, Citizen Service Number, or Social Fiscal Number. Since 2007, you need it to get health insurance in the Netherlands or open a bank account, among other things.
How do you get a BSN if you are not a Dutch citizen?
Whether you are here for a short stay or a long one, you will get a BSN when you register with the municipality (the gemeente) where you will be living. Most municipalities have a special registration facility for short-stay applications. The belastingdienst website has excellent information available in English about this.
Our experts can guide you through how the process works
This can all seem very complicated, but we can help by explaining the process. We can also arrange for you to use our address as your address in order to apply for the BSN and get a bank account (with IBAN). This requires a form and the arrangement is valid for up to three months.
And if your employer or hirer makes use of our Payroll Umbrella Services, we will become your legal employer and will need your BSN in order to pay your salary.
Questions?
Are you stuck in the BSN process or just need to understand it better? Do not hesitate to contact us. Call us +31 20 225 25 20 or email us info@payingit-international.com.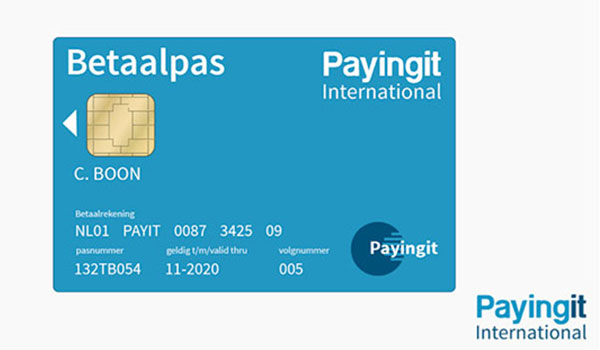 IBAN
IBAN stands for International Bank Account Number. The IBAN system identifies your bank account in the systems of all financial institutions in many countries in Europe and beyond. You need this number to transfer money in and out of your account. You get an IBAN when you set up an account with a bank. (Note: we recommend you verify their fees before you decide on a bank; fees vary between banks.)
The IBAN structure
The International Bank Account Number consists of a country code, the code of your bank, and your bank account number. Look on the left side right below betaalrekening — that's the IBAN: NL01 PAYIT 0087 3425 09.
This is a Dutch bank card or betaalpas. Before you open a bank account and get a pass like this, though, be sure to understand what the fees are and whether they provide everything in English, including Internet banking.
If you're wondering if an IBAN is valid, checkout this handy IBAN checker
What are the requirements to get a bank account and an IBAN?
In order to open an account and get an IBAN, here is what you need:
Burger Service Number
Valid passport or ID card
Proof of address in the Netherlands
Residence permit
Questions?
If you have questions about IBANs, get in touch with us. Call us +31 20 225 25 20 or email us info@payingit-international.com