Ever wondered what it's like to sit on the jury of a murder trial? To review evidence, listen to witness testimony, interrogate the defendant and debate the case with your fellow jurors? Amsterdam-based escape room and experience creation studio Logic Locks are giving you the chance to experience the twists and turns of jury duty in their new, online experience, The Verdict.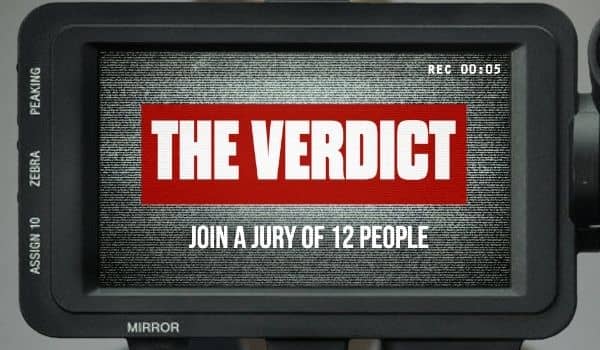 An Interactive Online Experience
The Verdict is much more than a straightforward murder mystery. It is an interactive, theatrical online experience that immerses you in the role of juror.
Experienced over Zoom, The Verdict puts you in the role of juror in a complex criminal justice case. In your role, you must question the defendant – played by a professional actor – analyze evidence, and come to a verdict with your co-jurors. The experience brings together the investigative aspects of a criminal trial with the ethical dilemmas of being on a jury.
Designed For Work and Play
The Verdict was designed to meet the needs of a world in lockdown; whether you're stuck at home on a Friday night or looking to find innovative ways to help your work team connect.
The Verdict Team Challenge has proven to be a powerful team building tool, providing a way for teams to connect on a deeper level than most online team building activities can offer.
"I think I speak for the whole team if I state that the experience exceeded all expectations. While we were focused on the concept itself, we could never imagine how much deeper this goes than just a lawsuit." – Yves Janssens (Team-Leader NTT)
Participants of The Verdict should be prepared for a thought provoking, emotional experience that merges playful entertainment with a deep, meaningful challenge.
"[The Verdict] is a hybrid between entertainment and meaningful art" – Rik Stapelbroek (Founder of Prison Escape)
Book Tickets for The Verdict
Take your seat on the jury by booking tickets to The Verdict online. It is possible to play as a group or, for a true jury duty experience, boot a ticket individually and join a group of jurors you don't yet know.
The experience takes 110 minutes and can be played on Friday, Saturday, or Sunday – there are multiple time slots to choose from each day.
Join the Jury, Reach the Verdict