With the recent popularity of Hygge and Marie Kondo, it has since become quite the trend to take a closer look at the interiors of how our homes look. Furniture, decoration, and design reflect your personality, and a comfortable home is your haven after a long and stressful day. For a long time, however, a certain room has been ignored among this trend – the kitchen. Recently, after the popularity of shows like Top Chef, many have rediscovered this room and its design potential. Are you one of them? If so, then it is important to know the hottest kitchen design trends for 2021. Not only will these work to your tastes, but they will also increase the value of your home.
Coziness with Wood, White, And Sand
There is no second chance for a first impression and that goes for your kitchen too. Usually, it is the kitchen fronts that your guests see first and so you want to make sure a welcoming feeling comes up instantly. This can be achieved with a wooden appearance, for example with an elegant walnut decor. Such a finish fits perfectly with the trending of naturalness.
If you love light and natural colors, try a soft white or a subtle sand tone is. But remember to get an anti-fingerprint coating. If you have young kids, this will come in especially handy. If you combine these lights colors with natural materials like wood, and you give the kitchen front a minimalist look it creates the popular and homely Scandinavian one.
Note: Besides wood finished, soft colors, and sandy textures, there many surfaces surging in popularity for 2021. Consider classic concrete, the ultimate in industrial chic, or satin matte finish glass for added depth.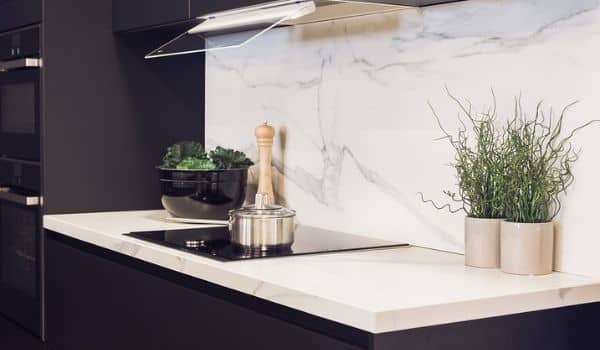 Still Popular: Marble Look Worktops
When it comes to the kitchen, worktops always catch the eye; Not only in looks but also in touch. For worktops, marble is always an elegant choice, is available in many colors, and is a perennial kitchen design trend. Ceramic also has many practical properties; it excels in scratch, heat, and stain resistance. Again, things that come in handy with young ones. Furthermore, ceramic combines a beautiful, naturalistic look and feel, practical purposes, and is also very hygienic. With a variety of colors and patterns, no two pieces of marble are the same – something any true individualist will cherish for their home.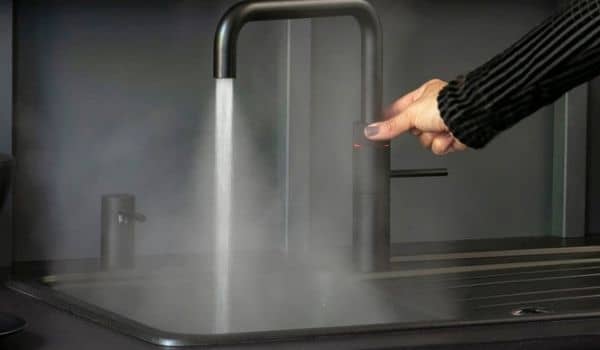 Black Water Taps and Sinks
Water Taps are usually not the most exciting part of a kitchen but wait until you will learn about the Quooker. With the Quooker you can wave goodbye to your old and boring kitchen boiler and tap. No more wasted time waiting for water to finally boil while you have so many more important things to do. Here, the boiling hot water comes right out of the tap instantly! You can switch between hot water for cooking and cold water for drinking immediately with absolutely no wasted energy. There are many different colors and styles available, but particularly consider the super stylish black design to match black sinks (another hot trend in kitchen design).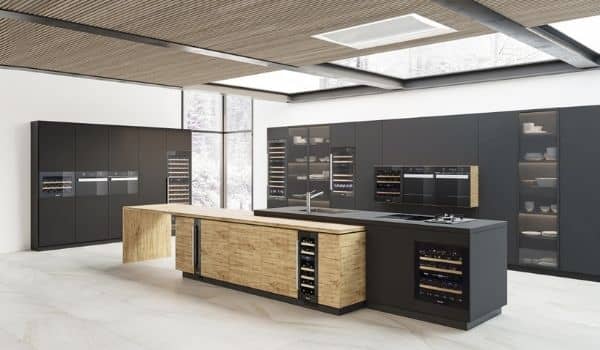 Wine Climate Cabinet
Are you a wine lover and are not afraid to invest in it? If so, then you probably want to make sure your wine is stored in the best possible conditions. Due to the growing interest in wine culture and not to mention combining it with good food for a good time, proper wine refrigeration has become a hot kitchen trend. The perfect combination of elegance and technology impresses every guest while presenting and storing your best bottles at the ideal temperature.
Note: Wine cabinets may be one of the most customizable aspects of the kitchen. Available in a variety of widths, lengths, finishes, and as either free-standing or built-in, you can easily match them to your existing (or new) kitchen scheme.
More at Home in Your Kitchen
Did these 2021 kitchen trends inspire you to redesign yours? You should at least consider it because the modern kitchen is where everything comes together. It is where you can impress your date or simply wake up with a cup of coffee and stare out the window. But no matter what happens in your kitchen, these design trends in 2021 make sure unforgettable moments are created in an unforgettable environment. If you've been inspired, or are still looking for more information, consult the kitchen and flooring experts at STOX for even more options. Also make sure to subscribe to their newsletter where you'll find a world of tips, news, and discounts sent right to your inbox.
PS: Get 10% off STOX Kitchen & Flooring. One of the many Expat Republic perks & discounts!