In a competitive housing market like the Netherlands, finding the right home is not easy. It is all the more difficult for those coming from abroad who may lack time and understanding of what to expect from their new home.
Of course, such competition does not always translate into a proper price/quality ratio. It can also add to the unfamiliarity of both the legal and cultural differences that affect one's living space. With that, expats frequently look to refurbish aspects of their new homes, seeking knowledgeable companies who can aid in the process.
In this article, we take a look at three key aspects of every home and the options available for each. Kitchens, floors, and window decorations are three areas that add both aesthetic and financial value to your home. Whether you are a renter, buyer, short-term occupant, or long term tenant, hopefully, this guide provides a comprehensive road map to the refurbishment process.
KITCHEN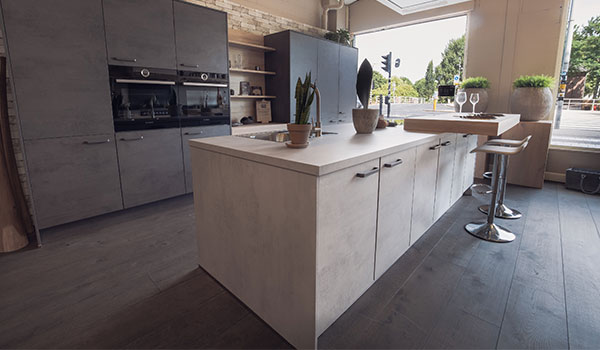 The Kitchen is one of any home's most-used rooms. A place of familiarity, family, and food, a kitchen is also a place that greatly influences a home's value.
When looking to refurbish your kitchen here in the Netherlands, there is no shortage of options and styles to choose from. There are also many elements that make up a modern kitchen. Everything from worktops, hobs, taps, cabinets, fridges, handles, and lighting are to be considered.
For some inspiration checkout these lovely kitchen designs.
Here we look at a variety of kitchen options, from worktops to unique all in one taps, and weigh out the pros and cons of each.
WORKTOPS
Granite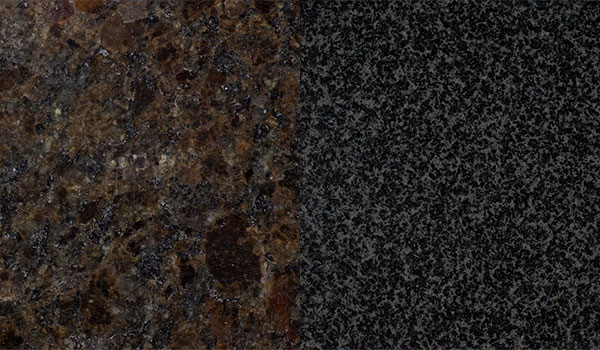 Widely recognized as the most luxurious of worktop options, granite is easily able to define a kitchen and one's personal tastes. Made from strong, sturdy, and durable rock, granite also yields the distinct advantage that no two such worktops will ever be the same.
Pro: Durability/Very hard to damage; Unique look as no two pieces of granite are the same; hygienic
Con: Sensitive to staining; Requires some additional maintenance; Price dependent on the country of origin – average price is thought less expensive when compared to ceramic Dekton and many other materials
Wood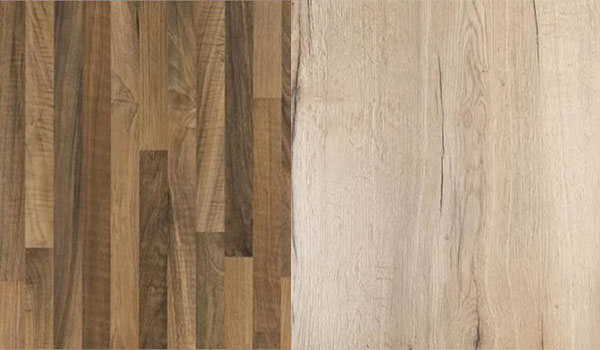 Wood provides a classic feel with a unique aesthetic. Natural, warm and, if purchased from the right place, highly sustainable, a wood worktop will never go out of style.
Pro: Sustainable materials; Provides a unique style as no two pieces of wood are the same
Con: Low threshold for damage; Does not react well to high temperatures; Requires maximal maintenance in comparison to other worktop options; Less hygienic compared to the other materials
Composite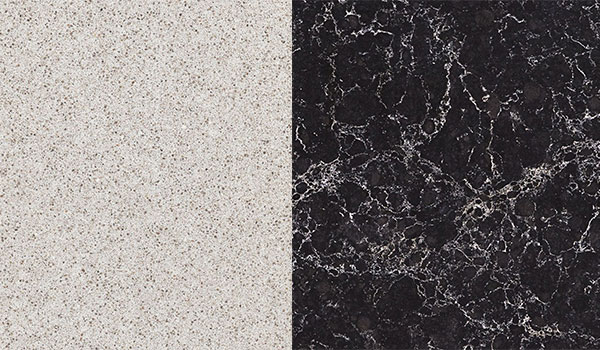 An aesthetically pleasing alternative to granite, composites come in a variety of materials, creating a wide variety of aesthetic options. Always hygienic and highly durable, composites will not damage easily. They also offer a variety of color options in all price ranges.
Pro: Lower cost alternative to granite; High threshold for damage; hygienic; Customizable in terms of color
Con: Sensitive to heat; requires specific cleaning materials
Concrete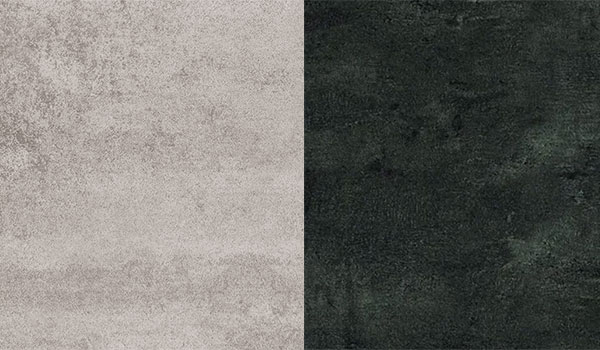 With a unique look compared to other options, concrete has enjoyed a steady rise in popularity over the past few years.
Pro: Material strength; Limited required maintenance; Popular and aesthetically pleasing; Robust look and feel; Composed from natural materials
Con: Requires specific cleaning materials
Ceramic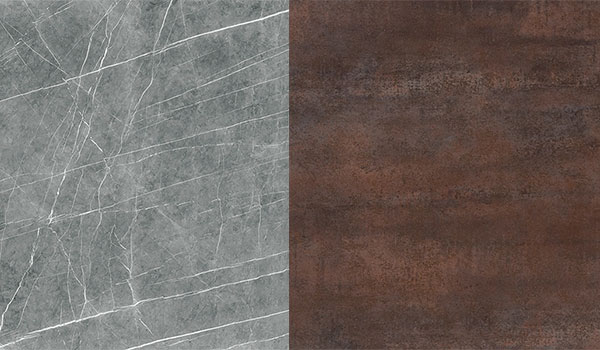 Completely made from natural materials, not only is ceramic popular but also recyclable. Highly resistant to stains and very hygienic, ceramic is an option as conscious as it is stylish.
Pro: Recyclable; High resistance to heat; Hygienic; Durable
Con: The edges are vulnerable to damage caused by bumping with heavy objects; Could potentially break when force is applied to a specific area
Laminate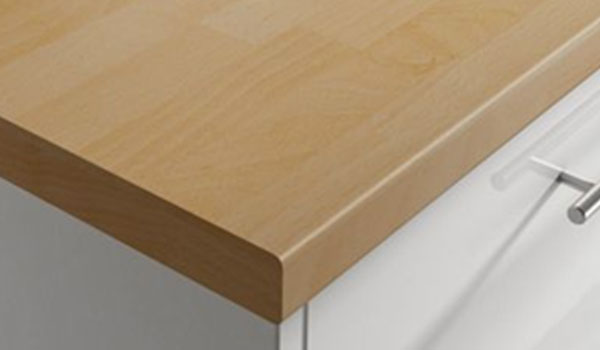 The price-conscious worktop option, laminate offers both durability and aesthetics. Constructed of more than 10 layers of compressed material, attached to a wooden underlayment, laminate has the look and feel of wood and holds its own against the pricier options.
Pro: Affordability; Durable; Uni colors, stone color options, and wood look-a-like reproduction
Con: Low threshold for damage and heat
Stainless Steel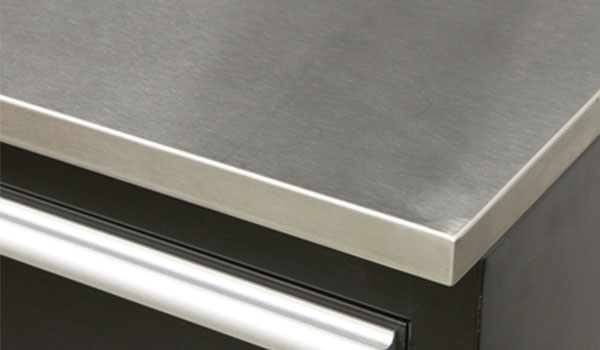 Sleek, stylish, and undeniably trendy, stainless steel has that modern loft-style look and feel. It is also the most hygienic of worktop options.
Pro: Aesthetics; Highly hygienic; durable; Available in large dimensions
Con: Low threshold for damage, particularly scratches
TAPS
We all know about the regular hot/cold taps, but did you know the tap is also highly customizable? With taps, there are many styles and options available. From color to material, location to temperature, and a variety of add-ons, the tap is not just a practical item anymore.
With that, let's look at one specific tap that successfully combines virtually all others: the Quooker.
Quooker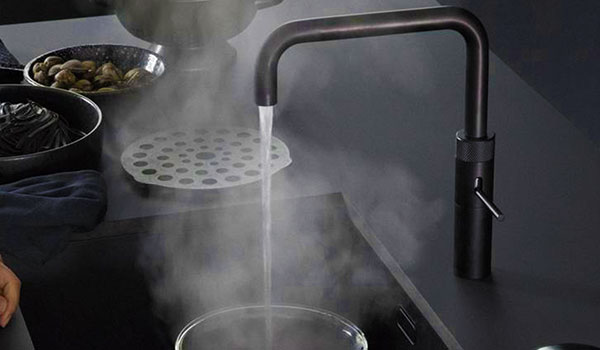 Born right here in the Netherlands, Quooker is an all in one tap that is the apex of quality and design. Different from the traditional options, Quooker is a true boiling water tap that minimizes wait time while maximizing efficiency. Available in sleek designs, colors, and a variety of models, Quooker is an all in one item for hot, cold, filtered, boiling, and even sparkling water.
Available Options: Nordic Single Tap, Fusion, Classic Fusion, Nordic Twintaps, Flex, Cube
HOBS
The centerpiece of any kitchen is its cooking apparatus. These days, Hobs come in three distinct options – gas, induction, and ceramic. As with everything else, each option comes with its pros and cons, but depending on your lifestyle, aesthetics, and values, you are sure to find one that fits your needs.
What's more, the quality modern hob maximizes efficiency and comfort by integrating the all-important extraction process into its worktop. Traditionally, the extraction of cooking fumes required an outside channel, but with today's innovations, this is no longer required. One such extraction method is the recirculation of fumes and odor through plasma filters (which also controls pollen, bacteria, and microparticles). Such filters can also easily integrate into existing extraction hoods. They can also add to the sleek nature of the modern hob through minimizing kitchen components, often disappearing completely within the hob when not used.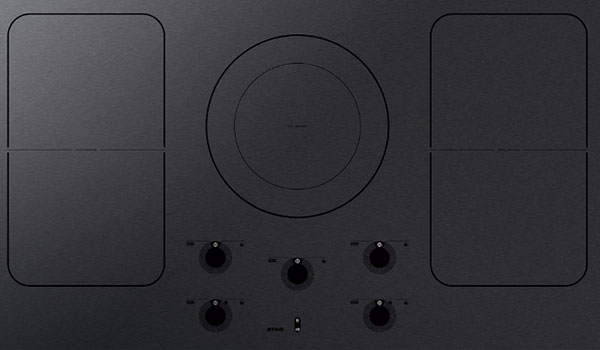 With an induction hob, your pan is heated by a magnetic field rather over a flame. As the entire underside heats up, you do not need to fit your pan to the burner. This makes induction around 60% more efficient than a gas worktop. Nowadays, induction hobs can also be equipped with flex zones, providing freedom to position the pan across its entire surface.
Pro: Limits peripheral energy consumption; Easy to clean; Quick cooling; Sleek look; Allows for downdraft ventilation; Safe
Con: Will, most likely, require its own set of plugs, which may not yet exist in your house; Not all pans are compatible with induction; Slightly more expensive than gas hobs.

Gas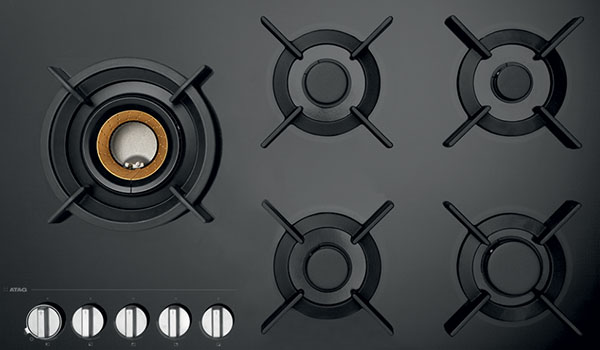 A gas hob uses burners with visible flames and features metal pan supports on top. Gas hobs tend to be the traditional choice and remain the premiere hob choice in professional kitchens.
Pro: Most houses are equipped with appropriate plugs, therefore, limiting additional installation costs; compatible with all pots and pans
Con: Higher energy consumption; requires more maintenance and cleaning time
Ceramic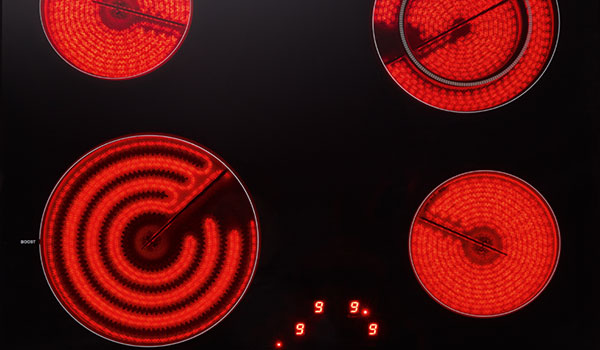 The pan is heated by transferring heat from under glass to the cooking surface. Ceramic refers to the hobs finish and traditionally have been electric, however ceramic induction and gas on glass also offer a stylish, easy to use option.
Pro: Cheaper than induction; Minimal maintenance and cleaning time; Compatible with most pots and pans
Con: More expensive than gas; Will, most likely, require its own set of plugs, which may not yet exist in your house; Heats up and cools down slowly
FLOORING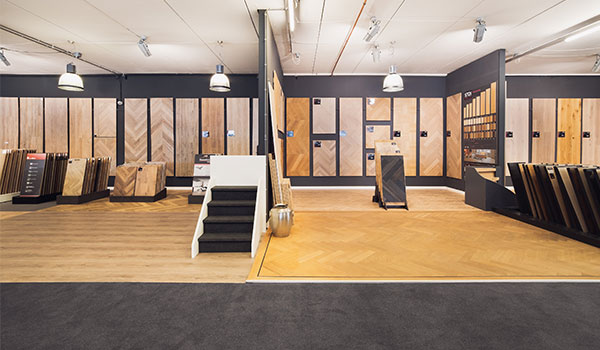 Without a floor, you do not have a home. Luckily, floors are another highly customizable element of the home that range in style, color, and price.
Read all there is to know about flooring options.
Just like kitchens, choosing the right flooring is not a decision to be taken lightly. It is also definitely not a decision to make without the insight and know-how of highly skilled professionals. Why? Well, think of all that must be taken into account:
Did you know that in Amsterdam there is a 10db rule? In the Dutch capital, all floors must resist at least 10 dB of sound in order to be fully compliant with the law.
Does your home have heated floors? Some options are less resilient to this aspect of the modern home than others.
Have kids or pets? Perhaps durability and stain resistance should be looked at.
Is your existing floor uneven? Well, that will add peripheral costs and steps before the installation of your new one.
What about the level of humidity where you are located? Again, some options are more resilient to changes in air moisture than others.
With all this in mind, below, we look at the most popular flooring options out there and weigh out the pros and cons of each.
Wood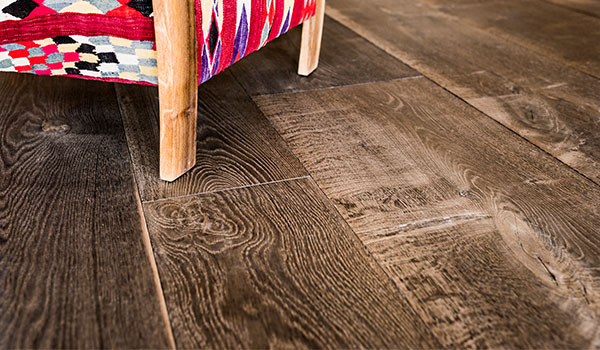 A symbol of class, style, and elegance, wood is as diverse as it is practical. At "home" in both classically and modern-minded homes, wood is the apex of home personality.
Pro: Highly unique; aesthetic with a "classic" feel; diverse array of finishes; government-controlled for sustainability
Con: A level of maintenance is required; Does not do well in humid conditions
Laminate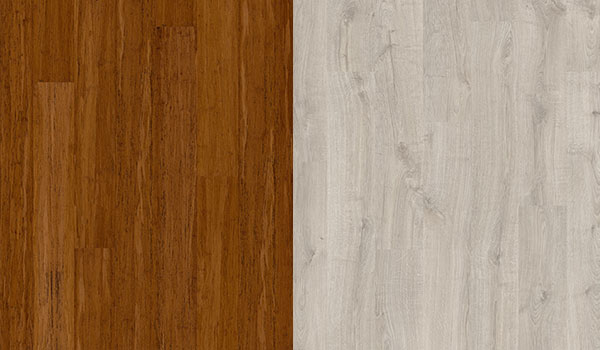 One of the more popular choices for flooring in recent years, laminate is a wood or tile alternative. With a high price/quality ratio and a relatively low install time, laminate is a reliable flooring option for virtually all budgets.
Pro: Maintains color despite sun; Customizable in a wide variety of styles and colors; Easy maintenance with minimal time commitment
Con: Shorter lifespan than real wood; Somewhat hard to the touch; Cold
PVC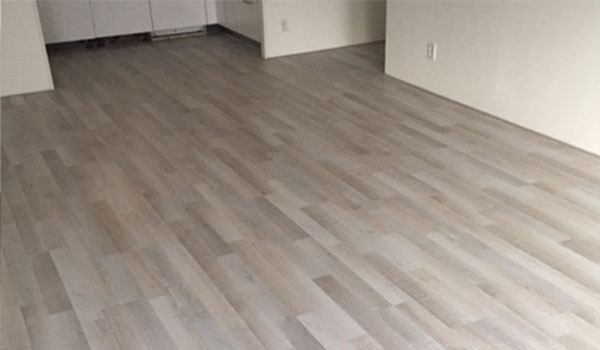 Another highly popular wood alternative, PVC goes great with all budgets, tastes, and lifestyles. A stylish, modern option, PVC is appropriate for virtually all the rooms of your home.
Pro: Strength; Works well with floor heating; Sound absorbent; Easy maintenance; Waterproof; Highly customizable (look)
Con: Price; Potential of repeating patterns; Sensitive to temperature change
Marmoleum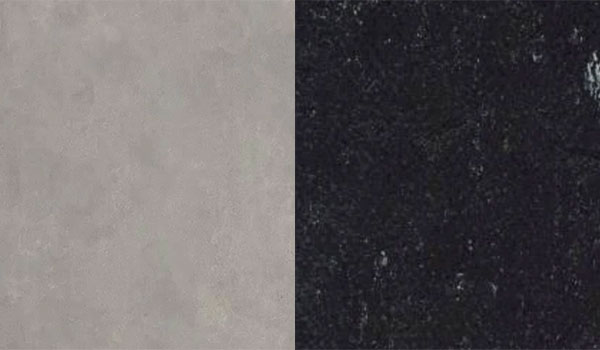 A durable and long-lasting flooring option, Marmoleum is perfect for the modern apartment.
Pro: Hygienic; Anti-static; High threshold for damage; Completely natural, Durable with a lifespan up to 25 years; High customizable (pattern and color); High level of sound insulation; Works well with floor heating
Con: Price; Requires professional and specific installation
Parquet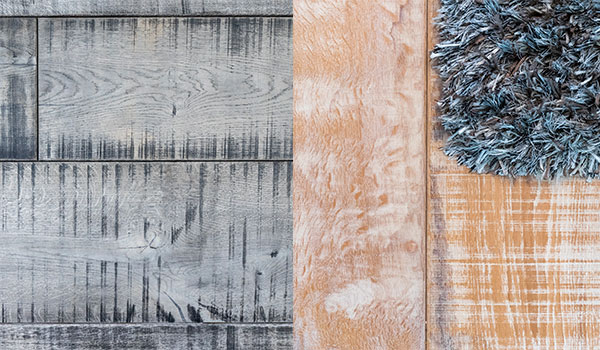 A "classic" look staple, parquet flooring is a consistently popular choice for the home. A highly flexible and aesthetically pleasing option, parquet offers a durable and stylish alternative to wood.
Pro: Highly durable; Easy Maintenance; Aesthetically pleasing; Works well with heated flooring
Con: Sensitive to changes in temperature and humidity; Periodic maintenance is required
Cork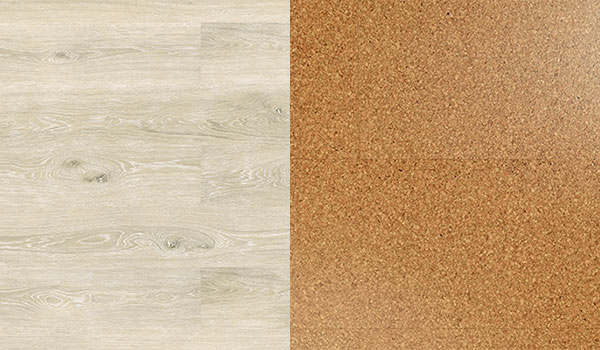 Though one of the least used flooring materials, cork is the most environmentally-conscious option. It can also very well be the most comfortable. Retaining heat in winter and cool to the touch in summer, cork is a 100% natural way to maintain temperature with a focus on sustainability.
Pro: Maintains temperature well; Highly durable; Environmentally conscious; Elasticity, maximizing comfort; High level of sound insulation
Con: Potential for sun discoloration; Does not work well with heated flooring; High level of maintenance required, especially with when used in high traffic situations.
Carpet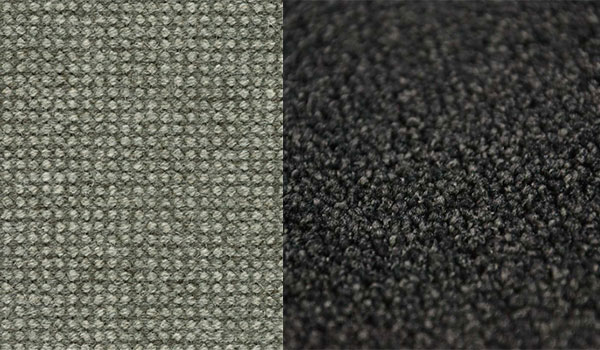 Different than just about every other flooring option, carpet has nevertheless been a staple of the home and workplace for years. Carpet is known for its high comfort levels and price-friendly nature.
Pro: Comfortable and soft to the touch; Highly customizable in style and color; Price
Con: High level of maintenance required; Somewhat allergenic
Vinyl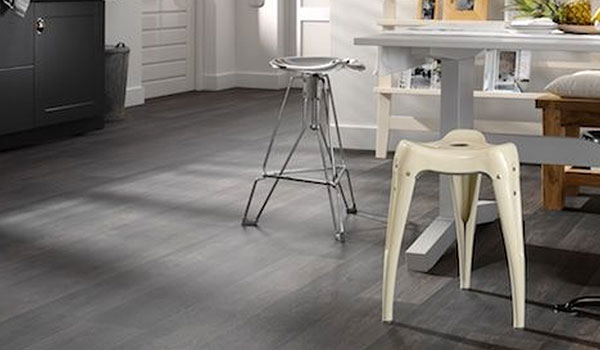 Thanks to a number of advances in recent years, vinyl is now an option both economic and attractive. It is both versatile and durable with high cost efficiency.
Pro: Price; Improved aesthetics; Comfortable; High level of sound insulation; Low level of maintenance required
Con: Low threshold for damage
Herringbone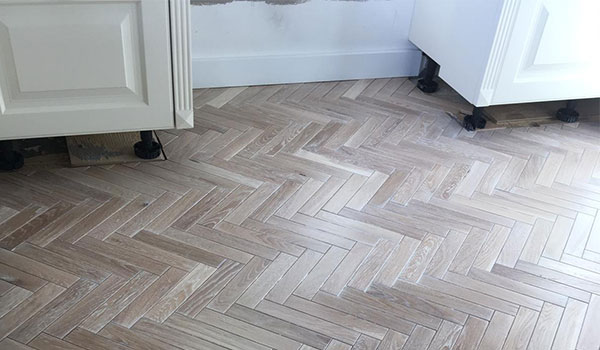 Traditionally a finish for wooden flooring, Herringbone is now available for both Laminate and PVC options as well. For those with budgetary restrictions, both laminate and PVC offer an aesthetically similar wood replacement. In terms of price, Laminate is slightly above PVC. Pros and Cons of Herringbone will fall similar to those of Laminate and PVC.
WINDOW BLINDS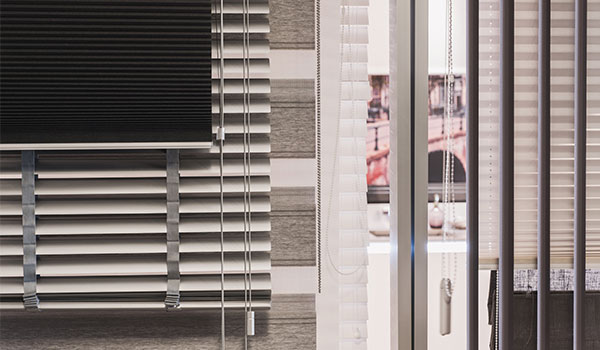 Window Blinds are another home necessity, especially when living in such crowded confines like Amsterdam and similar cities. Despite this practical need, however, window blinds can also be stylish, durable, and price-effective. Here are the most popular options when it comes to window decoration.
Find all the information and options on window blinds for every room.
Roman
A folding window decoration, Roman blinds are both aesthetically pleasing and customizable. With different materials to choose from, you can go from virtually see through to blackout with ease. Also, with minimal space needed, every room featuring a Roman blind seems to enlarge in space.
Slats
Slats are vertical strips meant to cover wide spaces, yet remain appropriate for rooms of many descriptions. With minimal dust buildup, vertical slats are also an easy to clean window decoration – although they may make a little noise in the wind!
Venetian
A solid and reliable choice, Venetian blind are constructed from horizontally placed strips controlled through a string. They are great for controlling sunlight and minimizing space when rolled up. Venetian blinds are also customizable in terms of material – with wood and aluminum the most popular options.
Roller/Duo Roller
An always-popular choice, roller blinds are easy to install and maintain, highly customizable, and an energy-efficient window decoration.
Duo Roller's offer a second layer of fabric for extra light or darkness, but come at a slightly higher price. Despite this, all major positives are retained when compared to single rollers.
Pleated/Duette
Pleated curtains are another popular window decoration. A lightweight, highly customizable window blind, both Pleated and Duette are accessible and beautiful. For increased darkness (and a hidden string), the Duette is for you. Otherwise, its differences from Pleated are minimal to non-existent.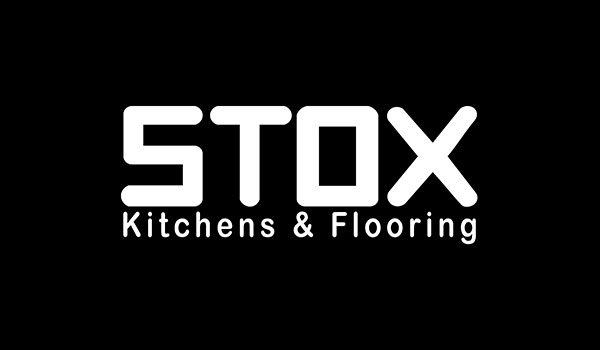 Hopefully, this breakdown of some of the key components of most home renovations has been useful and informative. It cannot be reiterated enough that, especially in a market as competitive, to always make sure you are dealing with the best in customization and installation. This helps avoid pesky charges down the road. Amsterdam's  STOX Kitchens & Flooring, for example, has a proven track record in the expat world. They are well known for both personal housing and large-scale environments, retaining a position at the top of the home refurbishment ladder.
If there is any aspect of home refurbishment that we have not covered here, ask a STOX representative.  Also make sure to subscribe to their newsletter where you'll find a world of tips, news, and discounts sent right to your inbox. Their comprehensive blueprint of the entire process and technologically advanced presentations will leave no stone unturned.