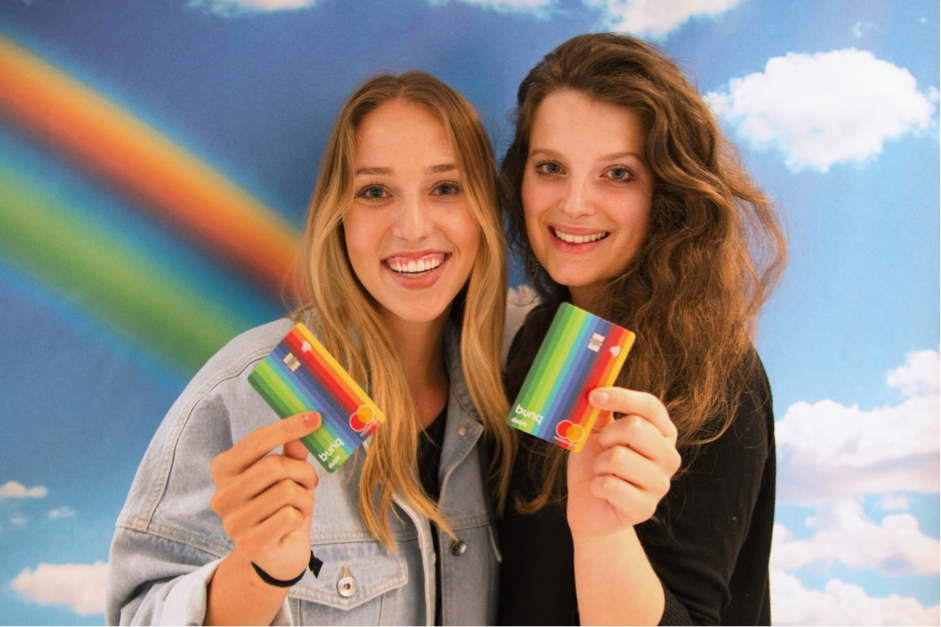 Once you've got off the plane in the Netherlands, opening a bank account will be one of your first priorities. Just like anywhere else, you'll need a bank account to get paid, pay your bills, and buy products online and in stores.
Banking in the Netherlands is pretty straightforward, but some banks are better than others for internationals. There's also the option of bypassing the brick-and-mortar bank branches and doing it all with your smartphone. Mobile-only bank bunq provides a host of innovative features that make traditional banks look positively antiquated, and can help solve your financial headaches.
No paperwork
Once you've touched down and settled in, you would traditionally have had to make the journey to the nearest branch of your bank of choice, documents in hand.
Of course if you choose bunq, you'll only need an address within the EU and proof of identity – a passport or national ID card – which you provide by a simple video call in English handled through the app. Within 24 hours you'll be good to go.
You also don't have to provide your BSN for another 90 days, allowing you to start banking from before you even arrive.
Customer service
Internationals who bank with bunq can take advantage of the multilingual app and customer service. The app comes in English, Dutch, German, Italian and Spanish, and customer support is available in English and five other languages.
If talking on the phone isn't your thing, you can also use the in-app chat tool to get in touch with customer service 365 days a year.
Bank accounts for groups
Sooner or later, you'll find yourself in a situation where you have to manage expenses or split bills with your new Dutch and international friends. It's easy to set up bank accounts for groups with bunq. These accounts make things like gathering rent between roommates or with your partner, or collecting funds for holidays a breeze. They're also incredibly handy for the ever-popular Dutch pastime of splitting the bill.
"Going Dutch" is aptly named. The thrifty Dutch love splitting the bill at restaurants and bars. However, in an age of plastic money, getting a pot together among friends can be difficult. Bank accounts for groups make this process effortless, letting everyone chip in to the pot, and letting you get on with enjoying your night.
Budget smart
Managing your finances can be a hassle with traditional banks, and opening new accounts can often require a trek to the nearest branch and reams of repetitive paperwork.
Not with bunq. With bunq you can open up to 25 accounts instantly and with no extra fee. Linking your card to any one of these accounts can also be done with the push of a button on the app.
Daily banking
The Dutch use their pinpas (maestro cards) for everything, and in any city in the Netherlands you'll come across "hier alleen pinnen" or "no cash, cards only" signs at certain stores and restaurants. Cash is rapidly falling out of favour here, and the card is king.
Bunq equips you for this cashless society. `You can use your bunq card anywhere in the world, and anywhere online. Handy when travelling and when shopping online from the comfort of home.
Requesting money
Asking for money can be a headache for many people, but with bunq the whole process is streamlined. Just send a request on WhatsApp or Messenger and receive a push notification as soon as you get your money.
Need to gather cash for a new TV from your roommates? Or collect contributions for a birthday present? Just send requests to your contacts or to entire WhatsApp groups and collect the money with minimum fuss.
Leave the old ways behind
It's never been easier to take control of your finances. And with bunq, your money is yours, period. Bunq don't invest it or gamble with it, and keep your data private.
Just download the app and leave the old system behind.
Bunq is the ethical, transparent, and private mobile-only bank. A basic account is free, and a premium account costs €7.99 per month. Download the app today and join the banking revolution.