Many of you are crazy busy professionals, working hard and, recently, spending loads of time at home. If that describes you, we've put this super simple relatively healthy yet incredibly delicious honey mustard chicken. It's a perfect quick and delicious meal for those of us with limited time to spend on preparation. You literally need 3 ingredients, excluding salt and pepper, to create one of the best recipes for busy professionals.

Step 1: Go to Albert Heijn and buy:
Honey – splurge a little and get the good stuff, maybe even go organic (biologisch) – cost 4.50 Euro max
Zaanse Mustard – This is the mustard with a spicy kick to it – cost 1 euro. Make sure it's the spicy one, though. It will make all the difference in the taste!
Chicken Breast – The "Better Living" (Beter Leven) Scharrel Kip
Step 2: Mix the Honey and the Mustard
In a separate bowl mix the honey and mustard together using:
1 or 2 Tablespoons of Zaanse Mustard (dending on how spicy you want it)
2 or 3 tablespoons of the honey (depending on how sweet you want it)
Add a pinch of salt
Mix the ingredients together until it is a homogenous mix of honey and mustard.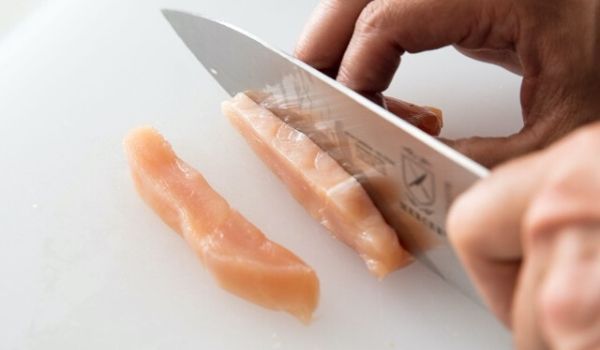 Step 3: Cut the chicken breast into smaller pieces
Ideally you'll want to use a cutting board and a good knife. Don't make the pieces too thin or too thick, they should be just right. For instance, measure about 2-3 fingers thickness for each piece.
Step 4: Bathe the Chicken in the honey-mustard mixture.
Mix the chicken and the honey-mustard mix from Step 2. It is important to really get all the chicken you'd like to eat smothered with the mix. Once all the pieces are well lathered, wait a few minutes and let it all soak in. If you really want to get fancy, you can let it marinate overnight, but that's not necessary especially if you're hungry after a busy day.
Step 4: Put it all in the oven. Don't be shy.
Take the entire mix and place it in a pot that can go in the oven. Make sure to pour the mixture and the chicken into the pot in a way that it cooks evenly. Set it to cook in the oven blowing convection (or fan oven, so it blows the heat around).
Cook for 30 minutes at 190 degrees celsius
Once it's done take the chicken out and let it cool for a few minutes, serve, and enjoy one of the best recipes for busy professionals out there!