Tired of the chalky, tasteless supermarket loaves that would function better as a sponge than an edible good? We have some news.
The past years have seen a sudden upsurge in artisanal baking, and a vast number of Netherlands-based bakeries began to adapt to the new standards. If you want a healthy, wholesome, easy-to-store product, you no longer have to conduct extensive research and travel across half of the country for it.
We rounded up a few of the bakeries that champion a slower, more considerate approach towards bread-making, and some family-run businesses that have been serving the same customers for decades. The next time you make a Panzanella or a beautiful soup that begs for some additional texture, head over to these places.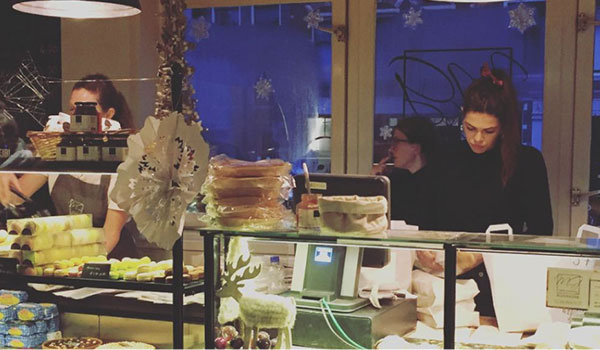 Some bakeries serve rich, rustic-looking sourdough loaves with beautiful, deep brown crust and generous dusting. Some specialize in the croissant business, offering lighter-than-air, melt-in-your mouthpieces of dark beige puff pastry barely scorched by the heat of the oven. Others earned popularity with an exceptionally-curated patisserie shelf that will make you want to chain yourself to the till. And then, there's Mamie Gourmande, the Leiden-based bakery that perfected it all.
Most customers come here for the beautiful, super-healthy bread and the size-ous sandwiches filled to the brim with a wide array of lip-smackingly delicious fillings, but there's no shortage of brilliant products to try. If you want something truly mega, go for the tartelette au chocolat, a paper-thin, barely-visible shell of pastry bursting with a dense, absolutely luscious milk chocolate ganache.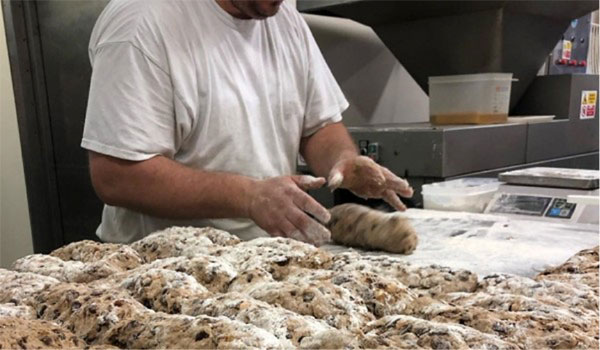 Founded in 1896, Hartog's is among the oldest family-run businesses in Amsterdam. As such, it's become a neighbourhood staple and a community hotspot for many.
The Hartogs mill their own flour to ensure that each item is up to the highest standards – and my god, are their wares tasty. While most locals will swear by the classics, their sandwiches, biscuits and original Dutch patisseries are equally tempting.
Before you decide to embark on the mighty journey to the suburbs, you'll want to consider a few things: Hartog's is incredibly popular, and 100 metre long queues are just something you will have to expect. Secondly, their prices were calculated with devoted gourmets in mind. Thirdly, Hartog's is famously sluggish when it comes to its coffee offerings. The best you can expect is an endearing self-serving machine. Lastly, and this isn't so much of a precaution: Hartog's does some unusual baked goods. How so, you should ask? Two words: Speculoos sarnies.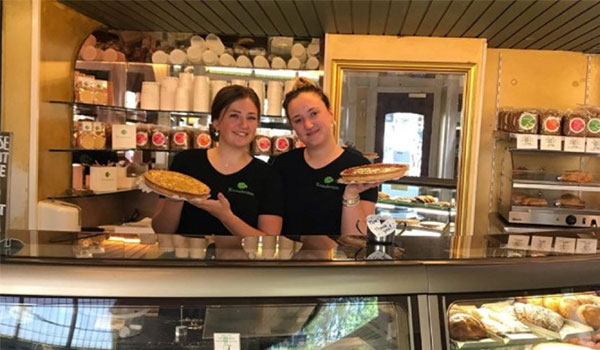 This place is a well-known Amsterdam institution, and not without reason.
The first and only bakery to offer stroopwafels the size of a toddler's head, Lanskroon is the pioneer of an experimental mentality when it comes to the world of Dutch biscuits. Determined to revolutionize the homogeneous local scene, founder Claudia Dunselman was the first to recognize the enormous potential in a bakery offering stroopwafels reconsidered with a younger audience in mind.
The results? From oversized stroopwafels to delightfully crisp and crunchy disks filled with flagrant fig jam or locally-sourced honey, there's no shortage of exciting items on the menu.
Lanskroon also runs a multi-faceted program aimed at helping people find a new job. They offer courses that allow people with disabilities to learn the ins and outs of artisan baking. Claudia is an outspoken advocate of equal opportunities, and Lanskroon is perceived as a big family business where diversity can only bring more to the team. In other words: not only are the stroopwafels a real treat, but the money sent on them will also support a good cause.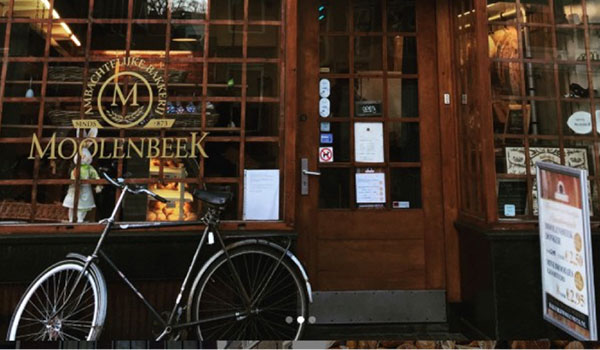 Utrecht's answer to Hartog's, the Moolenbeek Bakery has been providing tasty loaves and delicious sandwiches to exhausted university students, hungry shoppers, and everyone else since 1873.
Unlike the previous two entries, this bakery offers a full range of food options, including salads, soups, hot drinks, and so much more. This is how your visit will go: you go for the sourdough and stay for the daily sandwich offerings paired with a cup of house specialty hot chocolate or fair trade tea.
This place caters to everyone from shoppers to people eager to have an insightful conversation over a freshly-made tartine. Hence, a visit will double as a brilliant chance to engage in some people watching and to reload your tired taste buds – with something incredibly simple, and yet so irreplaceable, as the perfectly-composed sandwich.
Like Das Brot (more on this later), Moolenbeek is insistent on delivering only the best and healthiest. Whatever dietary restrictions you might have, they'll cater to it. Think spelt croissant. Think gluten-free loaves. Think locally sourced cheese and meat products. Think vast selection of organic juices.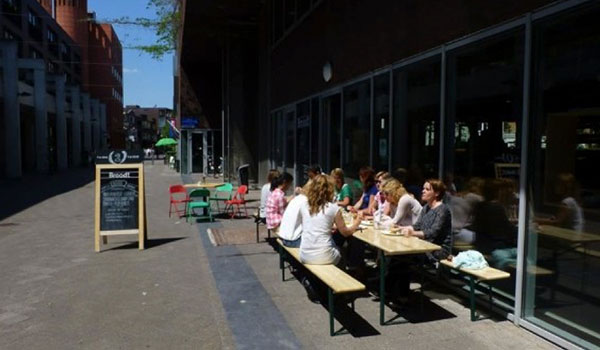 Located inside a labyrinthine office complex near the center of Eindhoven, the last thing you'd expect of this place is a cozy, homely atmosphere. And yet. Stadsbakkerij Broot is a staple among the lovers of artisan baked goods and beyond.
Similarly to the Mooleenbeek, it's not important what you originally came here for. You're bound to be staying for a cup of coffee and a perfectly-glazed, buttery, flaky patisserie.
The sourdough loaves might be the ones stealing the spotlight – it'd be foolish to assume that sweet snacks or a sandwich brimming with fresh, farm-made produce and high-quality ingredients could ever compete with it – but the shop's other wares are exceptional in their own right. Our tip? Nibble away on a handsome slice of spelt apple pie for a quick starter, and elevate your next meal with the addition of one of their dark rye or whole bread loaves. As you'll discover, the Stadsbakkerij Broot is a rare champion of both.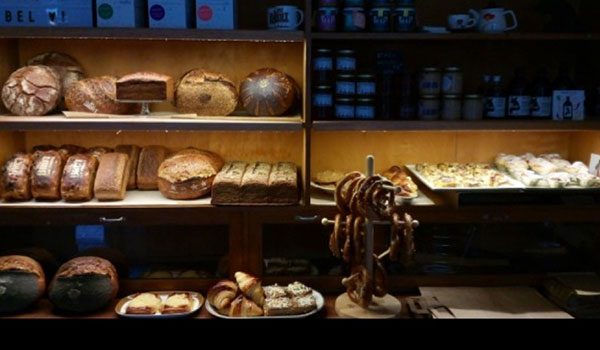 Unlike your average Rotterdam fare, the tiny cornershop stocks deep red spelt sourdoughs, poppyseed-covered whole bread loaves and much, much more. Eager to try out something new? Why not give a shot to their incredible Volkornbrot, a dark yellow, mustard-colored loaf with a thin, delightfully bittersweet crust. Or, alternatively, take a bite of the Monchsbrot, a dense, chewy loaf with a subtle, hazelnutty flavor? Regardless of which one you choose – or let owner Lotte Smelik do the choosing – you simply cannot go wrong.
Although Lotte started the shop – or "one-woman micro-bakery," as she calls it – just over two years ago, Das Brot has already acquired a cult-like following among locals. A gathering place among sourdough lovers, this spot was among the pioneers to champion a more ingredient-focused, tradition-oriented approach towards bread-making. Though Lotte cites her German boyfriend and his love of long-forgotten recipes as the biggest inspiration behind the venture, it's easy to see how the shop caters so brilliantly to an ever-growing need for healthier, more wholesome alternatives. Before you'd ask: most breads are vegan and suited for those with lactose intolerance.
The cherry on the top? Not only are Lotte's baking skills extraordinary, but so is her exceptional eye for presentation. Our highlight? The poppy seed loaf decorated with the silhouette of the Rotterdam skyline. Not into aesthetics? Go with the pretzel, you won't regret it.