We are Eline and Lotta of Healthy Life LAB [link: http://www.healthylifelab.nl/en/home-2/ ). On Expat Republic we will share blogs about (healthy) food, life and healthy places in The Hague. In this article we will tell you why we chose The Hague as our city of residence  and why The Hague is such a great city!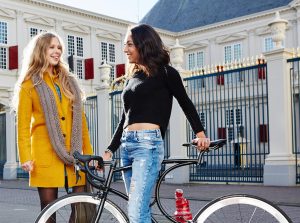 The Hague is very diverse in many ways. The beach, city terrace chilling, wild parties, shopping and restaurants; The Hague has it all! Additionally, the forests, parks and the dunes make for a nice outdoor run or workout session. If you're looking to get that beach body for the summer yet want to enjoy eating out with friends, we've summarized a few healthy choices for you!
So what are the places where you need to go if you want to eat healthy?
Pistache Café, Prinsestraat 134

This is a new kid in town, but by far our favorite. They feature a nice terrace at the border of the palace gardens. Everything is colored in white & pistachio green and their menu is full of healthy options. Try their Acai bowls as they are arguably the best in The Hague. You can also try the delicious salads, sandwiches, good coffee and rock solid smoothies. Make sure you ask them for the healthy options on the menu as they do have some choices which will send you down the freeway to flab.
FOAM Catering, Frederikstraat 44

Recently opened FOAM Catering is anything but your average lunchroom! It's known for it's healthy plant-based dishes. They also serve delicious smoothies, vegan pastries and good coffee specials. The turmeric latte is highly recommended! FOAM also has a very nice and green backyard garden, perfect when the temperature/weather is agreeable.
SLA, Kerkplein 4A
SLA first opened in Amsterdam and has made a name for itself in Noord-Holland. A few weeks ago SLA opened their doors in The Hague as well! "Sla" means salad in Dutch. The salads, also referred to as 'salad 2.0', are generally a perfect combination of fresh and unexpected ingredients. The menu changes by the seasons and if you want to you can also customize your own salad. Home delivery is available, so after a long days work you don't want to cook, it's still easy to eat healthy!
Lunchroom Baklust, Veenkade 19

If you want to eat vegan or vegetarian, Lunchroom Baklust is the place to be. The atmosphere is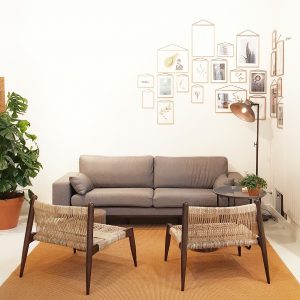 really easy going with a hint of hippie. It feels like a cozy living room and the crew is very friendly. If you want to have a delicious vegan or vegetarian meal, this is certainly the place to be!
Patagonia beach club, Zwarte Pad 57A

The beach is the place to be! (Well when the weather is nice) At the beginning of "Zwarte pad" is a cute beach club called 'Patagonia'. It's well furnished with lots of white, wooden details and beautiful vases. Moreover, the food is also very delic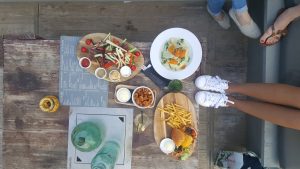 ious! You can choose healthy salads, Acai bowls and veggie snack platters. if you're going with friends who want to eat less healthy yet rich options Patagonia also has burgers and delicious desserts. It's a perfect place to relax, eat healthy and enjoy the seaside.
Lunchroom Blossom, Anna Paulownastraat 70C

This is a really nice lunchroom in the 'Zeeheldenkwartier', it's perfect to go here with friends for a good lunch or coffee, but it's also a nice working space and a great environment for business meetings.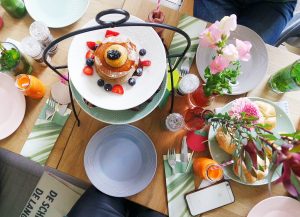 Upstairs they have a special meeting room in which we organize health workshops. Lunchroom Blossom always provides a delicious custom made plant based lunch and delicious healthy snacks especially for our educational health workshops!
As you can see, The Hague is ever changing and has a great variety of healthy lunchrooms and restaurants. Especially in the last few months a lot of healthy places opened their doors, which makes it easier and more fun to eat healthy while eating out!