May 11 saw the Netherlands emerge from its seven-week "intelligent lockdown" caused by the global coronavirus pandemic. The gradual reopening of the country's economy, as outlined by Prime Minister Mark Rutte on 6 May, includes several conditions in order to do so in the interest of public safety and security. These conditions also follow a timeline that, for now, culminating in a final stage of re-openings on 1 September.
Of these conditions, there are a few that remain in effect throughout. These include the maintaining of "social distancing" measures – a 1,5m distance between people. As of the current date, this distance must be kept at currently open "contact businesses" like hair and nail salons, barbershops, opticians, masseurs, acupuncturists, and tattoo parlors. When engaging with these businesses, whether as service providers or customers, the use of masks will be mandatory.
Furthermore, it is strongly advised that masks be used as often as possible by the general public. This is especially true when using public transportation or other instances where a 1,5m distance may prove difficult to maintain. But, with such an increased demand for masks and effective face coverings, you may not be able to purchase the amount you will need. With this in mind, we've put together this handy guide on how to make a cloth mask at home. There is also a video at the end (courtesy of UnityPoint Health) to show you exactly how to make the best cloth mask you can.
How to Make a Cloth Mask
In the steps below you will find the materials and instruction on how to make a cloth mask. This type of mask is called the Olson Face Mask. It was specifically designed by medical professionals to be used when other surgical masks are unavailable. It is curved to contour to the mouth and nose and features a pocket inside to hold an additional air filter. Otherwise, why not get creative with it? Use a variety of patterns, colors, and express yourself. We're curious to see what you come up with!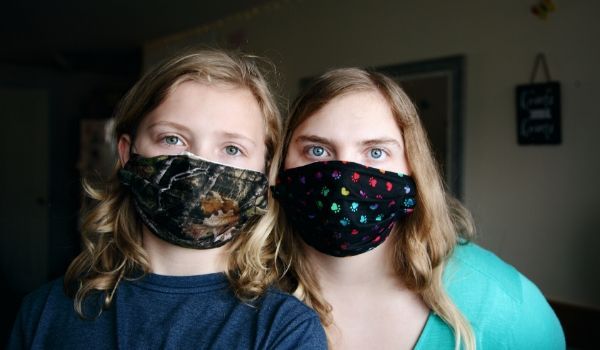 Materials
Tightly woven poly-cotton blend fabric
All-purpose thread
Bias tape or elastic hair ties
Scissors
Instructions
Sew mouth 1 and mouth 2 together along side 3
Sew face 1 and face 2 together along side 3
On mouth 1 and mouth 2 sew fold side 5 over 1/4 inch and sew down
On cheek 1 and cheek 2 fold side 6 over 1/4 inch and sew down
Match cheek 1 and mouth 1 at the dotted line (7). Sew a 1-inch tack at side 1 and side 2 where the two piece overlap
Repeat Step 6 for cheek 2 and mouth 2
With the fronts of the fabric facing each other, sew along the entire perimeter of the mask
Use one of the slits between the mouth and the cheek to turn the mask ride-side out
Add a hair tie to each side by folding the fabric on the end of the mask over the tie and sew down
Apply double-sided skin tape around the contour of the mask to create the required seal (skip if you don't have the tape)