For as long as I can remember I've been an entrepreneur. As a 4-year-old kid, I would catch the goldfish in the pond of my father's hotel and try selling them to the kitchen staff.
Growing up to the man I am today there are countless stories like that about moments in my life where I saw an opportunity to make some money or have an adventure. Back then, the proceeds, if any, would go to candy, fishing gear, or the things I wasn't allowed to have or do by my parents.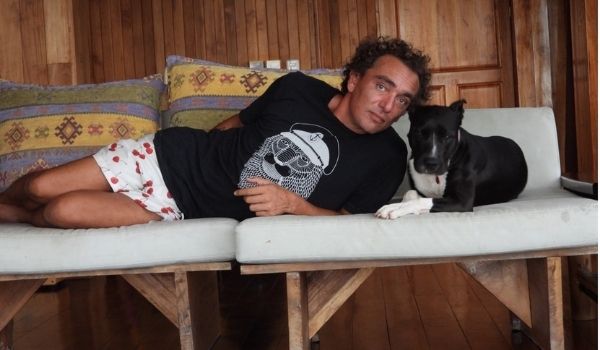 I have always looked at the world and challenged the things I saw always asking myself why is it done like this? Mostly because I was always trying to find a way to make a business out of something that wasn't done right or could've been done better (IMHO).
The first time I did anything workwise outside of the Netherlands was when I was in my early twenties. I was importing food supplements from America and got invited to an event in Baltimore and to see the companies HQ in Castle Rock, Colorado. Life back then was good, and business was booming.
A few months after this work trip my business partner was diagnosed with cancer and two months later, he passed away. He wasn't just my business partner; he was also my mentor and best friend. I have him to thank for everything that I do today and the way I do it. He gave me the courage to be who I am and not get side-tracked by insecurities caused by lack of success or lack of formal education. This moment in my life proved to be a critical turning point.
When life throws you curve balls you can collapse or grow. It may not be this black and white for all of us, but in my personal experience, these big events always trigger a new level of consciousness. I remember sitting next to my friend's grave in tears thinking of the ripple effect of losing him. I had to close the company, found myself broke, and looking for a job just so I could pay the bills.
A year later, everything in my life was back on track and I was ready to start a new business again. Life continued to be a rollercoaster, helping me grow and think more and more about why I was doing the things I did and what direction I wanted my life to go in.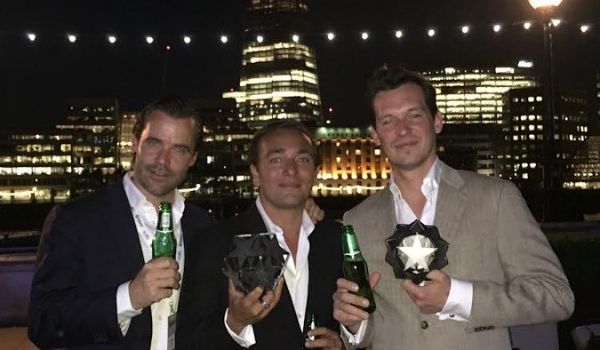 I guess when you get older the 'meaning' of things becomes more important. It's not just the quest for economic success anymore. In my case, I wanted to operate in a field that I loved with a product that wasn't destroying anything. I chose music as the domain to operate in. Music was the perfect product for me to sell, and the business could be done very differently, with the arrival of the Internet.
I had learned how to build software and wanted to bring as much music as possible to the ears of people. I am grateful for all the places music brought me in the world. I was lucky. As a kid, I dreamt of traveling, doing business all over the world, and being that guy that spoke several languages. I could write so much more about my adventures around the world, about the fantastic people I met everywhere, about successes and failures both personal and in business, but that's all for another time. Here I want to share my process of becoming an entrepreneur that believes sustainable and circular businesses that are helping Mother Nature will be the next big thing.
My first time as an expat was when I moved from Amsterdam to Phoenix Arizona to set up a new business. I left with two suitcases. Long story short. This business adventure failed, and I moved to LA to try something else.
For six months I was staying with friends and in RBNB's in LA and Mexico (whenever I had to cross the border because my visa expired). During this period there wasn't an idea that I wanted to build a business around, it simply wasn't there. I enjoyed these months. Not working and just going with the flow of life. At some point, I was getting a bit worried about the future and my place in the world. I realized that my identity was interwoven with my work. Now that was gone, it felt empty, and I was insecure. Would I get a new idea? Would I be able to build another business around it? America is not the best place to be without work and not knowing what to do, so I moved to London and lived with two friends for a while. One of my friends was a vegetarian slowly going vegan and she was and is on a mission to live in harmony with nature and teach her kids from day one how to do this too. A lot of people talk about living more sustainably (including me), but in the end, the reality is, a lot of it is just talk. It's not easy in today's world to live a life without leaving a ton of waste and pollution with everything you do and everywhere you go.
My friend reinvented her life and that of her family and created a plastic-free lifestyle, doesn't harm any animals, and causes minimum pollution. On top of this, she started a subscription-based business with home-manufactured toxic-free cleaning products. I wish we were all like her. She inspired me to be a better person.
Read Also: Plastic Whale: Cleaning The Canals On A Tourist Boat Ride
During my time in London, I joined a planet-centric design agency helping companies reinvent their business in a way where there was no harm done to the planet. One of the projects the agency worked on was the Fairphone. For the first time, I realized that technology could be a force for good. With the right mindset and right idea, industries could be transformed, and our collective negative impact could be reduced dramatically without giving up our modern lifestyle.
During this time, the music business kept calling on me. I was asked to join the board of a music business in Paris and soon that became a CEO job. I moved to Paris with the same two suitcases that had been with me for a while now, lived the first year in hotels and Airbnb's and for the second year I had an apartment in the 9th 'arrondissement'. My only possessions till I moved into my house were still the two suitcases and an IKEA bag, but before I knew it, I was buying stuff again to just live my life. After two years of this experience, I decided to go on a world trip. I stored all my belongings in an apartment in Antwerp and begun my adventure. I had enough stuff again to fill a 20-foot shipping container. After exploring SE Asia, I ended up in Costa Rica (which had been on my bucket list for a decade). I loved Costa Rica so much I decided to live there for a while. I went to Antwerp to organize my belongings, moved fully to Costa Rica soon thereafter, and had my stuff shipped from Antwerp to San Jose. It was cheap to ship all my stuff, around $500,- for a 20-foot container and all my precious belongings would arrive before I did. I won't bother you with too many details here, but six months later and thousands of dollars poured into Costa Rica customs, only 1/3 of my belongings made it to my new home.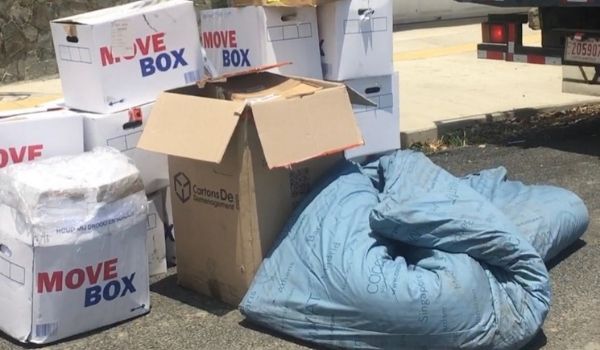 Wherever you live you're going to need stuff. So, I found myself buying most things I needed again (or thought I needed) I realized from all this moving around how difficult it could be for an expat to minimize their impact but also how hard it can be to relocate, start again, start living, start working efficiently and cost-effectively around the world.
In Costa Rica, I connected with nature in a way I never did before. Living a simple life with two dogs, the ocean, a waterfall nearby and as far as the eye could see, Jungle. Costa Rica is wild and for the first time in my life, I felt that nature was stronger than me. I spent most of my time alone with my two dogs, a huge Iguana that lived under my house, monkeys passing by twice a day, and birds everywhere. I let go of my previous life in cities, where work always had most of my attention. Now it was quiet most of the time, just my thoughts, my music, and the sounds of nature.
Here is where ideas started to flow again, all from the heart and all evolving around helping Mother Nature cope with the negative impact of our modern ways. It was here in the jungle where I realized we have nothing without her.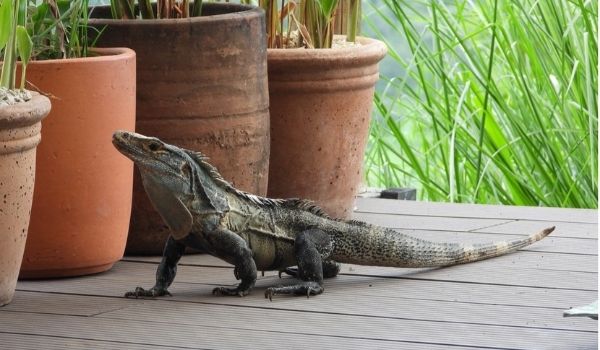 We see nature as a force we constantly need to fight against and protect ourselves from, but instead, we should evolve from this and use our knowledge and technology to find a better balance. I believe it's time for a new mindset and a new way in how we relate to nature. In today's complex world we have lost our connection with nature. We collectively destroy the habitat we live in and for some reason, we can't stop doing so. How do we restore this connection and how can we turn things around so we can thrive in our surroundings without destroying them?
Today there are still people that say that the climate has always changed, and this kind of thinking is for tree-hugging hippies that lack a sense of realism. I wish them the best of luck; they are going to need it.
With big parts of the world flooding, other parts on fire, and all of us affected by a global pandemic it's time to admit we are at a dead-end, and it's about time we reinvent ourselves and do better. Regardless of the scientific facts of imminent disaster, it's the right thing to do.
The hard part is always where to start?
Growing up in an Anthroposophical family and living in London with a family that was determined to leave no trace, I saw first-hand how difficult it is to live without a huge negative impact. My friend in London managed, but she is an exceptional creature, and she has resources at her disposal to get things like solar panels, a heat pump, and a vegetable garden set up. But living a modern life that leaves hardly any trace and is without single-use plastic requires determination and new systems.
Going FFWD. I moved back to Amsterdam last year. I returned with the same suitcases I left with and again I gave away my stuff because I figured I might as well make people that I love happy with the things I like instead of losing it all again to underpaid civil servants.
I had an idea and a plan for a new business. On an abstract level, it's all about a layer of technology between people and the planet. Last year I was ready to build my new business and after being back for less than a week in Amsterdam the pandemic started to unfold and my plans to build high-tech circular tropical villas had to be put on hold.
Locked up in my home, my new business on hold, and trying to figure out what to do next whilst determined to build a sustainable business; the idea of BIYU in its current form came to me. Again, I needed things to live my life, get my house in order and get myself going to Amsterdam again. It makes a huge difference if you have family, friends and know where to go to get stuff done, but you still got to sort everything out again. A home, transport, bank accounts, registration with the tax office, insurances, school for my kid, etc. All the things that you need to redo every time you move. Setting up a new life in a new place is always a lot of work. I got better at it every time I moved somewhere else and had to settle in again, but it never gets easy. I had to rent some things to get myself organized and standing in line at this rental company I overheard an English person complaining about not being able to rent anything without a Dutch ID. At the time it happened, I didn't think much of it, but the instance stayed with me and got me thinking.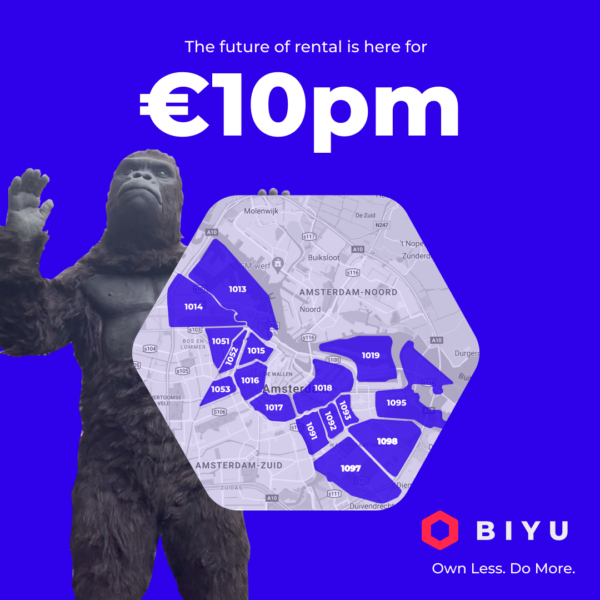 The idea for BIYU was born in March 2020; inspired by the music industry that went from ownership to access. What if people could have access to the best products for a monthly fee and have them delivered to them when they need them and taken away when they're done!? We would need fewer resources to make all these products and because money isn't an issue to get the best products; also, less waste because people wouldn't have to buy cheap alternatives anymore; that for the most part don't do the job right. The longer I thought about it and the more I engaged with others about the idea, the more motivated I got to start this business and make it happen for the doers out there. Especially for expats this business would bring a lot of value. It would remove so much stress and costs related to relocating, allow you to enjoy and do more for less; ultimately saving you time, money, and space and as a bonus: Mother Nature approves!
Today we are live with BIYU in Amsterdam (Houthavens, Centre, Jordaan, and East), and our product access platform is available for everyone with a Dutch bank account. We have a wide-ranging catalog of the highest quality equipment covering DIY, cleaning, gardening, play, party, and move: so whatever it is you need or want; we've got you covered! With a central city hub (Westermarkt 12) for collection and drop-offs and a fast in-house delivery system, you just need to pick it, time it and get it. It's that easy.
Now, all we need is for people to know we exist and show them that having access to the best products is far better than ownership. If you own things you need to make the investment, have space for storage, deal with maintenance, etc. Most things you own, you hardly use and therefore it's a very inefficient use of your capital.
For some reason we feel better owning things, it gives us a sense of accomplishment and at times we identify ourselves by what we own. Sometimes the things we own are super personal and it makes more sense to own them, but thinking of things like a high-pressure cleaner, a ladder, or a power tool I think access should be the future.
So here I am telling you a part of my story. I remembered standing in line at the rental agency and seeing yet another barrier specifically for expats. For BIYU, you don't need a Dutch ID card, passport, or driver's license we just need you to have a Dutch bank account to get access to our products. If you live in Amsterdam and want to live in possibilities, asset-light and circular, I invite you to become a member of BIYU.