About 200 Dutch tourists have traded their at-home lockdown for a voluntary holiday test in Rhodes, Greece. The test, which sees the tourists spending eight days confined to a Greek beach resort is part of a wider initiative assessing the safety of travel.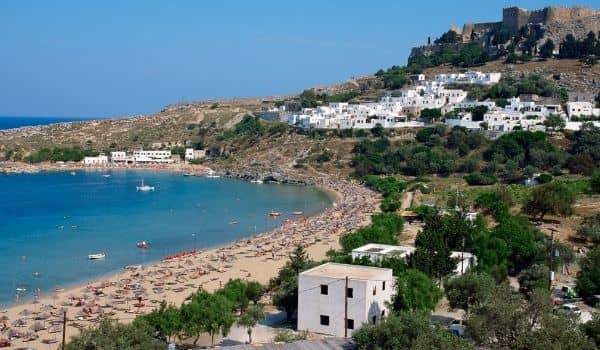 "All-Inclusive"
At a cost of just under €400, each participant will have "all-inclusive" access to the resort's facilities including the pool, restaurants, and other activities. Regular COVID-19 tests and social distancing (1,5m) must remain in place. As the tourists are not allowed to leave the Mitsis Grand Beach Resort, walks on the beach are prohibited. All views of the Aegean Sea will have to take place from rooms or terraces in the otherwise empty resort. Despite these restrictions, there was high demand for the trip. The 189 participants were selected from a pool of 25,000 applicants.
Read Also: Where to Get a Coronavirus Test in Amsterdam
What's In It For Them?
The experiment was organized by the Dutch tour operator Sunweb and is backed by the government. Its aim is to show that holidays can still be enjoyed even with strict regulations in place. "For the travel industry, it's extremely important. I don't think a lot of companies will survive another summer without traveling," said Sunweb Chief Executive Mattijs ten Brink.
On the Greek side, the country has felt a devastating drop in tourism over the pandemic's duration. This hits particularly hard given its reliance on tourism, especially during the summer season. Rhodes is Greece's fourth-largest island and caters its facilities almost exclusively to foreign tourism. "It's very important for people to start coming to us," said Konstantinos Taraslias, Rhodes deputy mayor of tourism said. The country has also begun taking the first steps towards reopening its tourism industry. It has dropped quarantine rules for travelers from more than 30 nations if vaccinated or tested negative for Covid-19.
Though locals have mixed reactions. With Giannis Chalikias – general manager for a group of restaurants – saying, "I don't think it really benefits restaurant businesses like ours," travelers seem to welcome the holiday. Graphic Designr Amy Smulders says, "It feels very strange to be here, but (I'm) really excited to go on holiday."
Did you find a story about the Netherlands that you'd like to share with our audience? Why don't you shoot it over to our editor for consideration? Remember, though, NO FAKE NEWS!