During mid autumn North Americans celebrate a special holiday called Thanksgiving. Alongside Christmas, it's one of the more important occasions on their calendar. Held every last Thursday of November, this day commemorates the meal pilgrims shared with Native Americans in the 1600's. These pilgrims were seeking refuge from religious persecution in England. They ended up in the city of Leiden in order to practice their faith freely. After ten years here they boarded the Mayflower and set sail for North America. Here, the pilgrims celebrated their first autumn harvest feast with the Wampanoag Native Americans. Today, Thanksgiving observes peaceful traditions. For instance, reuniting with loved ones and helping out the less fortunate. These may sound simple but the point is to spend the day practicing gratitude. In fact, Thanksgiving is exactly what the name implies: a day in which we give thanks and appreciation. For health, fortune or whatever blessings prosper throughout the year.
On November 26,1863 Thanksgiving became an official holiday in the US by Abraham Lincoln. Tradition grew into having a delicious feast with friends and family. This consists of stuffing, mashed potatoes, cranberry sauce, pumpkin pie and Thanksgiving turkey. The turkey being the highlight of the course. For expats in the Netherlands, Thanksgiving will be a bit different this year due to Corona. Hosting a customary gathering of guests is not advised. But, this doesn't mean skipping out on a wonderful meal. Instead, celebrate by concocting your own tasty dishes. Many of the ingredients will be easy to find except for the turkey. This is because Thanksgiving is not a holiday that the Dutch celebrate. Therefore Turkeys are not common items at the store.
However, you can find them at specific butchers and specialty shops. This is why we have provided a list containing the best places to find Thanksgiving turkey in the Netherlands.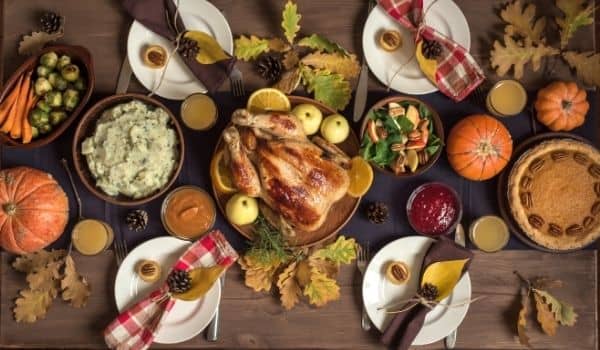 Why turkeys and how many get eaten on Thanksgiving?
Turkey is the single most important Thanksgiving menu item. According to the National Turkey Federation, Americans consume 46 million turkeys on Thanksgiving. But why is turkey the meat of choice? Wild turkey was native to North America and easy to buy. It was also affordable and enough to feed a large family for even a few days.
Where Exactly Can I Get A Turkey?
This year's best Thanksgiving turkeys come free range from Anton and Lotte's farm in Rijkevoort, Netherlands. You can place an order to celebrate Thanksgiving with a turkey from Grutto, which supports a waste-free meat sector. It's by far the most sustainable and ethical way to purchase meat. They prescribe to the Crowdbutching approach that ensures that no part of the animal goes to waste. With Grutto all meat is natural so there is no need to worry about hormones, chemicals & antibiotics. Since animal welfare is of high importance for Grutto, these turkeys are some of the happiest on the farm. Anton and Lotte's turkeys spend their lives outside in peaceful pastures without stress. They have space to grow slowly which makes for a happier and tastier turkey.
Each turkey has a tag so you know exactly which farm it comes from. Grutto wants to keep the process from farm to table transparent for better food traceability and freshness. Turkeys also come ready to cook. All you need to do is grease it, season and pop into the oven. Your package includes a free heat thermometer to get the turkey to perfection Serve alongside your favorite side dishes and indulge without feeling bad. By doing so you contribute to bettering a healthy and waste-free meat sector.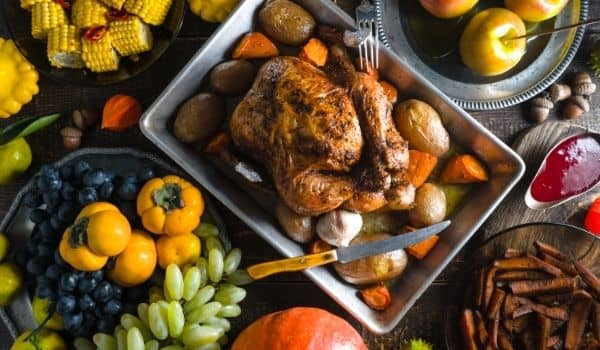 Organic Butcher Gerrit Takke in Utrecht
For over 25 years this organic butcher has been selling produce of high quality. It goes by the name of Gerrit Takke a bio-slagerij. The meat is also sustainable and derives from local farmers in the Netherlands. Although a bit more expensive than other butchers you can immediately tell the difference in quality and taste. They have ready to eat thanksgiving turkeys available so you don't need to go through the hassle of seasoning yourself. Heat it up in the oven and voilà you have the Thanksgiving centerpiece. Don't have interest in turkey this year? Choose from the many other organic options like brisket or bbq.
Wagenaar Poelier in Amstelveen
Customers rate Wagenaar Poelier as having friendly customer service and exceptional meat. Having been in the game and poultry business since 1964 these guys know what great produce is. On their website they feature a specific page for Thanksgiving 2020. Here you will find a plethora of turkey options to choose from. Have your turkey custom made, cooked, roasted, raw or even with gravy on the side. If you live in the area delivery is available otherwise there is pickup.
Poelier Ammerlaan in The Hague
Poelier Ammerlaan is one of the best poultry shops in the Hague. Known for having outstanding quality and friendly personnel. During the holiday season many customers visit for their delectable turkeys. They are of high quality and come from Italy and France. There is also the option to buy organic turkeys which have no antibiotic treatment. Don't forget to order in advance since turkeys may sell out fast.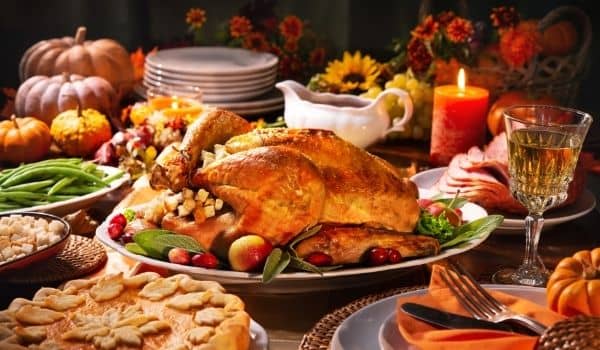 Wildhandel Treuren in Rotterdam
Treuren has a nice selection of turkey choices for your thanksgiving meal. Their stuffed turkey comes with a mushroom or chestnut stuffing. There is also a range of size variations to choose from. If a whole turkey is too big why not opt for a scrumptious turkey leg or roulade?
Slagerij Aad van Eijk in Leiden
Are you in Leiden and wondering where to get a turkey this year? Slagerij Aad van Eijk is ready for the holiday season with their array of meats and savory turkeys. They only use fresh turkeys that you can order ahead of time or request for delivery. You can buy one raw and season yourself. Try one filled with yummy fillings like brandy, raisins and nuts. Customers say that this slagerij is easy to access so there's no excuse in getting your Thanksgiving turkey!
We hope this list will help in finding your Thanksgiving turkey of choice. Thanksgiving 2020 may be different but remember that there's still plenty to be thankful for. Enjoy the feast, quality time and have a happy turkey day!
 Are You a U.S. Citizen Living Abroad?



if you are an American citizen living abroad, then unfortunately you are obligated to file income taxes in the United States as well as in The Netherlands. If you have forgotten to file in The United States or didn't know over the years  there is hope. It's called the streamlined filing procedure and you can get it done by Blue Umbrella, e-mail them at: us-tax@blueumbrella.nl