When thinking about the Netherlands, what color do you usually associate with the country? We'll give you a hint. Think of things like the national football team, or the important national figure William of Orange. There's your answer. When we think of the Netherlands, it is the color orange that immediately springs to mind. So, why isn't the Dutch flag orange? Instead, it is a fairly ubiquitous color combination of red, white, and blue.
Back in his day, William of Orange himself designed a flag for the Netherlands. It was orange, white, and blue (Prinsenvlag). After the 80 years long Dutch War of Independence, the orange stripe was replaced with a white one. The new red, white, and blue flag, or Statenvlag, was adopted primarily by the wealthy, protestant, and merchants of Dutch society. Still, there are a handful of theories as to why this color scheme stuck around and did not revert back to orange.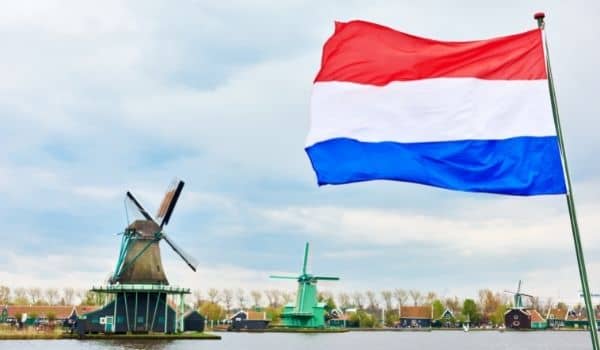 The Theories
The change was the result of a defense treaty in 1654 between the English and Dutch. This treaty banned any member of Willem's House of Orange from becoming head of the Dutch state.
The red, white, and blue is based on a 15th-century Bavarian Coat of Arms. During this time, the then country of Holland was overruled by that region's House of Wittelsbach.
The simple explanation that the orange dye used for the corresponding stripe would gradually change to red over time. In order to avoid this from happening and, thus, a constant need for redying, the flag simply adopted the red stripe from the beginning.
Which theory do you think fits? As time has gone by, the initial theory where the Royal House of Orange gradually fell out of favor with society both at home and abroad tends to answer this question. But, it is by far a certainty. Watch the video below to get more in-depth into the question of why isn't the Dutch flag orange? And for even more information, read our article on Dutch Flags and Coat of Arms.
Did you find a story about the Netherlands that you'd like to share with our audience? Why don't you shoot it over to our editor for consideration? Remember, though, NO FAKE NEWS!