Urban gardening is becoming more popular and more hip in Amsterdam. This mainly because of the dutch belief in sustainability, positive interaction with nature and improved social engagement due to communal gardening Luckily urban gardening is becoming more accessible for foreigners living in the Netherlands too. If you are not one of the fortunate Amsterdam expats with a big garden next to a fancy house, but still want to grow something beautiful and follow the contemporary trend, then there might be some helpful ideas for you!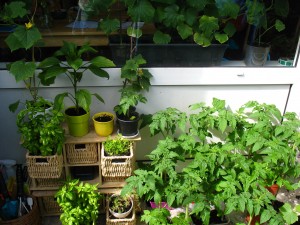 Transform Your Balcony Into a Garden
Whether it is a balcony, small terrace or a roof top, look at it as a unique opportunity to create something gorgeous, healthy and useful out of its space. It is easy to set up your own cozy green paradise full of flowers and fresh herbs for cooking. The good news is that this can be a unique project of yours and be affordable at the same time. The world's largest exporter of flowers, the Netherlands sells various bulbs, seeds, seedlings and adult plants at relatively low prices. So you won't have to spend a fortune on your new hobby. Using little space you can start growing your own vegetables too. This country has the perfect weather conditions for plants cultivation throughout the whole year (actually way better for flowers than for people themselves).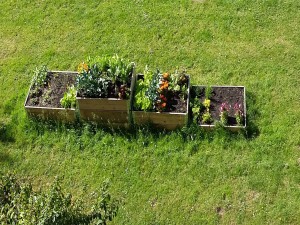 Back to Communism
In case you are really determined to pursue a more natural lifestyle in the Netherlands, then uniting with like-minded people would be a good solution. You can join one of the existing initiatives by group of residents around you or a small cooperative and work on your piece of land. Here is a map of city farms, so opportunities are endless: see map
At the same time, it is also possible to start your own project with your neighbors, which will most likely be supported by a local municipality (they might even provide you with large boxes filled with soil for it). Before you know it, your passion for gardening will become a good way of integration into the Amsterdam community  and the ideal way of making new friends. The best part is that language will be no problem, as gardening unites people. The only drawback of such collective urban farming is that if your garden is located in a public area, other people (even the ones that don't participate in this project) might be discourteous enough to collect your herbs, veggies or berries.
Some Food for Inspiration
Did you know that the largest rooftop garden in Europe is located in Amsterdam and has an area of more than 3000 m2 full of vegetables and flowers? Zuidpark office building ,with its very special roof, can be quite inspirational for expats interested in urban gardening (this international journal offers lots of interesting articles on urban ecology). The groovy Amsterdam trend of urban agriculture is not only cool to follow, but it helps both the plants and you to grow. You can get involved in such great initiative as The River of Herbs, NoordOogst with their experimental sustainability or Buiten Ruimte. These projects can be a good way to start your exciting path of urban gardening in Amsterdam.
In the end it doesn't matter whether urban gardening will be more social experience for you or an individual small oasis on your balcony, as long as you enjoy it and maintain your relations with nature.