In recent years, Amsterdam has been enjoying a boom in the craft beer scene. From already well-regarded brewing institutions to funky, freshly-opened warehouse taprooms, the Dutch capital offers beer lovers a wellspring of lovingly brewed classics to innovative seasonal ales and lagers.
Here's our definitive list of the 14 best craft beer bars, taprooms, and breweries for when we can all leave our homes, raise a hastily-rinsed pint glass and shout proost together. For the brewers who have multiple locations in town and beyond, we've listed the original locations or our favorites.
We've also included a nifty pro tip for eliminating your post-bar crawl hangovers. Yeti & The Fox, a startup comprised of beer-savvy founders who have used smart science to develop a supplement that really helps avoid a hangover. We have tried it and it is a touch of magic. We woke up the next day feeling great and was even ready to ace it at the gym.
We were so impressed, in fact, that we reached out to the guys at Yeti & The Fox to see if they were keen to get the word out to our audience and help everyone with their post hangover blues. Not only did they agree, but they even offered Expat Republic readers a 40% discount! Check them out at www.yetiandthefox.com. Use code ExpatRepublic40 at checkout for the discount. They ship throughout Europe.
We'd like to think they share our opinion of the best craft beer bars here in Amsterdam.
A five-minute stumble from Dam Square, this American-style temple to craft brewing is a great place to start your beer adventure. Beer Temple, opened in 2009 by the owner of Proeflokaal Arendsnest Peter van der Arend, has a rotating list of around 35 drafts and over 200 bottles to choose from. Grab a barrel or booth, marvel at the many bottle labels that adorn the walls, and guzzle down a tasty import like Stone, Brooklyn Brewery, Goose Island, Evil Twin, Anderson Valley, Lagunitas, or another from Beer Temple's huge beer list. Or try their house brew, made by Morebeer Brewing. Don't forget, Beer Temple also offers tasty cheese and sausages to fill your bellies once your several rounds in.
Nieuwezijds Voorburgwal 250
1012 VN Amsterdam
In De Wildeman, located in the center of town in a former distillery, is a well-regarded beer tasting bar, with 18 beers available on tap, and a staggering list of 250 bottled brews. Their main focus is serving the very best Dutch and Belgian beers, so if you're looking for tasty Trappist ales, then In De Wildeman is the best place for you. This quirky, cozy beer institution also stocks great German and English beers and features some American favorites, including Anderson Valley and Left Hand. They even make sure to offer Guinness and Brand Pils for the more casual beer drinkers. Stop by this legendary tasting room for one of the best beer tastings in the city.
Kolksteeg 3
1012 PT Amsterdam
Situated right at the heart of the Red Light District, De Prael celebrates the storied past of beer brewing with a huge offering of classic weizens, tripels, barleywines, and more. One of Amsterdam's oldest microbreweries, with several locations in Amsterdam, the Hague, and Groningen, De Prael is always warm and inviting, pairs their beers with an excellent food menu, and offers boat tours. And yes, beer sampling is very much part of their boating experiences. For history buffs, De Praels original, Red Light spot is actually a repurposed former auction house, which adds to its rustic flare.
Oudezijds Voorburgwal 30
1012 GD Amsterdam
At first glance, Café Gollem may seem like a classic Dutch brown café. In fact, it's a beer lover's paradise and has been for nearly 40 years. Café Gollem specializes in Belgian beers and has several locations in Amsterdam, each with its own distinctive atmosphere and offerings. Their original bar boasts more than 200 bottled beers, with ten excellent brews on tap. No matter which location you choose for your beer craw, you'll always get a warm, beer enthusiast's welcome, the chance to sample super-strong Trappist beers and balance it all out with a cheese plate. They even have live music and pub quizzes!
Raamsteeg 4
1012 VZ Amsterdam
For seasoned beer drinks who want a bit of a crazy (read: tasty) edge, Butcher's Tears is here to satisfy that thirst. The craft brewery, known for no holds barred excellence (and, as they call them, "surreal ales"), occupies two hip and informal industrial spaces. Their original brewery and taproom is on the south side of town, not far from Olympic Stadium, and their newer spot, their TEARS taproom, is in the west. Butcher's Tears' brews, unfiltered and unpasteurized, are characterized by bold and inventive flavors and even more innovative names, such as "Lipreader" and "The Flying Bed." We highly recommend checking their hours before making the trek to either of their taprooms, as neither are full-service bars. Trust us, though, their beers are definitely worth the trip.
Karperweg 45
1075 LB Amsterdam
With four locations dotted around Amsterdam, the original brewery occupying a former monastery in the De Pijp neighborhood, Brouwerij Troost has a huge roster of excellent craft brews and delicious homemade lemonades. Though their stout and porter game is on point, their specialty is insanely easy-to-drink, fruit-forward beers for when you're sitting on their Westerpark terrace. Definitely try their seasonal Club Tropicana and Fruit Freak. Troost also distills and barrel-ages beers and spirits, offers guided tours at some of their locations, and offers the opportunity to become a contract brewer. And if that's not enough, they also have excellent burgers and flammkuchen, each menu item complete with a beer recommendation.
Pazzanistraat 27
1014 DB Amsterdam
Foeders may not be a brewery itself, but its 42 rotating taps make up for this cozy establishment not having their own bespoke beers. Located in the hip De Pijp district, this friendly neighborhood spot loves beer so much that every time they hook up a new keg, it's a fermented surprise to their patrons. Opened by Yuri Hegge, the Flemish beer guru also responsible for the more recently opened, exquisite beer hall Het Lagerhuys, Foeders is a friendly must for your beer crawl.
Ceintuurbaan 257
1074 CZ Amsterdam
In Amsterdam's Oud-West neighborhood, there's no trustier a source of specialty beers than Craft & Draft. This no-nonsense bar for true beer enthusiasts, with a small shop attached for takeout beers, has 41 taps and over 25 choices of bottled brews. Craft & Draft focuses on bringing their patrons a rotating, international selection, and makes sure their bar staff is passionate and knowledgeable, so if you don't know what to order, simply strike up a conversation. It's the perfect place to become a verifiable beer nerd yourself.
Overtoom 417
1054 JR Amsterdam
Probably the most famous place on our list, Brouwerij 't IJ brews a solid array of great beers and runs a lively taproom situated right below the iconic De Gooyer windmill. Their beers appear on drink menus across the cities, which is definitely merited, as Brouwerij 't IJ's beers are consistently some of the tastiest around. Their dubbels and tripels are superb, and their seasonal brews never fail to impress. Enjoy any of their beers with abbey cheeses and raw sausage at their flagship location in East, or their new spot in Vondelpark. Either of Brouwerij 't IJ's raucous terraces are great choices to start a night out, though their beers are strong enough to knock you out before 8 pm.
Funenkade 7
1018 AL Amsterdam
Arendsnest is the definitive tasting room and canal-side terrace for Dutch craft beers. Proeflokaal even translates to "tasting room," so you know this spot is the real deal. Situated along the picturesque Herengracht canal, Arendsnest creates a pleasantly anachronistic vibe for its patrons, with old-timey décor and bartenders sporting waistcoats. The environment doesn't distract from the bar's 52 taps and 100 plus choices of bottles, as well as a snack menu complete with sausages, cheeses, and bitterballen. If you want to really know how good the Dutch craft brewing scene is, Arendsnest is the place to find out.
Herengracht 90
1015 BS Amsterdam
Translated to Brewed By Women, Gebrouwen door Vrouwen began with two sisters brewing beer at their Amsterdam home in 2013. Nowadays, their beers are known for their innovative beer varieties, exquisitely memorable bottle design, and overall quality. Formerly a brewery that sold beers to bars and supermarkets, Gebrouwen door Vrouwen opened their own taproom in the Oud-West neighborhood, complete with 12 taps, tasty snacks, and the option to order a personal table cask. Their Bloesem Blond and Citrus Paradisi are particularly exceptional, especially when the sun's shining on the taproom's terrace.
Jan Pieter Heijestraat 119D-h
1054 MD Amsterdam
A mere ten-minute stroll from Centraal Station, Delirium Café offers over 500 beers in enormous, lively digs, with great views of the IJ river. The massive beer hall, opened in 2014, calls themselves "The Place To Beer," and for good reason. On top of an impressive selection of Delirium brews, they have tons of craft beers from popular Trappist classics to niche craft IPAs and beer flights for the adventurous drinker who wants a little of everything. Delirium also has a tasty, broad menu of Burgundian fare to match their enormous beer list. If you're looking to plan a big event, Delirium even has their own in-house events agency and can accommodate up to 500 people in their space.
Piet Heinkade 4-6-8
1019 BR Amsterdam
If you want lovingly crafted and complex beers with an equally bombastic vibe in which to guzzle them down, then Oedipus Brewing, and their warehouse taproom, are for you. Both the brewery and taproom are located in Amsterdam Noord, roughly a five to ten-minute cycle from the IJplein ferry dock. Oedipus's Mama Pale Ale is a pale ale of much note, while their Thai Thai tripel, brewed with Thai spices, is one of the best ways to get beer-buzzed in town. The taproom also serves arguably the best burgers, fried chicken sandwiches, and cheesy, meaty fries in Amsterdam (they've got The Beef Chief food truck slinging burgers to accompany their fine beers). They've also got a killer terrace in the summer, though it gets crowded fast.
Gedempt Hamerkanaal 85
1021 KP Amsterdam
The last purveyor of craft beer on our list doesn't actually have a taproom location of their own. Two Chefs, founded in 2013 by two former chefs who just wanted to make "funky" (their words) beers, is one of Amsterdam's best and most inventive craft breweries. Their five main beers, which they call The Big Five, are seriously excellent, the standout being their Funky Falcon pale ale (probably the best pale ale within the A10). Two Chefs beers can be purchased at a variety of specialty shops or enjoyed fresh from the tap at Bar Alt, who've partnered with the brewery to serve the chefs' craft brews along with their 4, 6, and 8-course meals inspired by classic and fusion cuisines. Bar Alt's food is already outstanding, so the fact they care about beer enough to partner up with Two Chefs tells you just how exquisite their beer is.
Stadionplein 103
1076 CK Amsterdam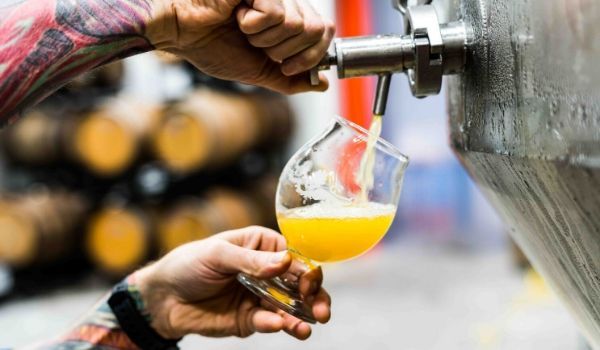 How to Fight the Hangover
Of course, we don't have to tell you to drink responsibly, though having an extra beer or two may be inevitable, given how good Amsterdam's craft beer scene is. As mentioned before we got into our list of best brews and breweries, Yeti & The Fox definitely makes whatever hangover you may have much less painful.
Yeti & The Fox's capsules, which can be taken prior to drinking and before you lumber off to bed, contain S-Acetyl Glutathione, Vitamin B6, and N-acetylcysteine. The main goal of Yeti & The Fox is to replenish the body's levels of Glutathione, a mighty antioxidant which aids in energy metabolism. All three ingredients in the capsule contribute toward this goal, as together they boost your immune system, replenish important vitamins, and overall boost liver function.
So no matter how adventurous you decide to be on your craft beer crawl of Amsterdam, you know there are innovators who have your back. Supplements like Yeti & The Fox may even give you the opportunity to add a second leg to your beer journey if just one tasty evening isn't enough.
Check them out at www.yetiandthefox.com. Just for our group, they are offering a 40% discount. Won't last long though.