Tilburg's massive LocHal is a cultural and educational institution steeped in the history of the city. It is now a collaborative space between Central Brabant Library, Seats2meet.com, Kunstloc Brabant, and CAST. The polygonal glass structure traces its roots back to the early dates of locomotive travel. Its central Locomotiefhal is an open plan room with 18m high ceilings that housed the area's central locomotive workshop. With space enough for 14 locomotive cars, LocHal is now a workshop for the 21st Century. It is a place where almost everything and everyone can come together. It is a creative space, a research facility, a place for learning, meeting, and innovating.
In its current form, The CIVIC-TheCloudCollective refurbished opened its doors on 2 January 2019. Its accessibility and central location behind the Tilburg train station make it a perfect destination for students and teachers, young and old, locals and tourists alike. Winner of several design awards, both interior and exterior, LocHal now houses several spaces meant for congregation and education.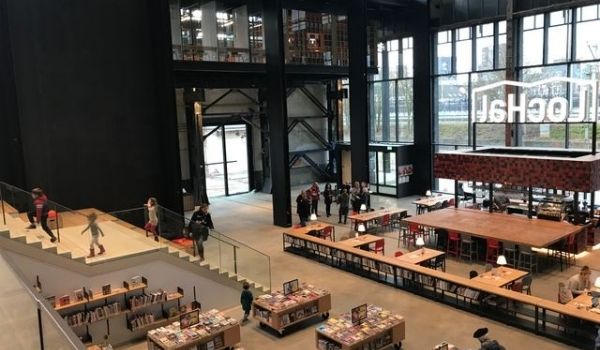 What Can I Do At LocHal?
Across its two floors, LocHal houses several unique spaces, each with a specific function or focus, including six thematic labs. Each of these spaces is accessible and a force for innovation, co-creation, and knowledge sharing. Amongst the spaces are:
The Glass Hall: It's 250m2 Glass Hall is the largest room in the building. Designed as an acoustic highlight, the space was built for a music hall for the Netherlands Philharmonic Orchestra.
DigiLab: On its ground floor, DigiLab proves how much fun it can be to use technology for creation. Here one can awaken their inner inventor, programmer, or technologist with a host of activities, classes, and workshops for all ages.
FoodLab: There is always something to taste, smell, and eat at the LocHal FoodLab. But, aside from its diverse culinary options, it is also a space for food education and awareness. Discover what technologies are used in food production, understand the nutritional value, or learn about sustainable farming at one of FoodLab's various events.
FutureLab: Create the Tilburg of the future with LocHal's FutureLab. Located on the ground floor, this free space provides real-time data on the city meant to challenge visitors to think alongside designers and urban planners in building a future-proof urban environment.
GameLab: Here, you don't just play games; you understand games.

Visitors can engage with this fast-growing entertainment sector through workshops and events focused on game creation of all descriptions. GameLab also provides parents, educators, and policymakers unbiased information on the nature of gaming, its insinuations, and its advantages.

TijdLab: The central city showcase, TijdLab focuses on Tilburg then and now. Through mixed media, workshops, and events, TijdLab allows visitors to wander through the city's past, present, and future.
WoordLab: A special place on a quiet floor, WoordLab offers an undistracted space for writing talent. Something of an ongoing language and literature workshop, WoordLab brings fans of the written word together.
Expositieruimte: The exhibition space of LocHal provides a display stage for local artists.
KennisMakerij: An open space internal amphitheater on LocHal's first floor. With accommodation of up to 100 people, the KennisMakerij is suitable for performances, lectures, and other activities.
StemmingMakerij: Meant for activities that need smaller, closed space. The StemmingMakerij can accommodate up to 60 people on LocHal's first floor. If you have an intimate workshop, meet-up, or presentation, the StemmingMakerij is for you.
LocHal also offers a variety of Workspaces and smaller rooms. In the Library, there are free spaces throughout, including quiet rooms and single desks. Seats2meet.com also provides a co-working space via its membership platform.
Read Also: 13 Fun Things to do in Tilburg
With all this to offer, there is no wonder that LocHal was voted 2020's best library in the Netherlands. It has also gone several awards ranging from the Europa Nostra Award for innovation in sustainable design to the World Architecture Festival's World Building of the Year. If you want to experience the LocHal for yourself, it is open seven days per week (Mon-Fri 08:00 – 20:00; Sat 09:00 – 17:00; Sun 12:00 – 17:00). For a more in-depth experience, guided tours are available. Here, you will learn everything about the history of the LocHal and experience all it has to offer in a group setting.