Thirsty for a refreshing cocktail while you are downtown? You do not have to wait until 5 pm to visit a good cocktail bar in Amsterdam. Whether you want to sip a chic cosmopolitan while gazing at the dreamy canals or catch up with your best friends while enjoying a classic martini in a hidden venue: these seven cocktail bars offer everything you need.
If you've got a busy day after hitting one of these fine establishments, make sure to grab a hangover helper dose from Yeti and the Fox. Full Disclosure: We've used it. It works!
Discover the hidden world of Door 74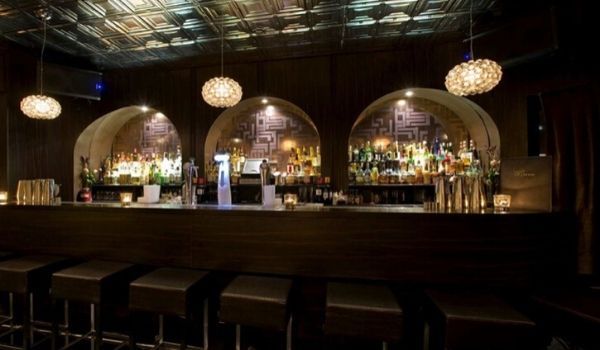 Press the bell at number 74 when you walk down Reguliersdwarsstraat. The dressed-up waiter will take your coat and welcome you to one of the best cocktail bars in the entire world: Door 74. Listen to the old American jazz music while your eyes get used to the dark, so you can admire the Prohibition-style decor.
The talented bartenders create new cocktails on a daily basis in this hidden pearl. Sit at the bar to have an extra good view of the impressive techniques they use. Do not hesitate to ask for recommendations here, because the choice is endless. Waiting for your drinks? Enjoy some refreshing water and tasty olives in the meantime.
Tip: An absolute must-have: Door 74 serves the best mezcal cocktails.
Feel like home in the cozy cocktail bar Rosalias Menagerie
You can find Rosalias Menagerie in the middle of the city, just behind the Red Light District. The warm candlelight, velvet pillows, and beautiful artwork will make you feel at home as soon as you walk in the door. The Dutch menagerie is inspired by the time Amsterdam was still a hustling and bustling port city – just like the cocktail bar is now.
You might feel surprised by the number of different flavors and types of spirits you can find in the menu of this seated-only bar. However, you do not have to panic: the menu is divided into colorful and beasty 'Amsterdam Wildlife' chapters to make it easy for you. Can't make a choice? The waiters will be more than happy to help you pick the most tasteful cocktail for you, though you can't go wrong with Rosalia's elixir.
Tip: Do you miss the cozy atmosphere once you are back home? Follow their music on Spotify under "Rosalia's Evening Grooves".
Vesper: drink your cocktail in a movie scene
Vesper is one of Amsterdam's finest cocktail bars, located in the center of Amsterdam. This James Bond-like bar is the ideal place if you feel like having a laid-back evening with your friends while sipping high-class cocktails. Nod your head along with the rock music and make some friends in this easy-going mixed public.
Vesper's menu is divided into four different categories: strong, light, sour, and sweet. Do you like cocktails with rum? Try the 'Exceptionally old Fashioned' or the 'Dark and Stormy'. Are you in for a true James Bond-challenge? There is no stronger drink than the 'Vesper Martini'.
Tip: Vesper offers a high tea menu with refreshing cocktails if you feel like having some drinks in between shopping.
Hiding in Plain Sight: the perfect cocktail bar to escape the city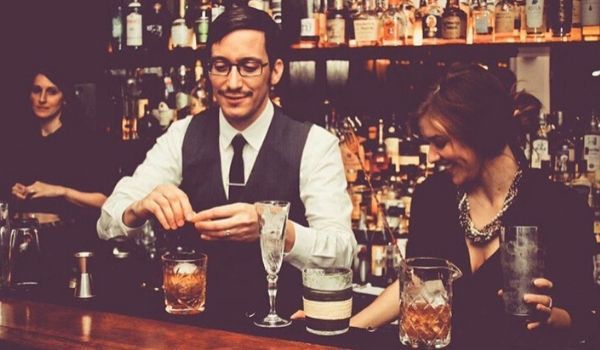 Pay close attention to find Hiding in Plain Sight (HPS) discreetly situated on a corner, near the beautiful canals of Amsterdam. Wear your retro outfit, because this former brown café turned in a seductive speakeasy cocktail bar, with a twenties-style feeling.
The pasta masquerades-straws will not only make you enjoy the classic cocktails more but also contribute to a better plastic-free world. Treat yourself on the flaming 'Walking Dead', served in a skull-shaped glass while enjoying complimentary popcorn and olives. Do you want to make the night extra special? They host thrilling live music events on a regular basis.
Tip: Feel like bringing more than three friends? Make reservations ahead, to make sure you all fit in this cheerful tiny cocktail bar.
The Butcher: enjoy creative cocktails in this exclusive speak-easy cocktail bar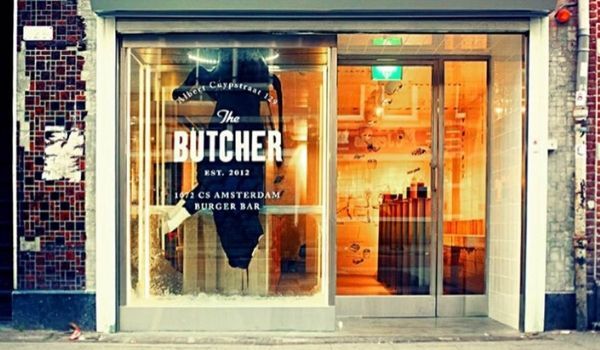 At first glance, the Butcher may seem like a classic burger-bar. However, if you walk to the back during late hours, you will find a secret place where you can only enter with a password. Let time pass by inside this hidden cocktail bar, while the noise of Holland's most famous market in Amsterdam's trendiest neighborhood 'De Pijp' fades in the background.
The Butchers' waiters invent the most delicious cocktails night after night. Try 'Belladona', a velvety and sultry cocktail, and one of eleven signature drinks. Also, don't forget to bring your dancing shoes when going here – the bar changes in a fancy club for stylish urban professionals at night.
Tip: Make a reservation in advance if you want to be sure you can get a place in this speakeasy-style cocktail bar.
Vault: a breathtaking cocktail bar in an old bank that takes your breath away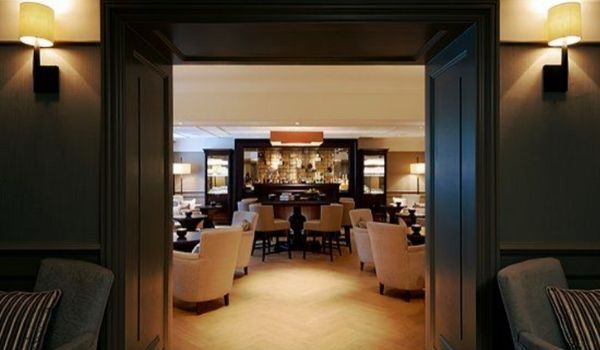 Situated in the prestigious Waldorf Astoria, this eccentric cocktail bar prides itself on being different from all others. Vault serves unforgettable cocktails in a former safe of a famous bank. The person you bring along will be impressed from the moment they feel the timeless ambiance, let alone when they taste the delicious flavors of their drink.
Follow the waiter down to the basement while you have your breath taken away by the sophisticated décor of the hotel. Once you're inside the contemporary cocktail bar, you will receive a menu in the form of an international banknote. No matter which drink you choose, the attentive mixologist will give it a personal touch to make it extra special. Don't forget to taste Vault's 'Old Fashioned' – it is nowhere else this good.
Tip: Dress to impress when you go to this classy cocktail bar.
Enjoy a night of class at the award-winning Pulitzer's Bar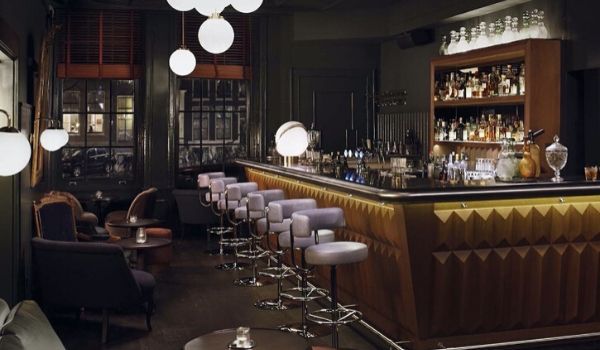 Pulitzer's Bar is just as monumental and elegant from the inside as it is from the outside. Wear something fancy when you go to this award-winning place at Keizersgracht and watch the skilled mixologists whip up old classics or prepare your personal cocktail by request.
You can smell the burned wood from the warm fireplace while sinking into the comfortable royal armchairs. This seated-only bar feels very intimate, which makes it a great choice for a special occasion or a spontaneous night out. Do you feel like having a snack? Next to amazing cocktails like the Pisco Sour, Pulitzer's Bar has heavenly-tasting bites.
Tip: Can't get your friends or date to tag along? They won't have an excuse if you bring Yeti and the Fox with you.