Oh, the humble stroopwafel, that stalwart of Dutch cuisine. It's like tea to the British and vegemite to the Australian. If you ever find yourself wandering the streets and canals of the Netherlands, you're bound to come across these thin, wafer-like biscuits. A sweet, gooey caramel centre holding together two crispy rounds of baked dough, it's a recipe made in Dutch heaven. But where did the stroopwafel come from? How did it become so beloved? And, most importantly, where can you find the best? Fear not! As a stroopwafel enthusiast, let me take you through the ultimate stroopwafel guide.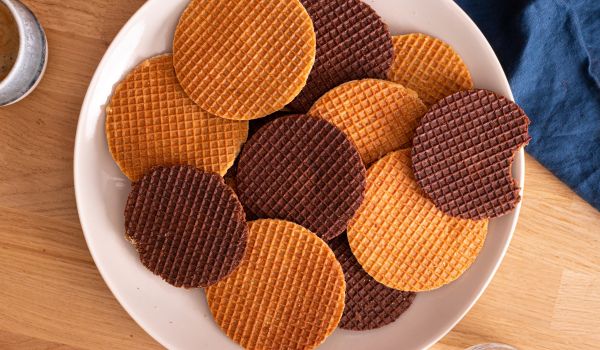 Humble Origins
Let's start at the rather mysterious, beginning. We only know for certain that the famous stroopwafel originated in the Dutch city of Gouda. Its invention could have occurred anywhere between 1700 and 1840, when the first official recipe was recorded. There is debate over which culinary genius is responsible for the creation. However, my personal favourite story is that of Gerard Kamphuisen. As quintessentially Dutch as they come, Gerard was a resourceful and efficient baker who opened his first bakery in 1810. Upon noticing the scraps that were going to waste, he combined the crumbs to make a biscuit. Of course, the dry crumbs would not stick together at first, so Gerard added caramel syrup (also known in the Netherlands as stroop) to make the perfect glue. And just like that, the stroopwafel was born.
It was originally known as 'the poor man's biscuit'; being made from bakery leftovers made it cheap and accessible to everyone. But it soon grew in popularity, and by the end of the 1800s, it's estimated there were 100 bakeries in Gouda alone making their own version of the stroopwafel.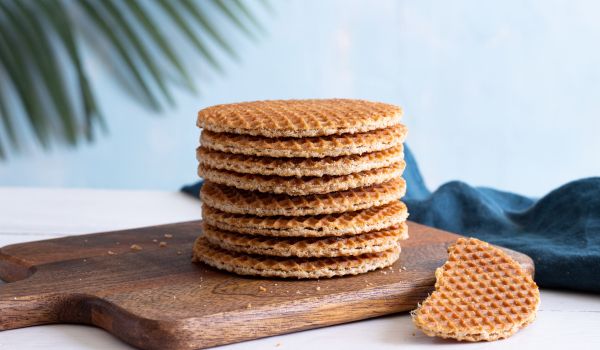 The Perfect Recipe
Of course, stroopwafels today are not made from the crumbs of your favourite bakery. An official recipe has been developed to ensure that these sumptuous biscuits can be made in their own right. Typically the waffle consists of flour, butter, sugar, yeast, milk, eggs, and cinnamon mixed together and pressed inside a special waffle iron. The shallow waffle iron helps create the wafer-thin crunch we know and love. Once the waffles are pressed, caramel syrup is spread over the surface to glue two pieces together. The outcome? About 150 calories of pure caramel goodness. Take a walk through one of the Netherlands' traditional markets, such as the Albert Cuyp in Amsterdam, and you can still see this process in action.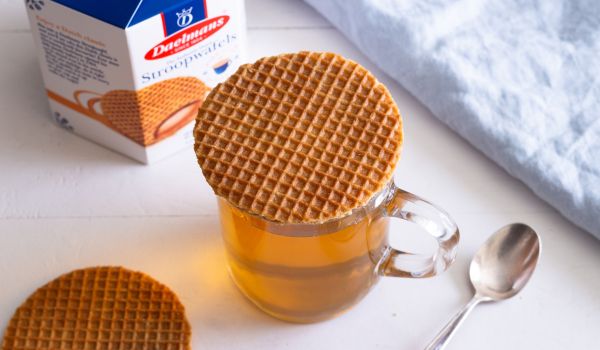 "Wake up Your Wafel"
Most Dutchies will agree that the only way to eat your stroopwafel is warm, so the caramel centre is the perfect consistency to melt in your mouth. If you're lucky enough to get one fresh from the market, this won't be a problem, but we want stroopwafels every day, not just on market days! Luckily, Daelmans, one of the oldest stroopwafel bakeries in the Netherlands, has got you covered. They explain the Dutch ritual of 'wake the wafel', which only takes three steps:
Rest your stroopwafel on top of your hot cup of coffee or tea.
Let it rest for 2 minutes whilst the caramel melts.
Your stroopwafel is now awake! And you can enjoy it at the optimum temperature.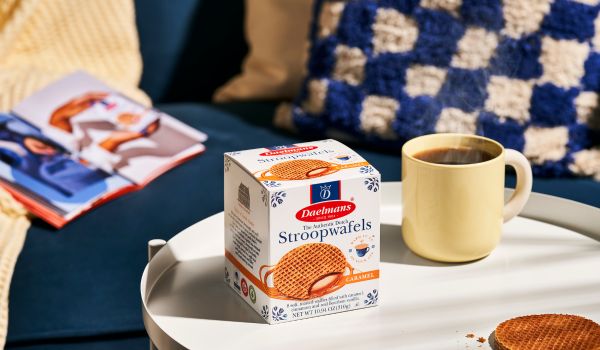 An Unexpected Connection to Sport
With their high sugar and fat content, you wouldn't expect athletes to reach for a stroopwafel before the big game. Well, here's where you're wrong. Stroopwafels have been advertised at triathlon expositions as the perfect fuel to get you to the end of that gruelling 40km bike ride and 10km run. For a small, easy-to-carry snack, they pack in a lot of glucose – which provides a quick burst of energy – making them perfect for re-charging on the go. Dutch Tour de France cyclist Laurence Ten Dam reports eating 5 or 6 of the treat before 4-hour bike rides as a junior and being 'just fine'. And it's not just Dutch cyclists. Across the pond, NBA players have also been spotted munching on the snacks. Apparently, the Knicks changing room always keeps them in good supply.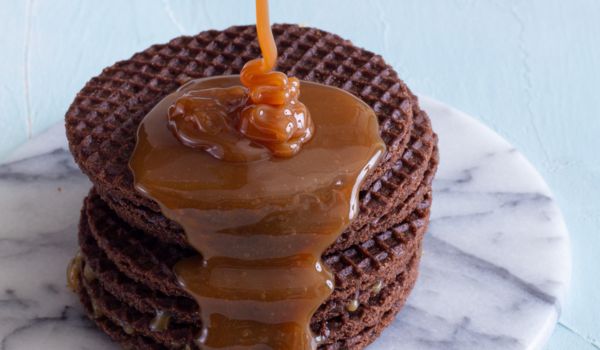 Where to Find the Perfect Stroopwafel
If I haven't convinced you by now that you need to try these tasty Dutch snacks, well, then you're a lost cause. But where can you find the best? There are plenty of options in and around big Dutch cities, including shops such as Van Wonderen that add their own twist to the classic in the form of a range of topics such as chocolate, fudge, and marshmallows. Of course, if you're looking for the traditional version made fresh in front of your eyes, you need to head to the markets. There are plenty of markets in Amsterdam alone and you're sure to find a stroopwafel stand at almost everyone. You can also, of course, head to Gouda, where plenty of shops and cafes sell the delicacy fresh.
But if you, like me, want to have your very own stroopwafel stash at home, then there is only one company to look for. Daelmans have been making stroopwafels since 1904, which is more than enough time to perfect their recipe. With a tradition of honest, dedicated craftmanship and quality ingredients, it's easy to see why they are the best. You can find their original, chocolate, honey, mini, and gluten-free stroopwafels in most Dutch supermarkets and in many souvenir shops too. But the best news is, you don't even need to be in the Netherlands to taste this biscuity goodness: Daelmans ship worldwide, so wherever you are in the world, you can get lost in the gooey, caramel, wafer crunch of a stroopwafel!