Rotterdam is known as the gateway to Europe with its international industrial presence. The city offers many job opportunities for expats and Dutch nationals alike. The city is instantly recognizable with its bold architecture and retail and entertainment offerings. This makes it a trendy city to visit or move into.
A short stay rental is the ideal stop-gap solution. They offer convenience without long-term commitment. Short stay rentals are often ideal for travel, be it for business or pleasure. We've listed five great short stay Rotterdam options. So embrace a short stay Rotterdam rental and experience the best that the city has to offer!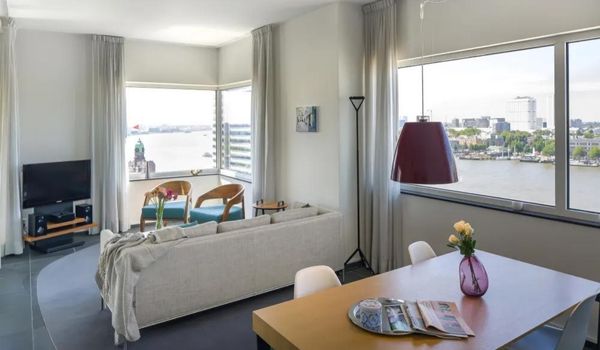 You'll get great river views and a taste of the unique flair of the city in this short-stay apartment, ideal for couples or individuals looking to experience nightlife and culture. Set within the trendy 'Kop van Zuid' neighborhood, it is housed in one of the most cities iconic skyscrapers. This location gives you a taste of what Rotterdam is all about. You'll have access to high-quality facilities and contemporary utilities. The interior is modern and comfortable, with everything you need for your stay.
Take advantage of extras such as a private health club, swimming pool, sauna, gym, private car park, laundry utilities and fast Wi-Fi access. If you need to travel, the location is well connected to the subway, bus and rail services, with Amsterdam Airport just 45 minutes away – ideal for working or visiting for pleasure.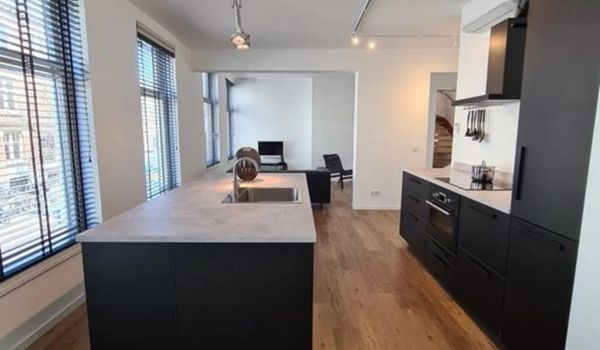 This newly renovated one-bedroom apartment is in a lively, cultural hotspot, Oude West. Being centrally located, this is the ideal short-stay option for single travellers or couples looking to explore what the city has to offer. There are many museums, restaurants and cafes just around the corner. In addition, the central station is conveniently close.
The apartment itself offers a relaxing, quiet place to unwind. It comes with everything you need. You'll find a well-equipped kitchen, cozy seating and a clean, contemporary design. Whether you find yourself in Rotterdam for work or pleasure, this makes for a great base. Explore the cozy shopping streets of West-Kruiskade and Nieuwe Binnenweg and experience Rotterdam's diverse and unique personality.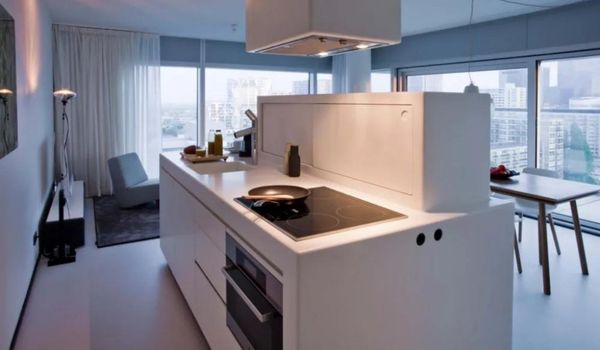 This city studio gives you unbeatable views of downtown Rotterdam. Not lacking in space, this short stay option features a spacious balcony and thanks to the floor-to-ceiling glass corner windows, the whole space is bright and airy. In addition, the interior is designed down to the smallest details, creating a high-end, incredibly stylish studio apartment perfect for solo professionals or couples looking for inner-city living.
Urban by name and urban by nature, this short stay places you directly in the center of the city, with all the mod-cons you could need, including a great kitchen, modern TV and great Wi-Fi. The World Trade Center and the Stock Exchange in Rotterdam are right across the street. In addition, the famous shopping streets, De Lijnbaan and De Koopgoot are at your feet. So whether visiting for business or pleasure, this apartment maximizes your experience in the city.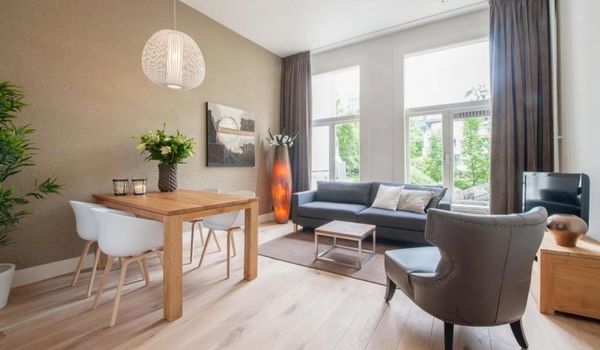 Rustic and charming, this one-bedroom short stay option is bright and inviting. With its wooden floors and matching furniture, the interior boasts character. This cheerful city apartment has plenty of room to work and relax and is ideal for couples or individuals seeking something quiet but connected. You can also entertain and host thanks to a couch bed. A well-equipped kitchen and fast Wi-Fi connection make your stay comfortable.
The perfectly named 'Cool District' neighborhood is just that. Eclectic and vibrant, you'll find dozens of bars, restaurants, cafes and theatres on your doorstep. Being so central, you'll be able to experience all that Rotterdam has to offer. The central station is just a short walk away, meaning the whole of the Netherlands is just a train ride away.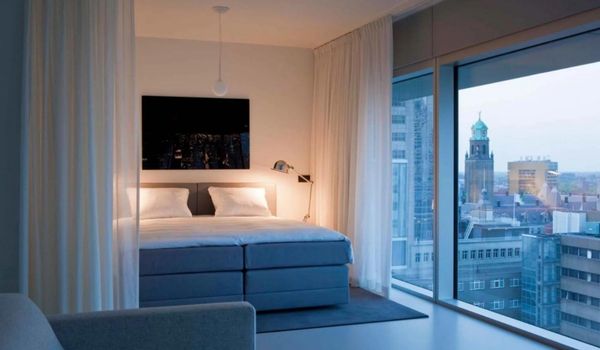 This high-end studio apartment is in the heart of the city. With floor-to-ceiling windows, your skyline views are unparalleled. The interior is stylish, with great fittings and a well-thought-out design. The open plan approach maximizes the space in this studio – whether you need to work or unwind, the space is perfect. It's great for modern professionals, single guests, couples, or even families. Thanks to an additional couch bed, you can host friends or make your visitors feel at home, while Wi-Fi and a full kitchen make entertaining easy.
You can take advantage of weekly housekeeping and discounted parking rates. The apartment also has a balcony – perfect for enjoying a morning coffee. In addition, the famous shopping streets De Koopgoot and De Lijnbaan are just two minutes away, placing you right in the center of vibrant Rotterdam.