With an impressive array of international organizations, schools, government buildings and job opportunities, Den Haag is a popular destination for many expats moving to the Netherlands.
Short stay rentals are an excellent option for many situations. We've listed five of the best short stay Den Haag options here. So be sure to consider a short-stay Den Haag rental and experience the city!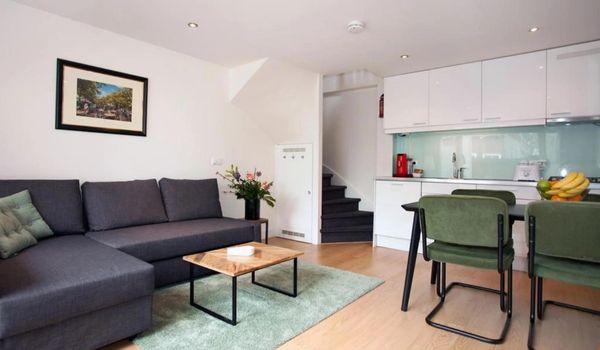 The perfect home away from home. This one-bedroom apartment has everything you need for a business trip or extended stay. Minutes from the central station, this is an ideal location for solo professionals or couples if you need to travel for work. It also makes a great base for travelers exploring the rest of the Netherlands. Cozy and inviting, this short stay features a comfortable table for working and fast Wi-Fi, so working away from the office is stress-free.
Set in the residential Rivierenbuurt-Nord neighborhood, the apartment is just a short walk from the city center. This short stay is perfect if you're looking for city living and easy transport options. If you have guests, the stylish interior is great for entertaining. Plus, the sofa folds into a second bed – ideal for visiting family or friends. You can also use a private communal courtyard to relax in the sun after a day in the city.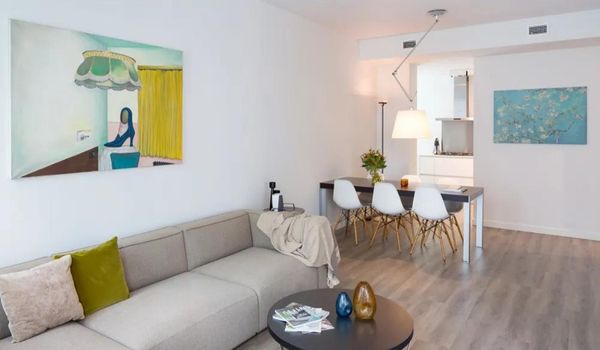 This apartment is in the Hoge Duin location, in the leafy neighborhood of Benoordenhout. Spacious and contemporary, it's perfect for couples, families, or solo guests if you want a little extra space. With large, well-lit rooms, it's great for staying in touch with nature during your stay. You'll find new appliances and fittings in this apartment. A fully equipped kitchen and comfortable bathroom are paired with two bedrooms. One with a double bed and the other with a queen size – perfect for hosting.
Within the sustainable main building, there are several extra facilities. You can use an onsite gym, request parking and benefit from weekly cleaning services. This superb short stay option is just within a short walk to the city center and central station. Spacious and contemporary, it offers a relaxing living experience in a tranquil location close to the bustling downtown and the relaxing Scheveningen beach. It's also pet-friendly!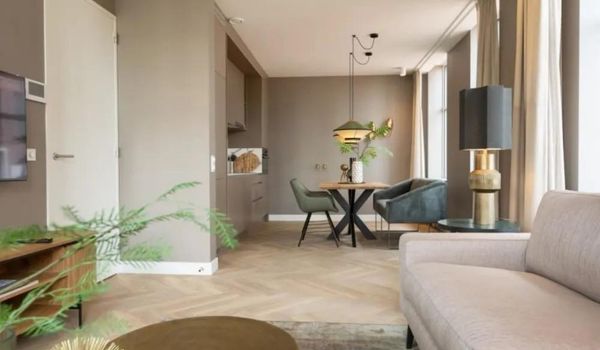 This unique apartment is in the historic center of Den Haag, with the Binnenhof and the vibrant historic center on its doorstep. This short stay is a great option for working guests or visitors to Den Haag. Facilities include a full kitchen, entertainment facilities, fast internet connectivity and additional private parking. There are also several extra services for business guests, such as a business center for hire and printing services – ideal for busy professionals.
This apartment is split over two levels, with plenty of space. This makes it great for families. A fresh interior adds warmth and comfort, with enough space to relax, work or plan your trip. Being located in the city center is fantastic. If you want to explore the political capital of the Netherlands, this makes the perfect base.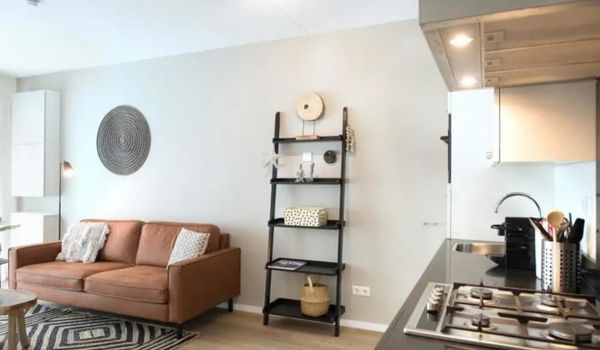 This bright, relaxing apartment is located in the heart of the popular Scheveningen beach district. If you choose this short stay, you'll have hundreds of restaurants and bars on your doorstep. You'll also have easy access to the beautiful sandy beach. If you want home cooking, you'll find an updated, well-equipped kitchen inside. The interior is inviting and contemporary. You can easily relax or entertain with facilities such as fast Wi-Fi and a flat-screen TV.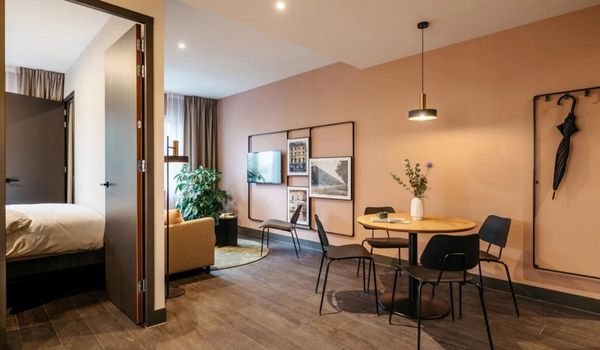 You'll find this beautiful apartment in the historic Willemspark neighborhood. With a residential feel and mix of 19th and 20th-century architecture, it's a great location to get a real sense of the city. Compact but comfortable, this short-stay apartment is a perfect place to work and rest for solo travelers or even small groups. The couch extends into a couch bed, making it easy to host friends and family.
Inside, you'll find modern appliances, including a fully equipped kitchen and fast Wi-Fi. Extra care has been given to the decor. The contemporary Dutch style adds flair and style to this cozy space. Despite being so close to the center, this is a tranquil escape from the hustle and bustle. Iconic buildings such as the Binnenhof are only a short walk away, and the central station is equally close. This is an excellent accommodation option if you want a short stay and value your independence.