Be an urban pioneer  and contribute to a sustainable society with Unitiator!
Do you like to go out, explore the city and meet other people? Be a pioneer and download Unitiator, the app that will bring you cool coffee places, exciting locations and great food. The best part: your presence helps hospitality venues and you always get to try something for free!
We all have done it before: when a restaurant or bar is empty, you walk by and look for a place where more people are seated. People attract people, that is the idea behind Unitiator. If there are none, the chance is bigger that they will skip the place. That is how perfectly fine venues can be empty for some time, while the neighbour has a full terrace. Unitiator creates a social behaviour effect and aims to jumpstart customer rates and give people a good deal at the same time.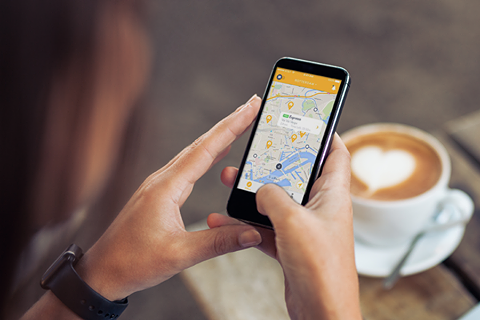 How does it work?  Unitiator is an innovative smartphone application in which participating bars, cafes and restaurants post offers. If you download the app, you can accept an offer, like a free drink or a small dish. In exchange, you spend some time in the venue and give feedback to help improve its concept, products or service. Just by being there, you make the place more attractive. That is called 'social validation'; when people see other people on a terrace or in a venue, they feel it is cosier and of higher quality.
It's the perfect deal: a good time in exchange for your presence, and meanwhile you're helping the venue attract new customers. A win-win. There are only two ground rules: 1) the owner decides where you sit, and 2) you stay for at least 30 minutes. This way you attract passers-by to come in too and you will help the place to get better.
Social responsibility
At the same time Unitiator does not only fill empty places in hospitality venues, you can also become more socially responsible by using the app. Simply by using Unitiator for the last opening hour, venues can become more environmentally friendly and reduce food waste. They make meals available to the app users that would otherwise be left unconsumed. This way you will not only discover new places, but also cooperate on a more sustainable society.
The Benefits
Unitiator saves you money by offering free drinks, snacks and meals.
Discover new/cool venues and, more importantly, help them gain traction and exposure.
Reduce food waste by accepting offers on the last hour of a restaurant or café (meals that would otherwise be thrown out).
Meet new people.
Using Unitiator's social validation, you reduce idle capacity of venues.
Curious?
Do you want to be an urban pioneer? Download the free Unitiator app and sign in.  You will see the offers and their locations. Select the one you want to explore and accept it. Logically, venues choose the maximum number of people that can take one specific offer to prevent them from going broke so make sure you act quickly!
Updates
Although no longer in business, Unitiator was super innovative and simply required more investment. Please note the domain name is available for sale.