American-born Jessica Smith caught the travel bug when she spent a year studying abroad i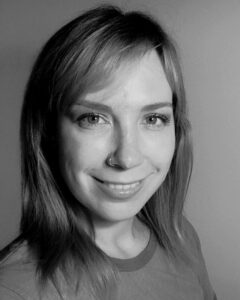 n the UK. After finishing her degree in Britain she started her own company and jumped straight into a busy career in the film industry. So when her visa renewal application was rejected last year, going home wasn't an option. Instead she hopped on a flight to Amsterdam, bought a van, and started hauling furniture around for other expats. She stopped by for a chat, and to tell us about her business.
After working as a production designer and art director in the United Kingdom, Jessica's first move when she touched down in Amsterdam was to jump straight back into this field. She registered her company – Revival Art Direction – and started making inroads into the Dutch film and television industries.
However, opportunities initially weren't as plentiful as they had been in London. "Everything being in Dutch makes things a bit tricky, so it's been a bit of a struggle," she said. As well as the obvious language barrier, Amsterdam isn't the global cultural powerhouse that London is.
However, the resourceful Jessica spotted another opportunity. One that filled a gap in the market, allowed Jessica to help other expats, and helped build her network along the way.
Moving and Shaking
In 2016, almost 1.8 million people in the Netherlands moved house. In a land where the bicycle reigns supreme, both Dutch and Internationals often need help hauling goods up and down narrow staircases and transporting them around the car-unfriendly streets.
So Jessica bought a Volkswagen Caddy van, and set to work helping expats move anything from clunky furniture to IKEA purchases to groceries across the city.
"I need a van to haul props, but I was helping a few friends move and thought I can actually expand this part of the business," she told us. "Moving around is something I can relate to, and I have the opportunity to be helpful, even if it's just picking someone up from IKEA. The first time I went there I had to rent a car!"
Day to day
While Jessica continues to expand her network and grow her art direction business, her day to day life now involves a lot of driving and a lot of stairs.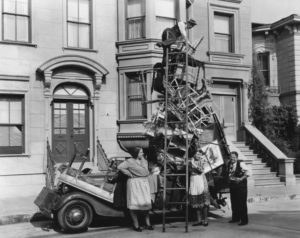 "It's great fun!" she said. "It's definitely a challenge having to wiggle around tight corners but it always works somehow. Plus, every day is a workout!"
In just a few short months, Jessica learned how to navigate the streets of Amsterdam. "Having driven in London for many years, and in Thailand on vacation, I feel confident behind the wheel in Amsterdam."
"And now I'm back on the right side of the road again. It's a little easier, once you're aware of the cyclists."                                              
Hiring Jessica's van is a lot easier than this
Weird and Wonderful
"It's been quite fun so far. With the work I did previously I was always meeting new and interesting people and travelling. Now I get to do that through this too. I meet people from all walks of life and all parts of the world. It's really nice."
And while most expats just need furniture and boxes transported, Jessica is no stranger to odd requests.
"One time in the UK I had to transport a dummy for a film set. We had a whole bunch of stuff packed around it and its feet were pressed up against the rear window," she recalls with a laugh. "We definitely got some stares when we stopped to fill up with petrol."
So whether you need to transport your television and couch, your priceless artworks or your entire collection of taxidermy animals, Jessica won't bat an eyelid. "I know how to take care of things and make sure they arrive safely," she said, "Nothing's too weird or too odd."
As for what the future holds, Jessica intends to keep being the "woman with the van" for the time being. She's driving around the city without a GPS, learning Dutch, and has no intention of leaving the Netherlands any time soon.
"Being here has been a wonderful experience, and it's a really great environment compared to the chaos of London. And if business picks up, this is definitely something I want to expand even further."
Need something moved in and around Amsterdam? Want to deal with a friendly, English-speaking fellow expat instead of a faceless moving company? Visit Jessica's website or call 06 4116 0601. Jessica offers hourly and daily rates, and is always personal and flexible.