When you think of Amsterdam, what pops into your mind? There's a reason Amsterdam is sometimes called the Venice of the North. It's renowned for its canals! So, it makes sense that one of the best ways to explore the charm of Amsterdam is by renting a boat. But where to start? In this article, we explain how to rent a boat in Amsterdam, with essential tips and suggestions on where to start. So, grab your life jacket and climb aboard!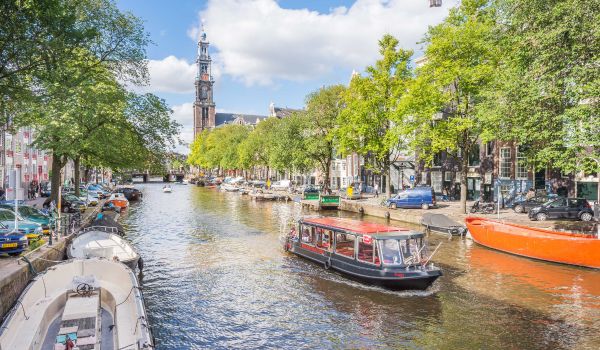 Why Rent a Boat in Amsterdam?
Why not?! Imagine exploring one of Europe's most iconic cities by water, navigating through its winding canals and waterways. Or, if you want to kick back and relax, let an experienced captain take the helm while you lay back with a beer in the summer sun. Jumping aboard a boat is also a great way to avoid the crowds and see Amsterdam in a fresh way!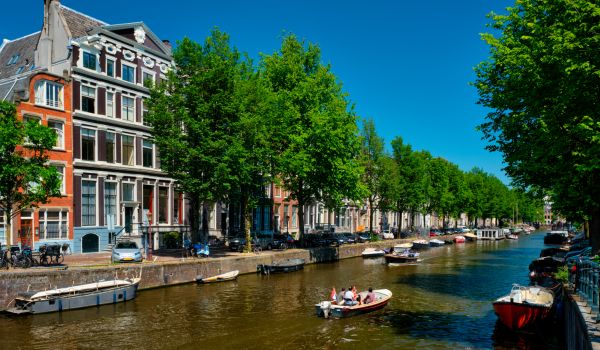 What Kind of Boats Can I Rent?
There's a whole fleet of different boat types to rent in Amsterdam. From small, two or three-person boats to city tour boats catering to groups of tourists. This article will not mention 'hop-on-hop-off' city tour boats. Instead, our guide covers boats you can pilot yourself or hire privately with a captain. Depending on your group size and preferences, some boat hire companies may better match you.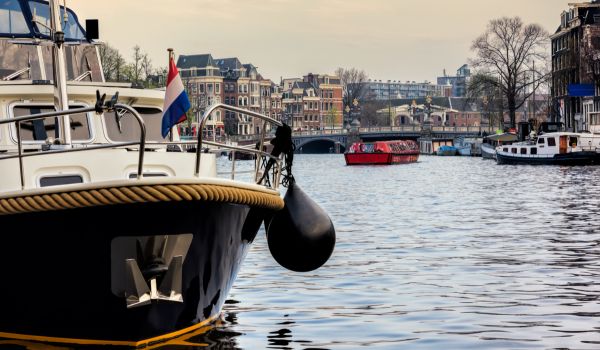 What Boat Hire Companies Can I Find in Amsterdam?
Being so popular with tourists, Amsterdam has countless boat rental companies. Some locals also offer the services of their boats, although this is often unofficial. Like any decision, make sure your boat hire company is reputable. Consider factors such as boat types on offer and the rental rates. Another great way to gauge the value for money you're getting is by checking customer reviews and extra services offered by each company.
On a walk along the canals of Amsterdam, you'll be able to hire a boat to get out on the water almost everywhere. To get you started, here are a selection of the most popular boat hire companies in Amsterdam:
All the above, and almost all reputable boat rental companies in Amsterdam, offer online booking services. Booking online means you can easily select your preferred date, time, and type of boat. It also means you have all your booking information electronically in case anything goes wrong. Most boat rental companies also provide all information in English and Dutch, so using their websites is simple if you're not a native speaker.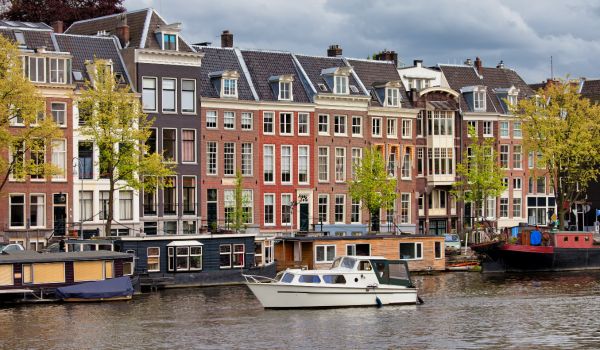 Important Considerations
Like any rental, be sure to read and understand the terms and conditions of the boat rental. These usually cover standard fuel policies, security deposit requirements, and cancellation policies. This will help you avoid surprises on the day of your canal adventure.
You don't need a boating license to drive a boat on the canals. Boats of a larger size and speed (15 meters long and 20 kilometers an hour) require a license. However, you are usually limited on the type of boat you can hire for the inner canals. To hire a boat, you must be 18 or older and be required to show some form of ID.
Also important to remember is a cash deposit. Many companies require you to leave a deposit with them during your rental. Some may do this with an electronic payment, but it is most common to take a cash deposit. So, be sure to take cash with you! This amount will be in the terms and conditions and booking confirmation, so check everything thoroughly.
Be sure to return the boat on time to avoid any late charges or fees. The same applies to taking your trash home and following the fuel instructions.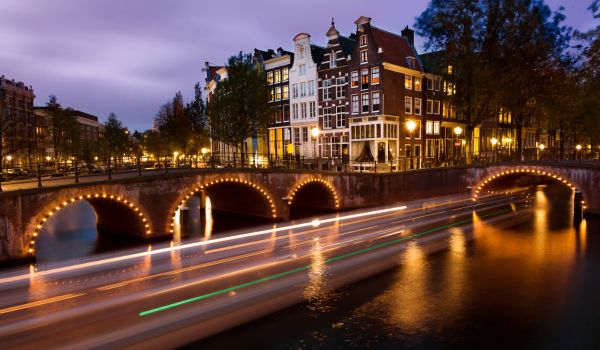 Navigating the Canals
So, now you're ready to get out on the water! Most boat rental companies in Amsterdam will provide itineraries and routes that take in the city's sights. Be sure not to miss landmarks such as the Anne Frank House, Rijksmuseum, and the historic canal houses of the center. Take a map, and remember the sunscreen on a hot day!
You'll often see groups enjoying snacks and drinks while cruising the canals, so don't forget a picnic. You might be in luck if you hire a private captain and boat. They often provide a selection of local snacks and a drink or two as part of the experience.
Above all else, stay safe during your canal cruise. Ensure that life jackets are available on board, especially if you're traveling with children. Follow all traffic rules on the water, pay attention to other boats, and stick to speed limits. Your boat rental company will go through all safety precautions and procedures – take notice of them!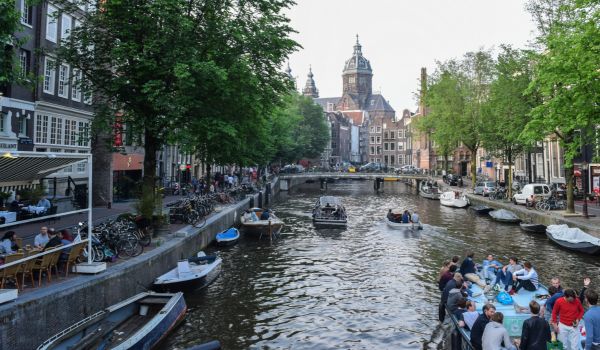 All Aboard!
Renting a boat in Amsterdam will give you a unique perspective on this beautiful city. Whether you rent a private boat for a gezellig romantic cruise or want to enjoy the sun with friends and some well-earned drinks, you'll be left with fantastic memories of your time on the water! Happy boating!