Ensuring your little one arrives in the world with everything they need can be a daunting task, whether it's something you've been through before or are living for the first time. Getting an essential baby products checklist together in a different country from your own can certainly add another layer of pressure to the process. What do you really need, where can you find it at a reasonable price, and how do you know you're getting the quality you and your baby deserve?
A saturated market of brands, products, and gimmicks make it difficult to know where to turn when it comes to sourcing all you need. Companies in the Netherlands like Tiny Library are dedicated to making sure the first year following your baby's arrival goes as smoothly as possible. Founded by an innovative pair of supermoms, Tiny Library provides quality baby gear available to rent via a flexible monthly subscription service that works out 70% cheaper than buying for good. Everything is sterilized, fully maintained, and delivered straight to your door. It's the ideal way to go if you're not sure how long you'll be in the Netherlands, or even if you're here for the long run. You won't have to find storage once your baby grows up, borrow hand-me-downs or throw anything away.
This convenient service lets you put together your own package (check off what you need, and you'll receive a quote within minutes), or you can sign up for everything on Tony Library's essential baby products checklist, which includes the following: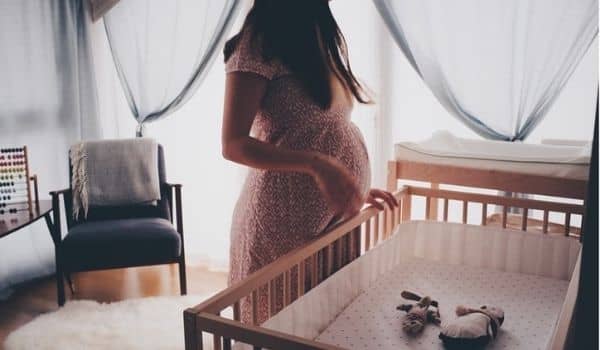 To Sleep
Crib
It's imperative that babies get their beauty sleep in a warm, safe, and protective environment. Look for a strong, durable crib with solid slats that are no more than 2 3/8 inches apart. The mattress should be firm and reach every corner of the crib so there's no space around the sides. You should also be able to lower the mattress as your child gets bigger to maintain a safe distance from the top rail. Always check cribs for screws that may be sticking out or loose and if your crib has wheels, make sure they lock. Never choose a crib with a drop-side. These do not meet safety requirements any longer, but if someone offers to give you one, say no.
Baby Nest
A soft baby's nest allows them to slumber to their heart's content wherever they nod off – the couch, the pram, or snuggled next to you in bed. They're also ideal for bringing along on visits to friends and family.
Aluminum Hot Water Bottle
Gently heat your baby's crib, pram, or play area in the winter so they can drift peacefully away in warmth and comfort.
Bottle Cover
Always cover your aluminum hot water bottle. They're super easy to slide on, soft, and fasten securely for extra safety.
Mosquito Net
In the Netherlands, it's a given that you're never that far away from water, which means Mosquitoes thrive during the summer months. Make sure your baby stays protected with a mosquito net that's simple to hang and looks lovely above their crib. It also helps give them that snug, cozy feeling.
Sheets
Good quality sheets not only keep babies warm as they sleep but also let their skin breathe and absorb moisture. All this helps contribute to a quiet, peaceful night. Every little thing counts!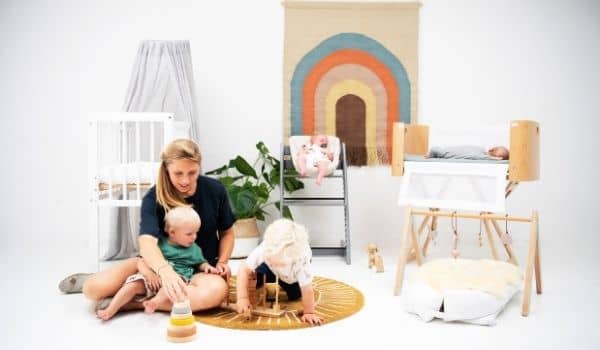 For the Home
Tripp Trapp® Newborn Set
Establishing a bond from the outset is the key to a strong and healthy relationship with your little one. Don't let them miss out on a moment of family time, even when you're at the dinner table. The Tripp Trapp® Newborn Set is an adjustable highchair that allows babies to rest on their back without being left out of the most important early moments.
Tripp Trapp® Baby Seat and Tabletop
Attach this baby seat and tabletop to the Tripp Trapp® highchair when it's time for dinner and let them enjoy their grub the way only they know-how. Set to a level that suits you and catches all the messy mishaps.
Baby Bouncer
A must for the first few months, a baby bouncer is a great way to set your baby down to play or relax whilst you get things done around the house. They're fully safe and provide all the head and neck support new-borns need whilst also being great for additional stimulation.
Playpen
Set your baby up with all his or her favorite toys in their very own playpen. Find house-friendly sizes and foldable models with wheels for easy movement and storage. A playpen is a fun way to build independence yet should only be used for short periods of time.
Playpen Mat
Prevent uncomfortable friction with a soft and breathable playpen mat that you can easily transfer to the floor and join in the activities yourself. When they run out of steam, you won't have to move them anywhere else for a nap.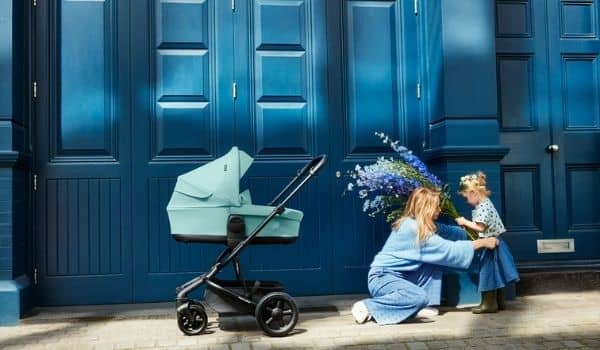 On the Move
Pram
It goes without saying that you're going to want to introduce your baby to the big wide world. Tuck them in, store your essentials, and enjoy the fresh air together. You'll usually need a pram for the first six months or so as they provide a flat sleeping surface ideal for new-borns. The Easywalker Harvey2 is a great first option that provides high-end quality at an affordable rate. It's compact, lightweight, and offers a smooth, luxurious ride whilst being super sturdy.
Duo Stroller
If you're fortunate enough to have two little babies, then you're going to need a duo stroller, especially if they're twins or similar ages.
Buggy
Once your baby gets older and stronger, you can transfer to a buggy for outdoor adventures. A buggy differs from a pram in that it sits them upright, so they can take in the sights as they go. The Babyzen YoYo is a fantastic model that can be folded and steered with one hand, so it's perfect for day trips with just the two of you.
Car Seat
At some point, you're going to need to travel by car with your youngster, whether it's for the holidays or a trip to the shops. Make sure your car seat meets the European safety requirements and is simple to click in and out. Look for removable padding so you can wash them easily. This one is an absolute must on your essential baby checklist.
Baby Carrier
A baby carrier is a great option on days out in the city or country walks where the terrain isn't exactly smooth. You won't have to lug around bulky prams and buggies and they're actually pretty comfortable. Strap over your shoulders and let them rest against your chest – another soothing way to establish a strong early bond.
Nutrition
Breast Pump
If you choose to breastfeed, a breast pump allows you to ease into the breastfeeding period by initiating, building, and maintaining adequate milk production. They also help relieve bloated, tender breasts, and extend flat or inverted nipples so your baby can latch on more easily.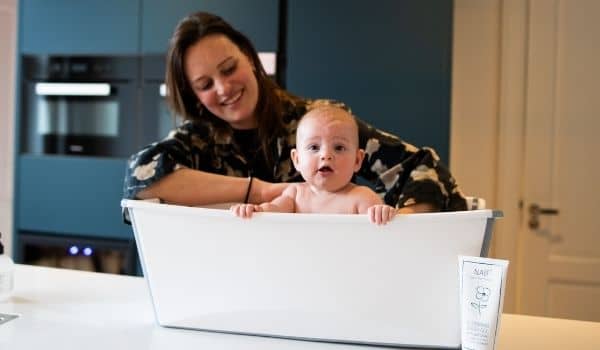 Grooming
Baby Bath
A solid, secure, and supportive tub is vital for new-borns to enjoy tranquil bath time. Non-slip bottoms ensure they stay in the right position and their size means you can't put too much water in. Many come with stands and racks for towels and soaps to keep everything close to hand. Some are even foldable, so you can travel with them or store them out of the way when not in use.
Changing Mat
There's no escaping the dreaded diaper change. For a smooth, hygienic swap, a changing mat is truly indispensable. Make sure to have all your supplies like wipes and extra diapers prepped and ready to go.
Changing Mat Cover
Changing mat covers are wonderfully soft and easy to wash. Let your baby sit back and relax as you take care of business.
Pulling together your essential baby checklist doesn't seem like such a daunting task anymore, right? They're all available at the click of a button through Tiny Library. Pay for quality products as you need them and watch your baby grow up safe and happy in the Netherlands.