The Netherlands is a small country packed full of big festivals. Key dates and public holidays like Kings Day and Amsterdam Canal Parade are already famous outside of The Netherlands. Dig a little deeper and you can always uncover many more local festivals. For film buffs, you should check out the International Film Festival Rotterdam, one of the 5 best destinations for film lovers in the Netherlands. For drama lovers, there is Over Het Ij and the Oerol. Foodies should visit the Rollende Keukens in September. Lovers should head to Milkshake, a queer music festival held each July in Westerpark. Many attendees of Milkshake go all out in drag outfits or wear outrageous outfits. If a full weekend of this is too much of a commitment then Hartjesdag could be a smaller alternative. Hartjesdag is an ancient hunting festival that also celebrates crossdressing. In this article, we will take a closer look at Hartjesdag, but first, let's discuss drag culture in the Netherlands.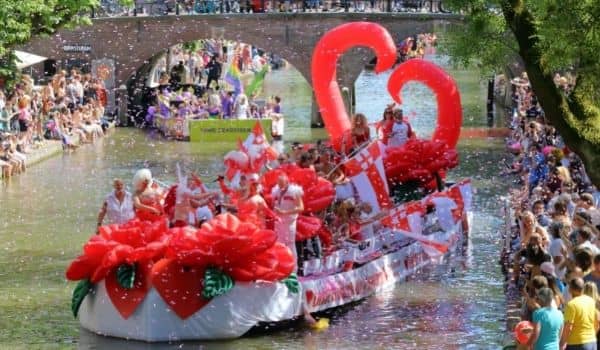 Dutch Drag
Drag in the Netherlands is a growing art form with a long-established history. Drag Bingo is very popular in Amsterdam in venues like the Queen's Head or Spijker bar. Customers come to gamble and enjoy the drag queens as they joke with audiences and perform pop songs. Mayday is one of the most established Amsterdam drag queens, doubling up as a DJ and host. Hot on her heels is rising stars like Janey Jacke and Envy Peru from Drag Race Holland. Another huge queen is the hardworking, glamorous, and gorgeous Lady Galore who essentially runs the entertainment at Gay Ski Week and tours the world with her documentary, Galore. We also have our provincial queens. All over the country, you can expect to find drag shows and drag queens in various gay bars.
Drag culture is often linked to the ballroom scene. Rotterdam's House of Vineyard is one of the nation's finest drag houses and their caliber of vogue dancing continually brings the entire house down! Many drag families come together in the Paradiso each year to dance, walk, and compete for the title of best drag house at the Superball.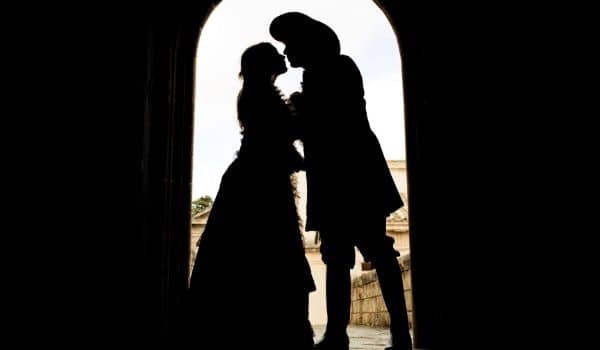 A Bit of Drag Trivia
Drag goes back centuries, cropping up in the most unexpected of places. In ancient Greece, all actors were men and wore masks, so a man wore a female mask to play a goddess or female role. By Shakespeare's time, women were not allowed to act on stage. In the original Romeo and Juliet, both parts would have been played by male actors. Young effeminate men would play Juliet. All the girl parts were played by male actors Dressed As Girl – DRAG.
Hartjesdag started around the same time and has crossdressing at its core but no one knows why? There are some theories to explain the drag activity at this festival on Amsterdam's Zeedijk, but it's all speculation. Hartjesdag continues today as a small street festival on the third Monday in August.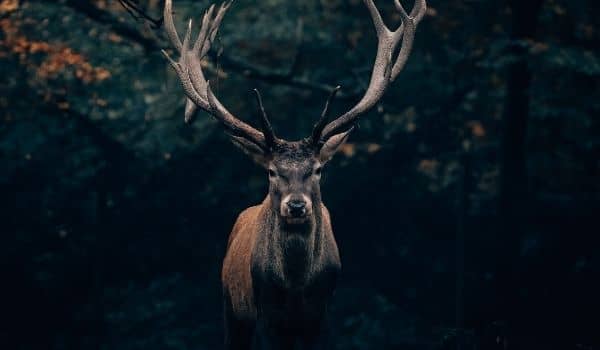 Festival Origins
Long, long ago it was forbidden to hunt deer in the Harlem woods if you were not from the noble classes. To try and be fair about it, there was one day a year when anyone could hunt the exclusive Harlem deer. This free hunting day was the third Monday in August. Successful hunts would evolve into meat-eating parties. The main parties originated around Haarlem in Bloemendaal. Eventually, the festivities spilled over into the Capital. Each year Amsterdammers would head off to Harlem to hunt the deer. Successful hunters returned to the Amsterdam areas of Jordaan, Zeedijk, and Dapperbuurt to spit roast the deer while slugging beers and being generally jolly.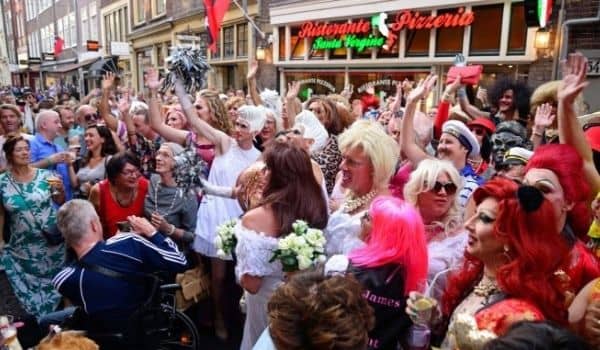 Hartjesdag Crossdressing
While feasting and supping beer someone must have said, "Hey Jongens, do you know what would be a great idea? Let's swap clothes with our partners." No one can say for certain how it happened, it's anyone's guess. Perhaps a hunter lost a bet and was forced to wear his wife's dress for the day and other hunters followed suit to support him. Maybe some women wore trousers to join the hunt and left them on all day as they were comfortable and had really cool guy things like pockets and so on.
Somehow, someway, men and women decided to dress up as each other, and then the tradition was born. It went beyond husband and wife and even children dressed up. Little girls wore male sailor outfits at Hartjesdag, while the boys wore dresses. There are a few paintings to add credibility to this gender-fluid event. Johan Braakensiek's oil painting 'Hartjesdag' captures a typical scene from the feast of deer, beer, and queer delight that is Hartjesdag.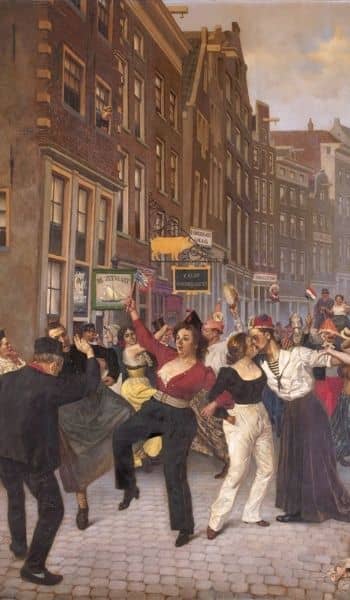 Evolution of the Name and Wartime Ban
Herten is Dutch for deer and on the day, everyone could hunt the royal stock in Harlem, it's likely the day was referred to as Hertendag or Hertjesdag – Deer day. Add in a twist of the Amsterdam accent and the passing of time and it's not a huge linguistic hop from Hertjesdag to Hartjesdag – heart day or day of hearts.
In the 1940s the invading Germans banned the festival. Post-war, no one had the heart to relaunch the event, so it lay dormant for 5 decades. A group came together to relaunch Hartjesdag in 1997. As far as we know, the hunting deer in Harlem part has remained in the past. The main focus now is men wearing fabulous gowns and high heels or a fine mustache and dapper suit if you are a woman. The party has appealed to Amsterdam's LGBTQI community. Zeedijk, already home to a few gay bars, has helped to bolster Hartjesdag with drag competitions, prize-giving, and brunch.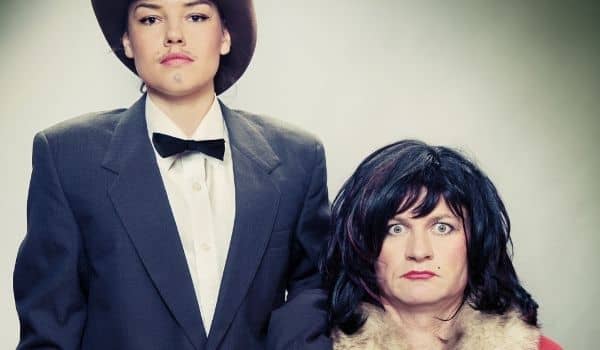 Anecdotal Aside and a Note on Flattery
Caroline, a 79-year-old true Amsterdammer, told us that Hartjesdag was a day of role reversal and equality in straight marriages. The husband spends the day dressed as his wife to walk a mile in her shoes and vice versa. The wife spends the day as a man to see how her husband experiences the world. This is anecdotal, and I can't find much evidence to support it, but it's a pretty nice interpretation.
So, from Shakespearian DRAG actors to cross-dressing deer hunters, drag is a medieval pursuit that has resurfaced as a street festival in Amsterdam. Some even see it as a possible act of equality in love. If we can't celebrate Hartjesdag on the streets this year, why don't we all plan to celebrate at home? Wake up on the third Monday in August and dress up as our partner? Nothing says I love you more sincerely than imitation. How would you feel if your partner spent the day dressed as you? Do you know about any other special festivals in the Netherlands? Have you discovered a hidden gem in Friesland or an exciting party in Brabant? Please send us your suggestions via email and let's see what other festivals are as charming as Hartjesdag in your neck of the woods.
by Joseph Kearney