Moving to a new city in the Netherlands can be tough if you don't know many people there. This is especially the case for expat football fanatics, who generally require a few footballing friends to make up a team, or need to have a good grasp of Dutch to join most traditional clubs. And then, even if you do decide to join a traditional club, you're often faced with strict schedules and pricey membership fees that can be difficult to balance with work and everyday life.
This is where FC Urban comes in – a flexible football club that organizes affordable and convenient daily football matches around the Netherlands, for individuals who love the sport. We spoke to Kees Lohman from FC Urban to discover the benefits of playing a team sport like football, and why FC Urban is the easiest way to play in the Dutch cities.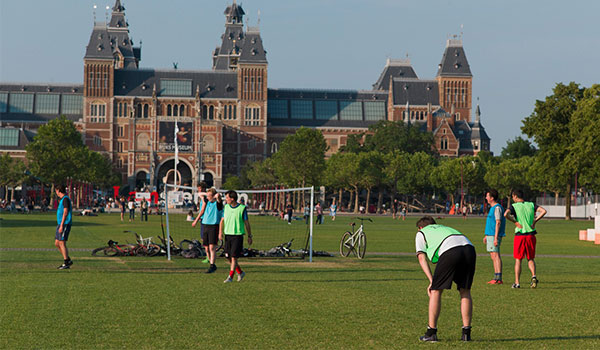 Why FC Urban?
"You don't need a team, or friends to bring together, you just pick a time you want to play and show up," says Kees. "The goal of the platform is to provide football matches where everyone can join. We started FC Urban to have more freedom to play."
With matches on everyday, and no strict schedules, FC Urban makes playing football convenient – offering football on demand whenever and wherever it suits you. Everyone is welcome and encouraged to join in.
You don't need to be the next Johan Cruijff either, during your first game you'll be rated based on your level and your next match will be coordinated to make sure you're matched with teams that suit your ability. Each player also gets their own profile on the FC Urban website that shows their performance stats – with monthly prizes encouraging a little healthy competition between players.
Originally started in Amsterdam, FC Urban has taken off in the Netherlands and is now organizing hassle-free football all over the country, including in: Amsterdam, Rotterdam, Haarlem, Den Haag, Utrecht and Hoorn. You can also find their matches in London.
FC Urban will take care of a referee, a ball, bibs, two goals, a team and an opponent – you just have to show up. It doesn't get any easier than that.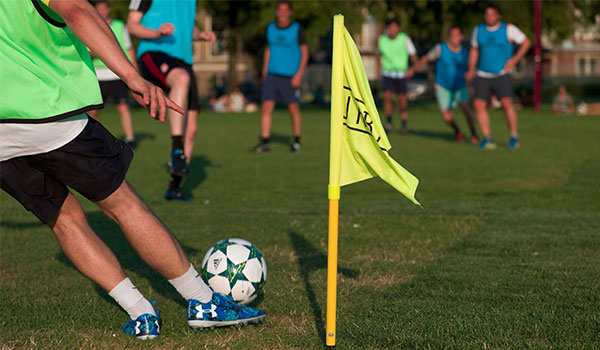 What are the Advantages?
"The moment a person touches down in Amsterdam, the next day they can play football," says Kees. "They don't need to worry about not knowing anyone, or signing with a club that has strict schedules and set training times." Traditional football clubs can be a big commitment that's often hard to balance with work and family life, making the demanding schedules and membership fees unappealing to busy expats. FC Urban, on the other hand, is a flexible option that allows footballers to continue to play, no matter how busy life gets, so that your passion for the sport doesn't have to be restricted to watching others play on a screen.
Another great advantage of joining a team sport is that you're guaranteed to meet new people. With a good mix of expats and locals, playing with a group is a great way to meet others and socialize. Any Expat that lives in the Netherlands would know that making friends with Dutchies isn't the easiest of tasks, and it's a challenge to break into their friendship circles – especially as an adult. Joining a team sport is a great way to meet like-minded locals, get tips about their city, and potentially get invited for a Heineken after the game.
It goes without saying that playing a team sport will also increase your fitness level over time. The Dutch are generally very health-conscious, and whether they're riding their bike to work or going to the gym, they're mostly very active people – especially in the big cities. Not only are team sports a social outlet, but also a great form of fun exercise that could reinvigorate your workout routine, and help you adapt to your new Dutch lifestyle.
With great fields located all over Amsterdam, from Museumplein to Oosterpark, there's bound to be a match being played just a short bike ride from your home, so strap on your football boots and get ready for an exciting and fast-paced match.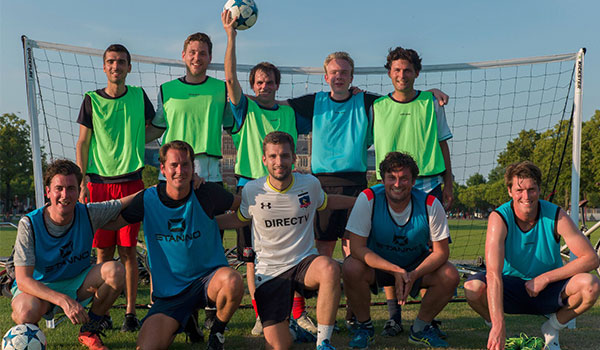 What's the joining process?
It's as easy as going to the FC Urban website and making a choice on the membership. You can choose from 3 affordable memberships, all offering unlimited football and flexibility. If you prefer not to sign a membership, FC Urban also have a pay as you play option, no membership required. Simply select when and where you want to play, and show up – it's really that simple.
Try FC Urban out for Free
The first match you play is free, to ensure you like the atmosphere before signing on – simply head to FC Urban to sign up for your free game.
For more information, or to get in touch with FC Urban, visit www.fcurban.nl