Yeah, that's what they say when you move to Amsterdam: buy a bike, if you've ever ridden a bike, you'll know what to do.
Except it's not really like that is it? In Amsterdam, the bike is the king of the road. You get to do pretty much what you like.
You're not supposed to run red lights, cycle to wrong way down cycle paths, menace pedestrians on Zebra crossings, but all Amsterdammers do it, and heaven help you if you point out that this is ant-social, dangerous behaviour. When on 2-wheels, Amsterdammers are kings of the Universe!
All of which means that, pretty soon, you start behaving the same way. Otherwise you're left hanging around, waiting politely for people to do the right thing. Which is just never going to happen.
So, some basic rules to help you get along when cycling in Amsterdam: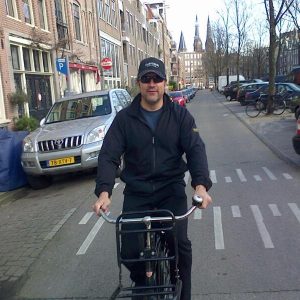 Sounds harsh, but it's true. Hesitation just INCREASES the likelihood of a collision with a bike, whether you are on one yourself or on the pavement, MOVE and decisively. It keeps everyone honest!
Look both ways ALL the time
Forget the rule that you should be on one side of the road to go in a specific direction. Cyclists in Amsterdam go both ways down both sides of the street, cycle path, pavement, pedestrian only path or what have you. Just look in all directions every time. You'll be glad you did.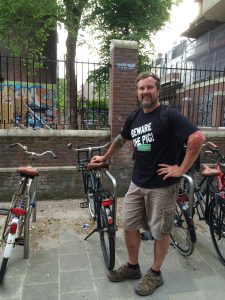 If you can see someone doing something daft, indecisive or plain annoying, just keep riding at them. Not because you are channelling your inner psycho but because, as long as you maintain your momentum, you can wait until they straighten themselves out and then react accordingly. Any variation in your trajectory will most likely confuse for the other person more!
Parking in a nice street, right outside your own house? Use both locks. Only have one? Buy another one fast! Bike theft is still rife in the city of canals, so just do it. The extra 30 seconds labour is worth the replacement cost of your bike that it can save you.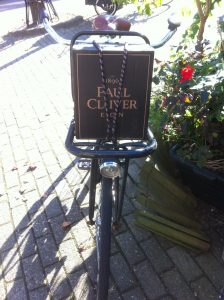 A lot on new arrivals to the biking madness known as Amsterdam are reluctant to ring their bells, fearing offending people. But seriously, just ring it. And not only to avoid imminent collision, but to warn people you are there. Get into early bell ringing, to save yourself from those near misses.
There is nothing like the freedom of a bike in Amsterdam. But only if you know and understand the ground rules. Bike like an Amsterdammer, claim your space on the bike lane! (or pavement, street where ever!)
Author: David Chislette – www.davidchislett.com