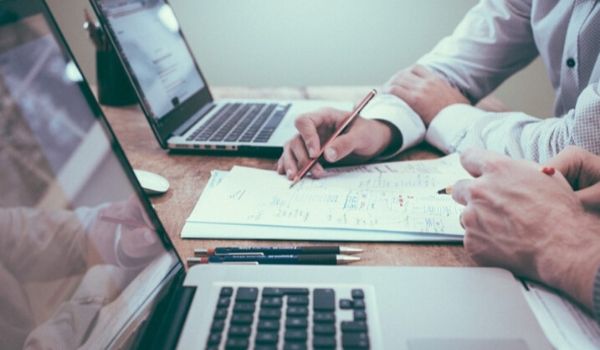 Photo by Helloquence on Unsplash
The pace of life within the modern global environment is one that demands confidence and flexibility. With the lines of communication more open than ever and the proliferation of opportunity spread across the globe, we no longer live in a world where rigid structures and close-minded approaches are able to fully satisfy our needs. Central to these needs is effective communication – a key foundation of a truly open world. Whether it be personal, social, or professional, clear and fluid communication and the confidence that comes with it, is a vital aspect of contemporary productivity.
As the key to communication and mutual understanding, the use and diversity necessary in modern language proficiency can be seen as one of the more daunting tasks in this reality. For individuals, it can be the difference between success and stagnation. For businesses, it can be the x-factor in regards to productivity, industry placement, and consistency.
There are many ways in which languages can be learned, each with their respective pros and cons. There are equally as many approaches to the language learning process. The industry of language learning is a field scattered with software, schools, apps, classes, and promises, each claiming various degrees of proficiency and understanding along the way. Still, as many such programs come and go, there has been but one able to boast consistency at its very core. Offering not just consistency of approach but also in its own extensive history, Berlitz has become the industry standard school for committed language learners across its 140-year history.
With a global footprint scattered across a staggering 70 countries, the immersive experience developed by Maximilian Berlitz in 1878 is the foremost provider of effective language training and cultural acclimation for success within the global marketplace. With a focus on complete immersion, Berlitz is able to accelerate the learning process while building and reinforcing the very foundation of effective communication – confidence.
Through its diverse range of program offerings, Berlitz and its patented Berlitz Method deliver tailor-made programs for everyone from corporations to individuals, children to adults, singles to couples, and all those in between. With a focus on intercultural and management skills, as well as diversity in presentation, the Berlitz approach focuses on transcending the inhibitors of communication and confidence that are time, place, and cultural difference.
At the core of Berlitz is a total and complete immersion in the target language. With a one on one, face-to-face instruction taught by native speakers and focused on conversation, students are able to rapidly develop their use of language with ease, doing so in a comfortable and stimulating environment from lesson 1. Through presentation, performance, and practice scenarios, before they know it, students are not only speaking their target language but thinking in it too.
Often times, however, a 100% face to face program may not be entirely practical for those with demanding schedules, time constraints, or travel-heavy job descriptions. For those people, Berlitz newly launched Blended Learning approach seems like the perfect middle-ground for flexible, yet structured immersion focused language learning. Taught in English, French, and Spanish (with German on the way), and available for single's and duos, Berlitz Blended Learning program combines the accessibility of e-learning with the total immersion of in-class study, while maintaining individualized focus. Each 10-week program is made up of 30 e-lessons of roughly half an hour and 30 face to face lessons. By the end of the program, and upon successful assessment, students are able to advance through the various stages of the "Common European Framework of Reference for Language" (CEF) with consistency and confidence.
With this new program on the market and with a continued interest in finding the latest and best language learning options around, we dug a bit deeper into Berlitz Blended Learning approach to see what exactly its advantages are, and this is what we found:
A Structured Approach
Balancing self-study and activation, Blended Learning offers a structured approach to the language learning process even if partly existing outside the traditional classroom setting. Through the e-learning environment, tailor-made modules are presented specifically to the student's personal and professional goals. Upon completion of assignments and homework, students are then able to activate their self-study within the face-to-face environment, matching the number of modules with in-class lessons – all set around student's personal schedules. With face-to-face lessons directly related to e-learning modules, students are only able to activate upon successful completion of assignments, thus maintaining structure throughout the 10-week programs.
Individual Adaptability
Blended Learning looks at the individual as just that, an individual, not another number in a system. Upon beginning, students go through an online linguistics audit testing their ability as it stands before adapting the program specifically to their needs and goals. Taking into consideration vocabulary, grammar, pronunciation, and listening comprehension, while gauging practical aspects like industry and position with personal traits like activities and interests, a personalized lesson plan is developed. From there, a picture develops of who the person is and what they are interested in. This is then matched with a personal instructor and one of the hundreds of bespoke modules options.
A Powerful Digital Environment
At the core of blended learning is Berlitz' Cyberteachers platform. A powerful and personalized digital environment presented in a playful, engaging and informative way. Aside from the structured lessons within the module, Cyberteachers also offers a variety of supplemental activities, challenges, and features that both gameify the learning process and engage real-world scenarios and information. There is everything from vocabulary challenges and flash lesson emails, to a real-world Reuter's curated news feed presented in the student's target language and at their existing level. Such supplemental integrations make the Cyberteachers online environment perform well beyond the dry, static, and mechanized learning interfaces of yore.
There are also live chat sessions offered. Timetables published weekly allow students of 6-8 to join a half-hour chat on current events in an instructor-led discussion. Encouraged to use their language skills at their level, discussion sessions directly engage the immersive, conversational approach of the language learning process in a timely and relevant way. So, if you are looking to discuss the latest Brexit developments while continuing your language education with like-minded learners, Cyberteachers is able to accommodate both these educational and intellectual urges.
A Gymnasium of Learning
Much like a gym membership, effective language learning must develop and train the muscles of conversation. The drawback of many e-learning platforms is that they offer passive skills. Sure, you can learn to listen and read, but do you actually learn how to use? With Cyberteachers and Blended Learning, Berlitz offers a quick and consistent development of the muscles of language through conversation and action. Whether through the aforementioned chat sessions or the immersion of the face-to-face sessions, where students are guaranteed active speaking over 50% of the time, there is nothing passive about blended learning. Of course, it does not offer a magical solution to proficiency, as individual commitment remains the vital aspect of any approach. However, with a lively and fun process of confidence-building activation, blended learning can be the most perspiration free workout there is – no push-ups required.
Cost-Effective Solution
Just think how much cost goes into one on one classes exclusively? Instructor costs, physical supplies, not to mention your own transportation and, perhaps, even a loss in income or productivity when commuting via a rigid schedule. Not with blended learning though. Each 10-week blended learning program comes at a fraction of the cost of its exclusive in-school alternative. And, with complete control over your schedule and location (including the possibility of engaging with blended learning exclusively through Berlitz' instructor lead Virtual Classroom – exactly the same as face-to-face yet taking place in a convenient digital environment), the increased time of progression offers additional ROI.
These are but 5 of the advantages of blended learning, rooted in time, control, structure, and continuity. Whether it is in person and/or online, however, Berlitz' immersive, communication-centric approach undoubtedly improves the lives of people and their employers by achieving both multilingual and multicultural success through language and cultural understanding. It allows students to learn fast and effectively with the flexibility and diversity of presentation that can now be achieved virtually on every schedule and around the world. So, if you or your company are looking to advance in the complete understanding of language with confidence and flexibility, Blended Learning and Berlitz is the way to go. Here in The Netherlands, with locations in Amsterdam, Rotterdam, The Hague, and Maastricht, there is always a Berlitz close by.