Dental care is not something you want to be worrying about when you find yourself in a new country. As an international dental practice, Tandarts Jordaan is proud to welcome new expat patients from all over the world. All staff speak fluent English and have lots of experience treating expats. On top of that, Tandarts Jordaan's correspondence is all in English as well, so you'll never miss an important update.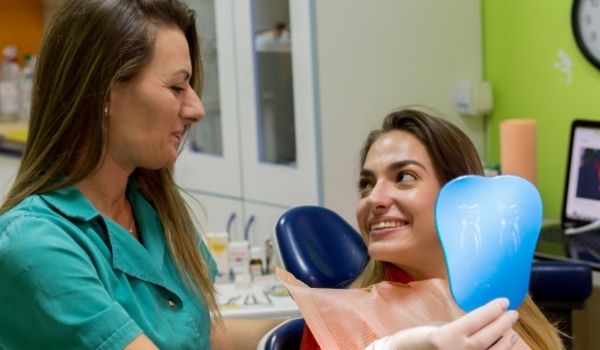 About the practice
Tandarts Jordaan is a state-of-the-art practice with a highly-skilled, dynamic team that is committed to providing high-quality treatments. We offer an extensive range of dental services including general dentistry, cosmetic dentistry, and restorative dentistry. The entire practice is dedicated to your comfort – no matter what treatment you need.
Preventative dental care at Tandarts Jordaan
In order to prevent the development of dental problems, it is important to visit your dentist regularly (every six months). During these visits, your teeth are thoroughly cleaned in order to remove any plaque that has accumulated.
At Tandarts Jordaan, we have a team of highly skilled dental hygienists who will carry out this cleaning thoroughly. Not only will you leave our practice with freshly cleaned teeth – but we'll also help you to understand the most effective methods for keeping your mouth clean moving forwards.
Emergency dental treatment needed?
When you have a toothache that needs to be treated immediately, you can book an emergency dental treatment – even if you're not yet registered with Tandarts Jordaan. We will make an appointment for you as soon as possible. Most of the time, we can help you within a couple of hours. During our consultation, we will first take care of your pain and then decide on further treatment if necessary.
Register at Tandarts Jordaan today
The team at Tandarts Jordaan provides an informative and professional approach to each appointment and will always take your concerns into account. This clinic is based in the historic Jordaan district and is easily accessible by public transport. Register at Tandarts Jordaan today or fill in the form below for more information. Do you prefer to speak to one of the experts first? You can reach the practice on 020-6121243.
Opening hours:
Monday – Wednesday: 8.30am – 9.30pm
Thursday & Friday: 8.30am – 5.30pm
Saturday: Closed
Sunday: 9.30am – 6pm
This article is sponsored by Tandarts Jordaan