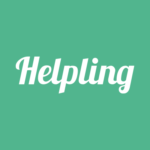 Website Helpling
Find the cleaner that suits your needs perfectly
Work as a domestic cleaner in your city, 10 – 40h per week and set your own hourly rates. You can start immediately!
The job:
Are you motivated, do you like going to different households, good at cleaning and do you like exploring your neighbourhood at the same time? Register as a cleaner on the new and improved Helpling platform! Helpling allows you to work as a domestic cleaner and it's super flexible! You decide where, when and how many hours a week you work. You are even in charge of how much you earn. You decide how much a customer should pay per hour of cleaning work done by you! You get to know your way around the area quickly and you can easily schedule time for yourself to explore the Netherlands.
How does it work?
You control in which postcodes in your city you would like to work.
You decide how many hours you want to work. This could mean working 10 hours a week, or up to 40 hours a week.
You decide what your hourly rates are for regular bookings and one-off bookings.
You will receive booking requests from households that match your work location, your
availability and your hourly rates.
If the booking request sounds good to you, you can accept it.
The work you'll be doing consists mostly of cleaning. Would you like to do something extra?
In that case you can choose whether you'd also like to iron, clean windows, or do your customer's laundry.
Every two weeks the money you have earned will be deposited into your bank account.
Benefits of working via Helpling
As a domestic cleaner you'll be working according to a Dutch law called Regeling Dienstverlening aan Huis, meaning you will work as an independent cleaner. You don't have to register at the Chamber of Commerce (Kamer van Koophandel, KvK).
Your hourly rates are not set. You may change them as often as you'd like.
You can start immediately. As soon as you've uploaded a copy of a legal form of identification, you'll be able to start accepting booking requests.
Is working via Helpling for you?
You have cleaning experience.
 You are allowed to work in The Netherlands and you speak either Dutch or English well.
You live in The Netherlands
You have a mobile phone with an internet connection.
You are available during the day.
How do I register?
Easy! Just click on the apply button below and fill in your details on our website. You will be able to start right away!