Ranked among the Netherlands' most frequent tourists, the French also represent one of the biggest expat communities in the country. While travelling between the countries is usually very easy, they have never felt so far apart. But this doesn't mean all ties are necessarily cut. In fact, Amsterdam offers many possibilities allowing all French expats or Francophiles to get a taste of France without even setting foot outside of Amsterdam!
Where to go in (and around) Amsterdam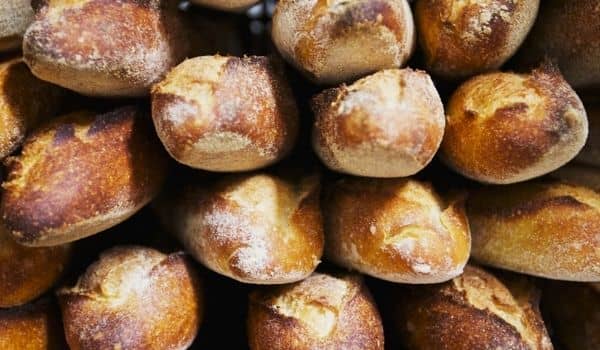 Le Fournil de Sébastien – where you can eat Amsterdam's most authentic baguette
When you ask French expats what they miss the most, food usually comes first with no hesitation. Although Dutch food doesn't need to shy away, the French take a big pride in their cuisine and specialities. The main one being bread!
Situated on Olympiaplein, the bakery Le Fournil de Sebastien can be usually be spotted due to the long line outside the door. The dedicated owner, who gives his name to the bakery, imports the flour directly from France which might explain why it tastes so authentic.
Praised by the French community in Amsterdam, it is also adored by the Dutch, who are big bread lovers. Beside their bread, they serve a delightful assortment of France's best baked-goods such as croissants, pains au chocolat, and the list goes on!
Olympiaplein 119 | Amsterdam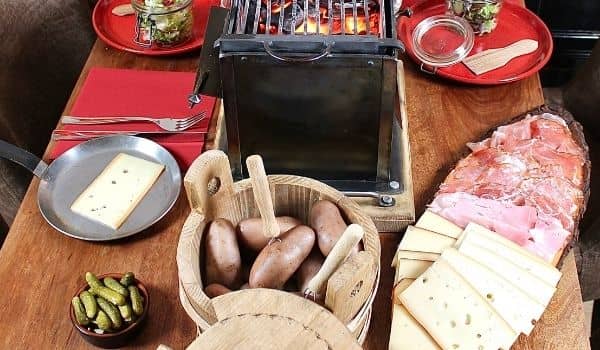 Le Bistrot des Alpes – where you can combine French comfort food with French gastronomy
Best served with bread, cheese also shares the podium of France's most prized produce. Whether it is hard, blue, creamy or melted, the French's unconditional love for cheese is legendary.
More than a restaurant, le Bistrot des Alpes on Utrechtsedwarsstraat is seen by many as a home away from home. Decorated like a cosy chalet, the restaurant is notorious for their cheese rich specialities like the fondue, raclette and tartiflette.
Normally served in winter, these classic French dishes will warm up anybody and are best shared with friends and family. The cherry on the cake is that they import their cheeses and charcuteries directly from small businesses in Haute-Savoie, the French region that originated these dishes.
Utrechtsedwarsstraat 141 | Amsterdam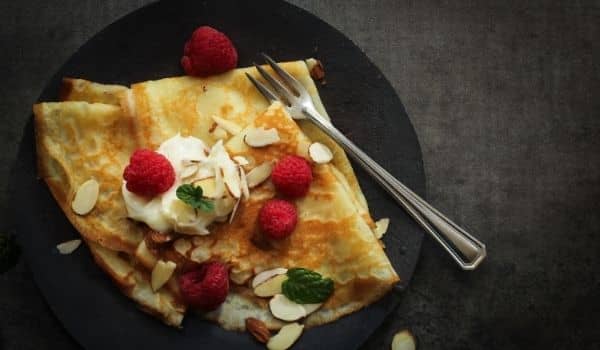 Cocotte – where you can eat the crêpe, the pannenkoek's French cousin
Another milestone of French cuisine is the crêpe! Even though some debate that there is no difference between the French and Dutch alternative, the famous pannenkoek, don't be fooled! Both have their own flair and while they share some similarities, each is in a league of its own.
Cocotte on Spuistraat serves some of the most delicious crêpes and galettes, its savoury alternative made with buckwheat. On top of that, they are true to the Breton-style. Situated in the West of France, the region of Brittany is often said to be the original cradle of the finger-licking dish. Some say it is so delicious that it can even be eaten without any toppings!
Crafted carefully, each and every one of Cocotte's menu options is as mouth-watering as the last. Their most luxurious dish is probably their Galette Dordogne which is prepared with duck breast. They also make a jaw-dropping tarte tatin and serve alcohol-free original cider.
Spuistraat 127 | Amsterdam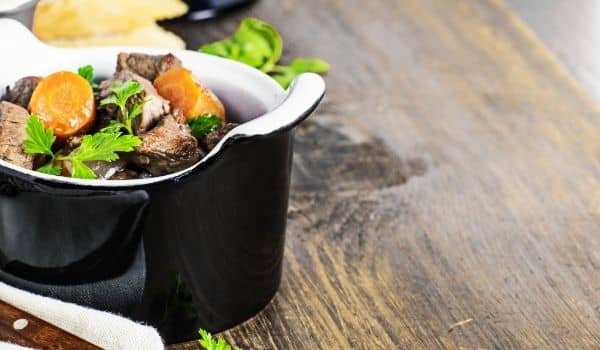 Epicerie Jean et Marie – where you can shop your favourite French produce
For those of us who are not necessarily looking to eat a prepared meal, the deli Epicerie Jean & Marie on Albert Cuypstraat is here for you! Even though they also serve some prepared dishes such as soups, sandwiches and even boeuf bourguignon, their delicatessen is worthy of Aladdin's cave. Packed with the best delicacies France has to offer, their treasures include olive oil, pates, cheeses, fresh sausages, wine and much more… You name it, they have it!
If you don't like choosing, they also sell packages which combine a selection of different produces. Arranged in collaboration with the wine shop, Wijnkooperij de Lange and the fine tableware shop, Représentable, these gourmet bundles would also make great Christmas gift!
Albert Cuypstraat 62 | Amsterdam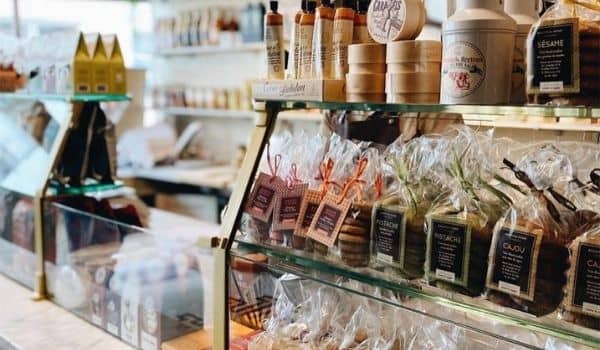 La Station Service – where to go if you live near Amsterdam and still crave French food
You can also satisfy your desire for French food, even if you don't exactly live in Amsterdam. Opened this year in Haarlem, which is only a 15min train ride from Amsterdam, La Station Service will delight anybody who prefers to cook French food at home! Meaning 'The Petrol Station' in English, the name is a witty reference to the Dutch families who spend their holidays camping in France and stop by the country's petrol stations in order to replenish their food stocks.
From French nuts to soups, they have it all! While the owners considered opening a restaurant at first, they change their mind and opted instead for an all-French deli/supermarket, for everybody's pleasure!
Spaarnwouderstaat 48 | Haarlem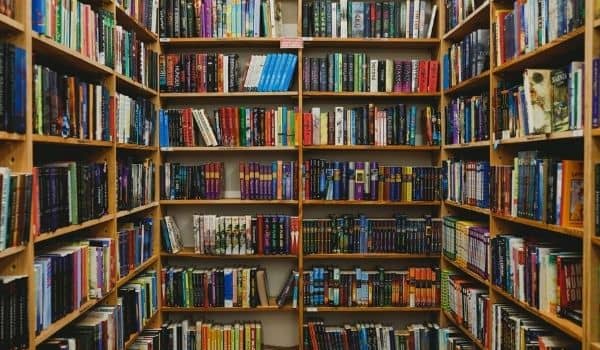 Le Temps Retrouvé – where you can find the best selection of French literature
While you can now order French books in one click, the experience that bookshop offers is still incomparable. Opened in 2016 by a French lawyer, the exclusively French bookshop Le Temps Retrouvé lies in the Keizersgracht and is easy to miss if you don't pay attention.
The bookshop offers a large selection of classics and new releases which will delight any bookworm or lover of the French language. They also organise many workshops and shows for adults and children such as a regular puppet theatre organised by the troupe Monsieur Theatre.
They take orders and deliver to home through their website if needed. Definitely a must for French expats in Amsterdam!
Keizersgracht 529 | Amsterdam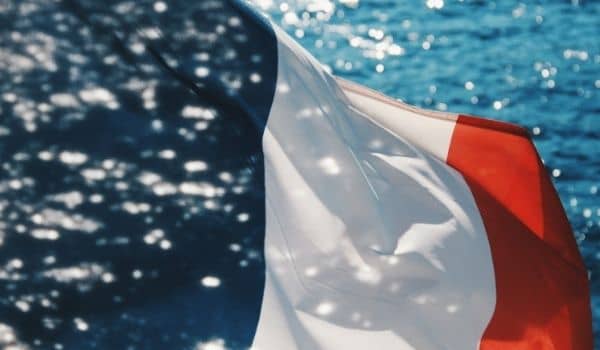 L'Alliance Française – where you can learn and speak French
L'Alliance Française is a pillar of French culture in the world and already famous among many Francophiles abroad who desire to learn French. Originally created in Paris in 1883, they can be found in 137 countries and count among their founders the scientist Louis Pasteur and writer Jules Verne.
In Amsterdam for a few years now, they offer a huge variety of French classes and activities such as language cafes which can take place around a coffee or a glass of wine or even French cooking classes. You'll never be bored!
They can be found at the Amsterdam central library, the OBA, near Central Station but also organise many online alternatives.
Oosterdokskade 143 | Amsterdam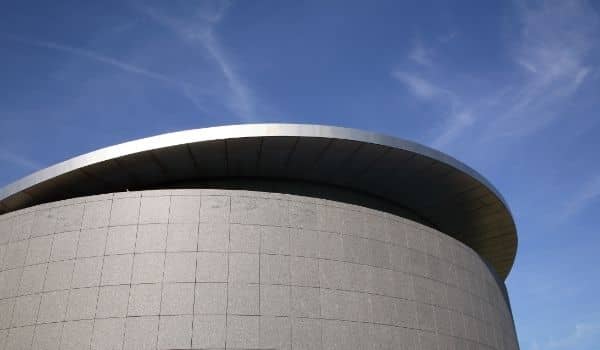 The Van Gogh Museum – where you can contemplate France's most beautiful sceneries
You might wonder why this is part of the list. After all, Van Gogh is anything but French! Despite his indisputable Dutch roots, the post-impressionist painter is very connected to French culture as is represented as the famed Van Gogh Museum.
A resident of France from 1886, his French years are probably his more fruitful and famous period as a painter. Inspired by the diversity of French landscapes, he painted many of his masterpieces in his adopted country, such as 'Starry Nights' which he produced while staying at the asylum at Saint-Remy-de-Provence. From Arles in the South of France to Auvers-Sur-Oise, a village near Paris, Van Gogh stayed and worked all across the country and is still considered by many French people as one of France's best painters.
Museumplein 6 | Amsterdam
Where to 'go' if you prefer staying in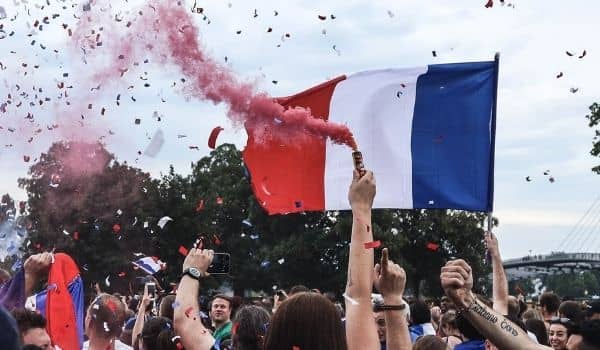 French People In Amsterdam – where you can connect with Amsterdam's French community
If you can't or don't want to go out, the internet also offers many ways to honour your French heritage or passion! With more than 20 thousand members, the group is very active and allows fresh and more seasoned French expats in Amsterdam to share and exchange.
The topics of conversation go from general concerns around both countries affairs to very precise questions such as where to find chestnut cream, an ultimate French delicacy. Job offers and personal ads for apartments and rooms can also be found.
While French people do love to engage in confrontational debates, solidarity and assistance are the values that characterises this online community. And there is no such thing as a stupid question!
Dessine-Moi un Expat – where to laugh about the French expat life in Amsterdam
Clementine Latron is a French illustrator who lives in Amsterdam. In her French language blog, she tells, through drawings and short personal anecdotes, the joys and struggles of being an expat, and more particularly a French expat, in Amsterdam. This includes learning the language as well as some of the culture shocks we can be confronted to, like having dinner at 6pm.
Her observations are always spot on and more importantly, full of love and kindness. A real pleasure which will guarantee you some complicit chuckles.
Even though this list does not depict the whole picture, it will definitely allow every French expat and French wannabe to spend a very authentic homestay experience away from home. And the possibilities are endless! If you keep your eyes open, you'll notice very quickly that Amsterdam is filled with a huge amount of French gems and there is no doubt that many more will appear in the future. What are your favourites go-to in (and around) Amsterdam when you miss France?
by Claire Rochet